ISLAMABAD — Pakistan's army said Friday it arrested 97 militants from al Qaeda and another militant group, and foiled a plot to break the killers of U.S. journalist Daniel Pearl out of jail.
The militants arrested in the southern city of Karachi included three commanders, according to the army, as well as members of the Islamist group Lashkar-e-Jhangvi.
The men are accused of involvement in major attacks on two Pakistani air bases, Karachi's airport, several regional intelligence headquarters and police installations between 2009 and 2015, the military said.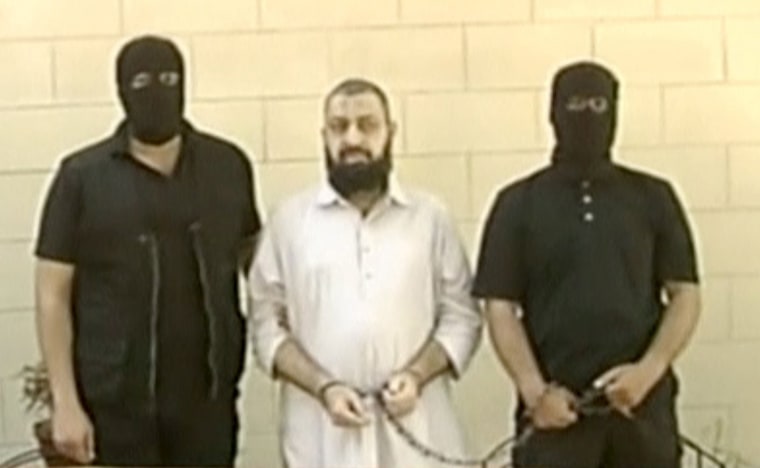 The LeJ's Naeem Bokhari and Sabir Khan, as well as Farooq Bhatti, deputy chief of al Qaeda in the Indian Subcontinent (AQIS), were captured by Pakistani forces in recent raids, military spokesman Lieutenant General Asim Bajwa said.
"Our conclusion is that all of the terrorist groups are trying to cooperate with each other in order to carry out terrorist attacks," he told a news conference.
Bajwa added that the LeJ and AQIS had been working "in collusion" with the Tehreek-e-Taliban Pakistan, also known as the Pakistani Taliban.
Lashkar-e-Jhangvi is an Islamist group whose sectarian ideology is closely aligned with ISIS, as it wants to kill or expel Pakistan's minority Shiites and establish a Sunni theocracy.
AQIS was formed by global al Qaeda chief Ayman al-Zawahiri in September 2014, and is one of dozens of Islamist groups, some aligned against Pakistan and others against its neighbors, that operate in the country.
Pakistan has been under domestic and international pressure to crack down on these groups, and launched a renewed operation against some of them in June 2014.
Bajwa declined to give details of the raids, including their timing.
Several of those arrested, including Bokhari, were in the advanced stages of planning a jailbreak attempt on the Hyderabad Central Jail, Bajwa said.
Khalid Omar Sheikh, who kidnapped and killed the Wall Street Journal's Daniel Pearl in 2002, is being held at that jail and was to be released during the raid, he said.
Six suicide bombers had been enlisted in the attack plan, in addition to 19 involved in facilitating it, Bajwa said. More than 772 lb of explosives had been recovered from a building believed to be a hideout, he said.
The attackers planned to raid the prison compound with two vans filled with explosives, and had a list of about 35 prisoners they planned to kill, Bajwa said, displaying pencil sketches of the prison allegedly made by the militants.
They had a separate list of about 100 prisoners, including Sheikh, whom they were supposed to release, he added.
Video images of the militants' hideout showed blue plastic barrels filled with explosives, washing machines that had been used to transport arms and ammunition, long lengths of detonating cord and dozens of ball bearings.
"This plan was 90 percent ready for execution," Bajwa added.