ISLAMABAD, Pakistan — A mob accused of burning alive a Christian couple in an industrial kiln in Pakistan allegedly wrapped a pregnant mother in cotton so she would catch fire more easily, according to family members who witnessed the attack.
Sajjad Maseeh, 27, and his wife Shama Bibi, 24, were set upon by at least 1,200 people after rumors circulated that they had burned verses from the Quran, family spokesman Javed Maseeh told NBC News via telephone late Thursday. Their legs were also broken so they couldn't run away.
"They picked them up by their arms and legs and held them over the brick furnace until their clothes caught fire," he said. "And then they threw them inside the furnace."
Bibi, a mother of four who was four months pregnant, was wearing an outfit that initially didn't burn, according to Javed Maseeh. The mob removed her from over the kiln and wrapped her up in cotton to make sure the garments would be set alight.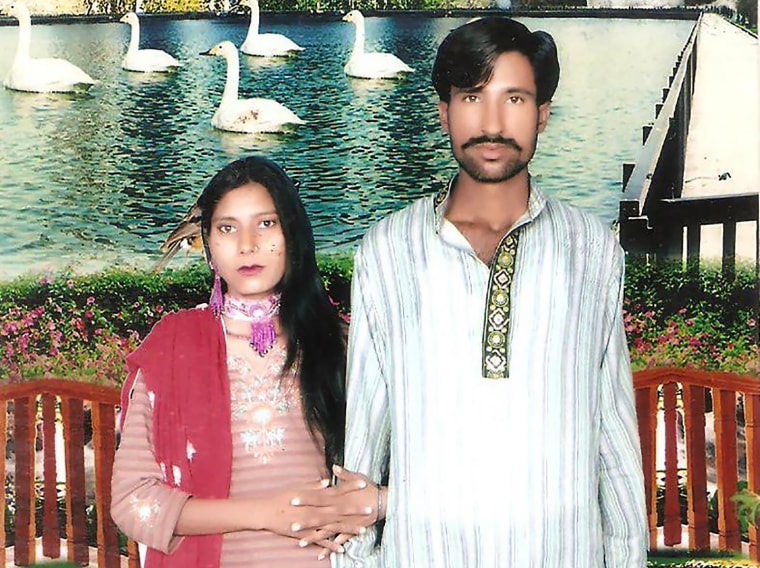 Although burning the Quran is technically punishable by death in Pakistan, Tuesday's killing in Punjab province has triggered protests by the country's Christians and prompted Pakistani Prime Minister Nawaz Sharif to say he would show "no mercy" to those responsible.
As rumors gathered pace that they had burned pages from the Muslim holy book, the couple tried to flee but were forbidden to leave by the brick factory's owner. Just like their parents, the slain pair worked under an arrangement of bonded labor and the owner said they owed him money.
Accompanied by a dozen people, factory owner Yousaf Gujjar allegedly went to the couple's home last weekend and locked them in an office so they couldn't leave. By Tuesday, loudspeaker announcements from local mosques were branding Sajjad and Shama as "blasphemous" and saying they should be "wajib-ul-qatal," which translates as "necessarily murdered," according to the family's account.
Unable to break down the office door, the swelling crowd ripped open the building's thatched roof. "They first threw bricks at them," said Javed Maseeh, who is Sajjad's cousin. "Then they dragged them out" and burned them.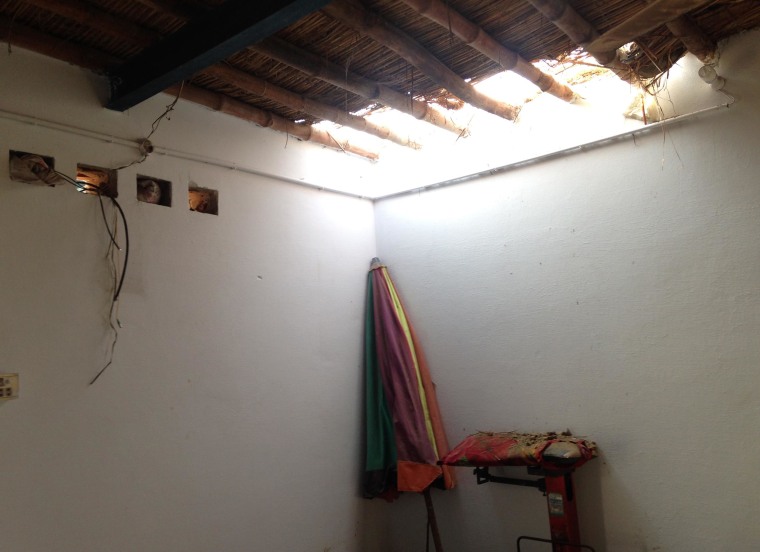 Sajjad Maseeh, who was also known by his nickname "Shahbaz," was just seven years old when he started working at the factory. His family was tied to it through an arrangement of bonded labor whereby cross-generational debts were paid back through toil.
Sajjad Maseeh was born in the building where he was brutally murdered, according to his cousin.
"The bones are still being found," Javed Maseeh said. "Friends keep on collecting them and bringing them to us in batches of two or three. We will bury these bones when we have enough for the bodies. But we will not find all of them, I'm sure."
Whether or not the couple burned a Quran is still unclear. Sajjad Maseeh's brothers denied it. However, Mushtaq Gill, a lawyer and Christian rights activist in Pakistan, said verses from the religious text were among a pile of unwanted possessions owned by Sajjad Maseeh's recently deceased father. The belongings were cleared away and burned by Bibi, whom Gill said was "uneducated and probably didn't realize she was burning the Quran and not just any documents."
Before the mob attacked Bibi, a sister who recently converted to Islam played the role of mediator and offered her the option to adopt the religion to calm tensions, according to Javed Maseeh's account. "Shama rejected this proposal," he said.
The slain husband had a Muslim convert brother, Fayaz, who stayed in the village and is safe. But his three Christian brothers, Saleem, Imtiaz and Nawaz, witnessed the incident and spoke to NBC News through Javed Maseeh. They have escaped and are claiming their lives are now in danger.
Four suspects remain in custody and another 50 were booked and are being investigated, according to local police.
Pakistan's Chief Minister Shahbaz Sharif, brother of Prime Minister Sharif, is promising the family five million rupees (around $50,000) and 10 acres of land in compensation.
According to the National Minority Alliance, Christians form under three percent of Pakistan's estimated 180 million people.
Pakistan's much-debated "Blasphemy Law" is often used to target Christians and other minorities. In 2012, 14-year-old Rimsha Masih was falsely accused of burning the Quran, the sacred Islamic text. Charges were later dropped amid international concern for her safety, but the law, remains on the books.
Alexander Smith contributed to this report from London.