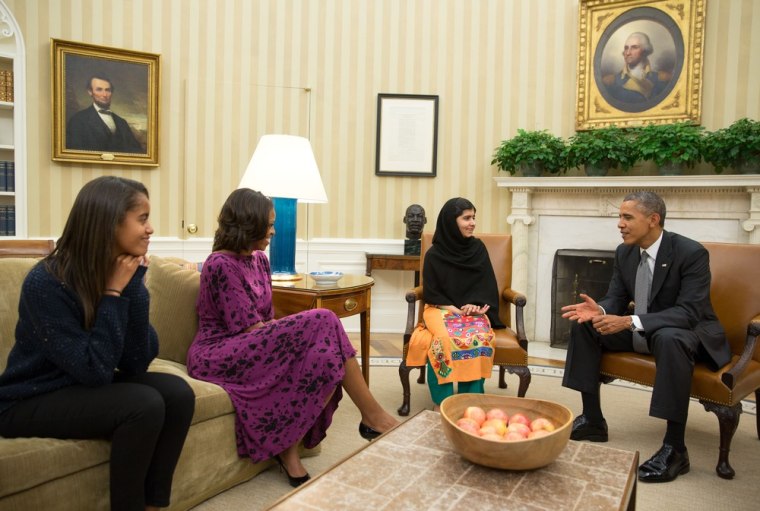 Malala Yousafzai on Friday met President Barack Obama and the first family in a private audience in the Oval Office at the White House. 
The 16-year-old activist was welcomed in Washington, D.C., by the president, first lady Michelle Obama, and their daughter Malia "to thank her for her inspiring and passionate work on behalf of girls education in Pakistan," a statement from the White House read.
After receiving death threats from the Taliban for defying the Islamist militant group with her outspoken views on girls' right to education, Malala was shot in the head a year ago while on a school bus near her village in Swat in northwestern Pakistan.
She recovered after she was flown to Britain for surgery, but the militants, known as Tehreek-e-Taliban, have vowed to try to kill her again.
Malala was a favorite to win the Nobel Peace Prize Friday -- but the honor went instead to the Netherlands-based Organization for the Prohibition of Chemical Weapons, which is working to destroy the chemical weapons arsenal held by Syrian President Bashar Assad. 
The Pakistani Taliban called the decision "very good news" and praised the committee for "not selecting this immature girl for this famous award," according to a statement by spokesman Shahidullah Shahid.
Yousafzai began her education campaign by starting a blog in 2009, describing the obstacles faced by girls who wanted to attend school in Pakistan. She said being shot had only strengthened her resolve. 
The White House said it celebrates and encourages Malala's courage in pursuing her mission.
"Across the globe there are girls who will one day lead nations, if only we afford them the chance to choose their own destinies," President Obama said, according to a White House statement.
"And on every continent, there are girls who will go on to change the world in ways we can only imagine, if only we allow them the freedom to dream," he added. 
NBC News' Henry Austin contributed to this report. 
Related: 'It's very good news' Malala didn't win the Nobel Peace Prize: Pakistani Taliban