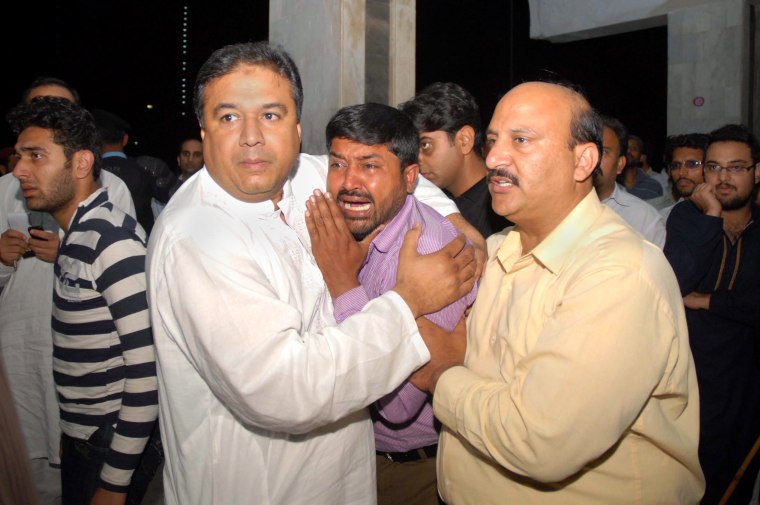 A Pakistani airliner crashed just short of landing in Islamabad on Friday, killing all 127 people aboard, the country's Civil Aviation Authority told NBC on Friday.
The Boeing 737 operated by Bhoja Air was flying in from Karachi, the country's biggest city and business hub, in heavy rain when it broke up, scattering wreckage and bodies across courtyards and roofs of a residential area near the airport, witnesses and authorities said.
"There were 122 passengers and five crew members," said Pervez George, a spokesman for government agency.
The flight data recorder has been located, NBC's Fakhar Rehman reported from Islamabad, and the so-called or "black box" was expected to reveal why the plane went down. But the apparent cause was that pilots were flying low under heavy clouds and hit high-tension wires as they approached Benazir Bhutto International Airport, he said.
Bhoja Air said the airplane crashed during its approach in Islamabad due to bad weather," Reuters reported. There was no indication from the government that it could have been the result of foul play.
Parts of the aircraft smashed into electricity poles, blanketing the area in darkness.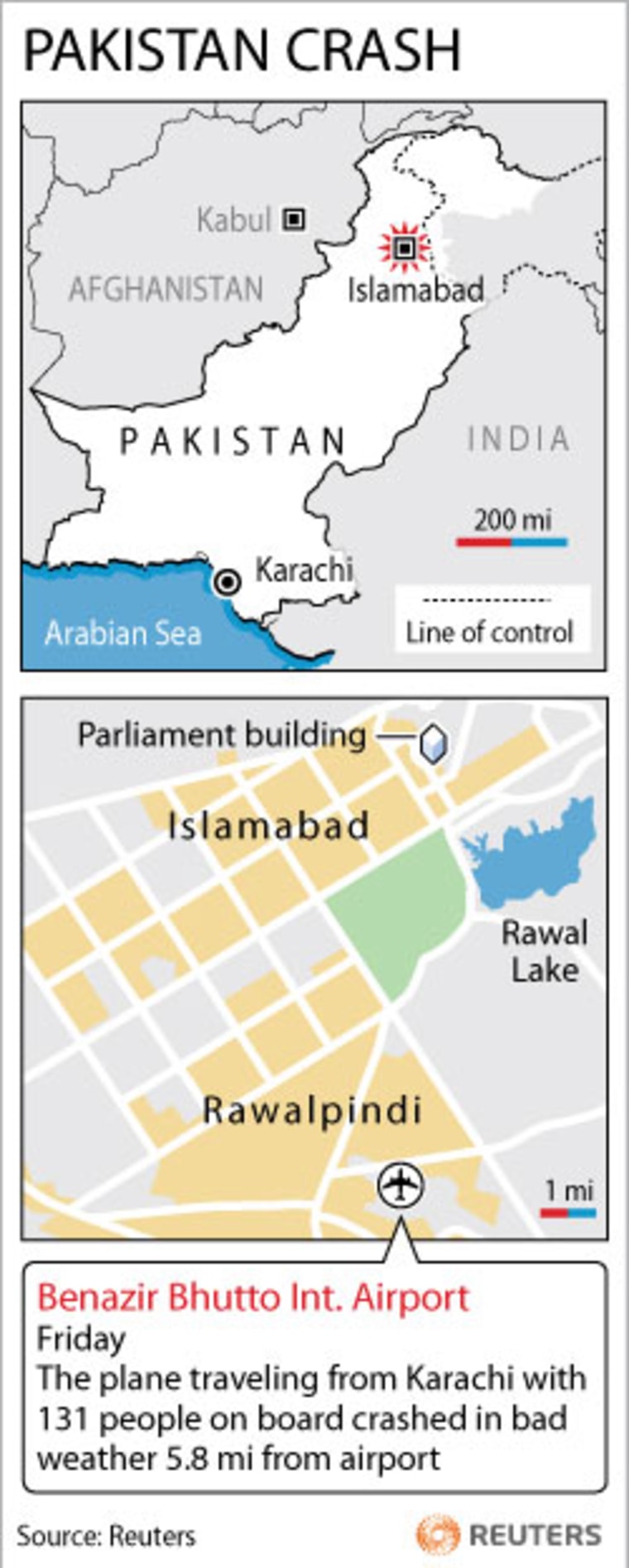 Rescue workers were trying to recover bodies from the charred wreckage of Flight B4-213, Rehman reported, but darkness and rain were making it difficult.
Police said 70 bodies had been transported to hospitals.
"Kids were playing in courtyard of my house when suddenly we saw something falling in our court yards with fire," said Mumtaz Ali, a resident of Hussain Abad in the outskirts of Islamabad where the plane crashed. "You can see the wreckage on the roof and back yard too. Thank God nobody on the ground was injured or killed as people were inside their homes because of rain."
Islamabad police chief Bani Yameen said nobody on the ground was reported killed, "but apparently all on board perished," according to Reuters.
At the airport people awaiting passengers thronged the airline counter.
A man who had been waiting at the airport for the flight yelled, "My two daughters are dead,'' as tears streamed down his face, according to Reuters, while others awaiting passengers crowded around lists of those on board.
Pakistan army chief vows not to give up on avalanche victims
Nearby, relatives of passengers hugged each other and sobbed. One man cried, "my kids, my kids," Reuters said.
Zarina Bibi was desperately trying to determine if her husband was among the passengers of the ill-fated plane.
"He called me before leaving Karachi, but I don't know if he was on this flight or not," said Bibi told the news agency. 
The last major aviation accident in Pakistan occurred in July 2010, when a commercial airliner operated by AirBlue with 152 people on board crashed into the hills overlooking Islamabad.
In 2006, a Pakistan International Airlines aircraft crashed near the central city of Multan, killing 45 people.
In a statement on its website Boeing Company said it "wishes to extend its profound condolences to the families and friends'' of the Bhoja Air passengers.
NBC News' Carol Grisanti contributed to this report.
More world news from msnbc.com and NBC News:
Follow us on Twitter: @msnbc_world