"I haven't seen my son since the day Israeli Special Forces raided our home in the middle of the night and arrested him in front of my eyes," she said of the incident on Aug. 16, 2011. "They gave him administrative detention for six months and when the six months ended they extended his detention for six more without charges or trial."
Palestinians resort to hunger strike in protest
Diab has since become one of the faces of a mass hunger strike by Palestinian prisoners in Israeli jails. 
On Friday, Diab and Thaer Halahleh, another prisoner, entered their 74th day without food. They are demanding that the Israeli courts either charge them or set them free. 
Attention to Diab and Halahleh's protest escalated on April 17 when an estimated 1,600 inmates launched their own mass hunger strike in solidarity, a move that led to Palestinians taking to the streets in the West Bank and Gaza almost daily to rally in support of the prisoners' protest.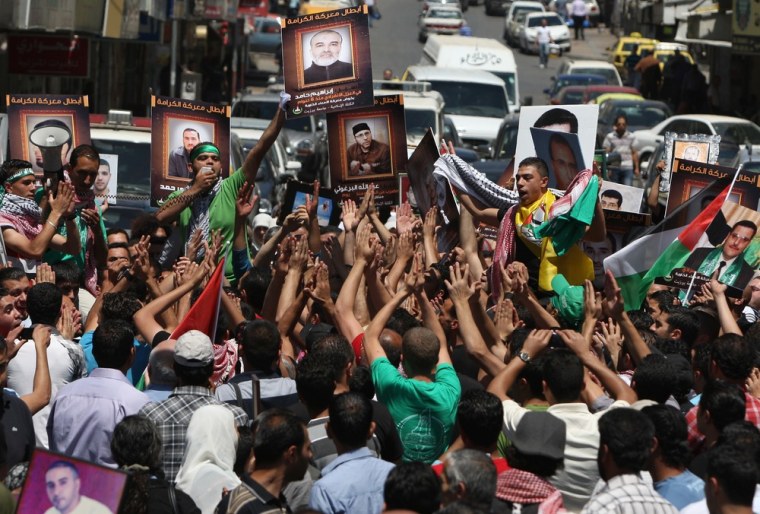 Fears for life
On Friday, a spokesperson for Physicians for Human Rights, a humanitarian organization in Israel, said he fears for Diab and Halahleh's lives. 
Yael Marom complained that the last time the Israeli Prison Service allowed one of their doctors to visit Diab was on April 30.  "The Israeli Prison Service is still denying regular access to [Diab] and the other hunger strikers by independent physicians and do not update us or the families, which is a blatant breach of medical ethics," she said.
Israel says all prisoners receive adequate medical attention, including care civilian hospitals if required. "As of now, I know that those who should be receiving extra care are receiving it," a spokeswoman, Sivan Weizman, told Reuters. 
Mark Regev, the Israeli government's spokesman, also claimed that Israel was providing adequate medical treatment for the prisoners and said they were free to choose their own doctors. 
"But ultimately, this is not about medical facilities," he said, "this is about hard-core activists, from Hamas and Islamic Jihad, who through this protest are trying to instigate violence."
Mass support among Palestinians
Meanwhile, Palestinian President Mahmoud Abbas warned Israel that the death of one of the prisoners could result in chaos. 
"If anybody dies today or tomorrow or after a week it would be a disaster and no one could control the situation," Abbas said in an interview with Reuters at his office in Ramallah. "I told the Israelis and the Americans if they do not find a solution for this hunger strike immediately, they will be committing a crime."
Issa Qaraqe, the Palestinian Authority's minister of prisoner affairs, has appealed to the international community, including the U.N. and even Pope Benedict, to intervene.
"Palestinian hunger strikers are fighting for what they have been systematically denied — their dignity, rights and justice," he said. "I appeal to the world to immediately intervene and save the prisoners' lives before it's too late. If the hunger strike results in the death of one of the prisoners then Israel should expect an escalation of violence in the West Bank and even inside the Israeli prisons."
On May 7, Israel's Supreme Court rejected Diab and Halahleh's appeal against imprisonment without charge or trial and ruled that they could not be released because they are a security risk. But the court added that the Israeli authorities should consider
releasing them on medical grounds.
Hoping for the best
Meanwhile, Diab's mother is maintaining her vigil for her son. Since she has had no direct contact with him since his detention, the only way she can get updates on his health situation is through human rights organizations and media outlets.
"I am constantly listening to the news hoping to hear anything about my son," she said. "I haven't been allowed to see him for nine months now. Every time I close my eyes I can see him lying in a bed, looking pale, thin and weak, and I tell him to stay strong and that victory is near.
"I know that my son's health is suffering as a cause of the hunger strike but I don't dare think that something bad will happen to him. I just want to see my son, touch his face and tell him that everything will be ok. I will die if anything happens to him."