JERUSALEM — A Palestinian teenager who became an international protest icon after being filmed slapping Israeli soldiers was welcomed home by a crowd of supporters Sunday after she was released from Israeli jail.
Ahed Tamimi, 17, was met by banners, cheers and Palestinian flags as she entered her occupied West Bank village of Nabi Saleh, after spending eight months in Israeli prison for obstructing the work of and attacking Israeli soldiers.
Tamimi wiped tears from her eyes as she and her parents, Bassem and Nariman Tamimi, were surrounded by journalists and supporters.
"It means a lot for me to see the world reaction," she said in an interview with NBC News. "It raised my spirits. It showed me that being in jail wasn't for nothing. I wish [to] continue doing things to help prisoners until they [are] released."
Tamimi was arrested with her mother in December confronting two Israeli soldiers outside her home, slapping and kicking them as she told them to leave. Nariman filmed the incident and posted it online where it swiftly went viral and turned her daughter into a symbol of resistance to Israeli occupation.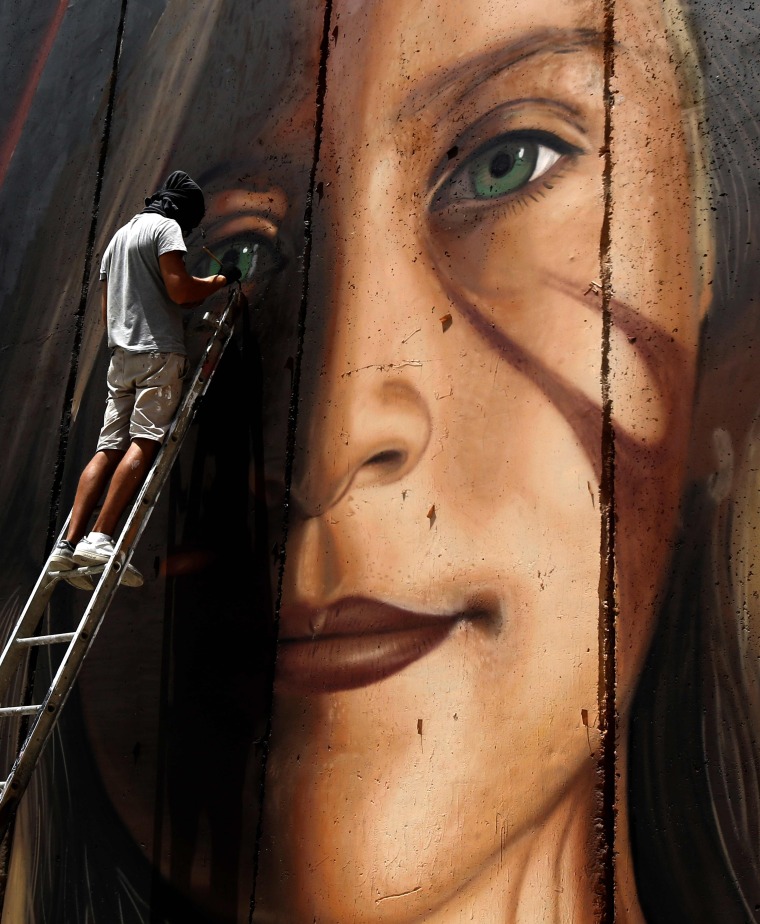 With her unruly blonde mane, Tamimi bucked the longstanding stereotype of Palestinian activists as hardened warriors and rock-throwing young men, revitalizing a population disheartened by years of Israeli occupation.
But in Israel, she is seen by many as either a provocateur, an irritation or a threat to the military's deterrence policy.
"Israel acts too mercifully with these types of terrorists," Israel's minister of Agriculture and Rural Development Uri Ariel said on Sunday. Israel should "treat harshly" those who strike its soldiers, he added.
In January, Israeli Deputy Minister Michael Oren sparked outrage after admitting that the Tamimis had been the subject of a classified investigation into whether they actually were "light-skinned" actors and not a real family.
Dozens of Palestinians waited for Tamimi's release at the Jbara checkpoint in the West Bank just after 9:00 a.m. (2 a.m. ET). A short while later in Nabi Saleh, supporters welcomed her home with Palestinian flags planted on the roof of her home.
"I am very happy, but my happiness will be complete when all prisoners released," Tamimi told the crowds.
Before returning to her village, Tamimi met with Palestinian officials and visited the tomb of late Palestinian leader Yasser Arafat.
The teenager was 16 when she was arrested and turned 17 in custody. Her case trained a spotlight on the detention of Palestinian minors by Israel, a practice that has been criticized by international rights groups.
"Israel's jailing of a child for 8 months — for calling for protests and slapping a soldier — reflects endemic discrimination, absence of due process and ill-treatment of kids," tweeted Omar Shakir, the Israel and Palestine director of New York-based Human Rights Watch.
"Ahed Tamimi is free, but 100s of Palestinian children remain locked up with little attention on their cases," he added.
Israel captured the West Bank, Gaza and eastern Jerusalem in the 1967 war with Syria, Jordan and Egypt. Israel withdrew from the Gaza Strip ten years ago but along with Egypt is blockading the territory, which is now run by militant group Hamas.
Palestinians are increasingly disillusioned about efforts to establish a state in those territories, after more than two decades of failed negotiations with Israel.
"We have to solve the problem from its roots," Tamimi said. "Occupation has to go away, then this settlement will go away — even the wall and the checkpoints will go away. The main problem is occupation not this settlement."
It is commonly felt by Arabs in eastern Jerusalem and the West Bank that Israel is deliberately driving Palestinians from their homes. From 1967 to 2016, some 200 Jewish settlements housing around 600,000 people were built on occupied land, according to the Israeli human rights organization B'Tselem.
There are some 2.5 million Palestinians in the West Bank.
Lawahez Jabari reported from Jerusalem; Saphora Smith reported from London.