DHEISHEH, West Bank ⁠— Palestinian tradition dictates that only men transport the dead to their graves. Still, a distraught Suhad Khamour clasped the handles of a black platform carrying the body of her youngest child. 
For a few moments, she led the funerary procession for Amr, 14, who Palestinians say was killed by an Israeli bullet during a raid in the Dheisheh refugee camp. Around her, mourners packed the street inside the camp in the Israeli-occupied West Bank just south of Bethlehem.
"He used to be my right hand," Khamour later told NBC News as she sat surrounded by women offering prayers and condolences in the courtyard of the family's home last Tuesday. The 48-year-old grieving mother of four wore a necklace bearing the photo of Amr.
"I used to rely on him for everything," she said of the boy who loved soccer and dancing the dabke, a Levantine folk dance. 
Around Khamour, posters large and small from a variety of Palestinian organizations and institutions declared Amr a martyr. At least one bearing the red and white insignia of the Popular Front for the Liberation of Palestine, designated a terror group by the United States, called on Palestinians "not to die except in a shower of bullets."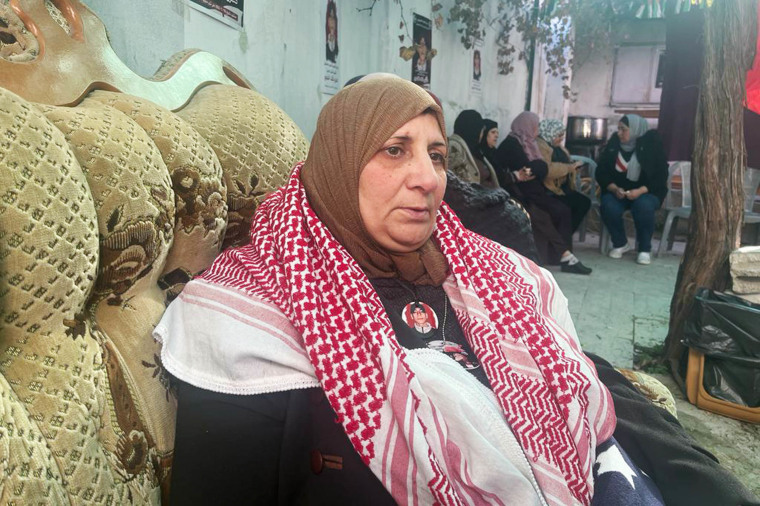 Amr's death is the latest in a growing wave of violence hitting the region. Last year, 146 Palestinians were killed by Israeli forces in the West Bank and east Jerusalem, the largest number since 2004 during a wave of intense violence known as the Second Intifada, or Palestinian uprising, according to the Israeli human rights group B'Tselem.  
Among those killed last year were five women and 34 children. Five Palestinian civilians were killed by Israeli civilians, said the B'Tselem report, which is based on an independent investigation that included testimony and evidence collected by field workers, footage, media and social media.
In 2022, 29 people were killed by Palestinians in Israel, east Jerusalem and the West Bank, according Israel's Ministry of Foreign Affairs. Twenty-three civilians ⁠— including one child ⁠— and six members of Israel's security forces died.
The return of Benjamin Netanyahu as the head of a government considered to be Israel's most far-right ever is fueling fears that the violence is set to worsen. 
So far this year, 18 Palestinians — both civilians and fighters — have died, according to the Palestinian Health Ministry. Amr is among four Palestinian children to have been killed this month. 
In a statement, the Israel Defense Forces said Amr had died during a "violent riot" on Jan. 16, in which several people allegedly hurled stones, explosives and Molotov cocktails. Security forces responded with live fire and other tactics, it said, although it did not confirm that an Israeli bullet had killed the teenager.
A State Department spokesperson said Monday that officials were "deeply concerned by the deteriorating security situation in the West Bank" and following recent violence closely.
"This year as seen a sharp and alarming increase in Palestinian deaths and injuries, including numerous children," they said. "Urgent action should be taken to prevent even greater loss of life and de-escalate tensions in the West Bank."
The United Nations envoy for peace in the Middle East, Tor Wennesland, has also warned about the continuing violence, which comes amid increasing political tensions and a stalled peace process. 
"I am particularly appalled that children continue to be victims of violence. Children should never be the targets of violence or harm," he said Wednesday. 
Israel accuses the Palestinians and some international bodies, like the U.N., of exaggerating Palestinian casualties and underreporting and discriminating against Israeli victims. The Israeli ambassador to the U.N., Gilad Erdan, said Wednesday in New York, "it was also the year with the most terror attacks committed against Israelis in a decade," referring to 2022.
Khamour arrived at the Bethlehem Arab Society for Rehabilitation, a local nongovernmental organization that provides medical services, where her son had been taken after the Israeli raid. She was worried but still hopeful ⁠— according to the refugee camp grapevine, Amr had been shot in the shoulder during the clash with soldiers. 
But then, Khamour saw a "sea of red" and blood flowing from Amr's nose. She knew her son was dying.
"I told him that I still needed him. I asked him to come home with me and that we still have a lot of chores to do," she said. "But he kept bleeding." 
Soon, Amr was dead.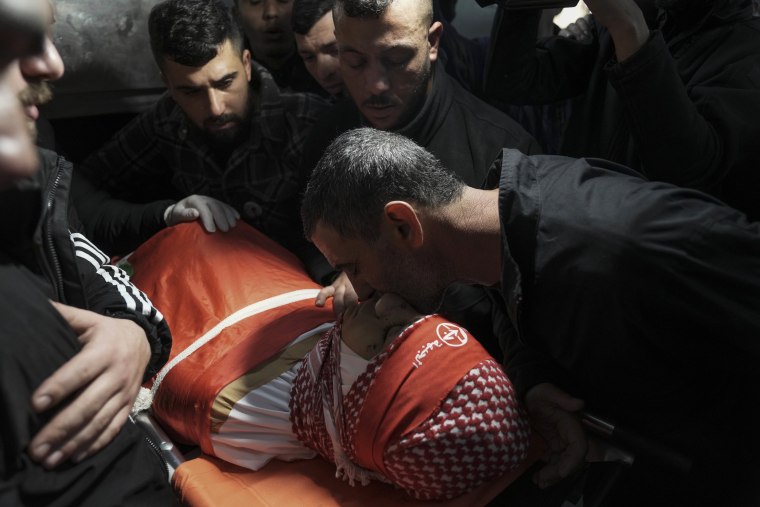 Amr's parents denied their son had been throwing Molotov cocktails or been involved in the clashes with Israeli soldiers.  Despite Dheisheh being nominally under full Palestinian control, Israeli security forces conduct incursions and arrests inside the camp, which has a population of some 15,000.
In a statement shared on Twitter, the British consulate in Jerusalem called on Israeli authorities to conduct a "rapid and transparent investigation" following the teen's shooting. The IDF also said it was investigating the circumstances around Amr's killing.
Following several attacks targeting Israelis last year and escalating tensions between Israelis and Palestinians, the Israeli military has been conducting frequent raids into Palestinian cities and towns. 
The violence comes amid tensions over the Palestinians' long campaign for an independent state in the West Bank, the Gaza Strip and east Jerusalem, which were captured by Israel in the 1967 Arab-Israeli war. While much of the world views the West Bank as occupied, Israel considers it to be disputed territory and has built dozens of settlements that are now home to roughly 500,000 Jewish settlers. Israel's annexation of east Jerusalem is also not recognized by most countries. 
Already, Amr's father, Khaled Khamour, worries for his remaining three children. 
"We hear gunshots every day," he said. "We don't have security here."
"I used to be a prisoner and I don't want my kids to suffer like I did," Khaled Khamour added. "Our children have the right to have a normal life."
Lawahez Jabari reported from Dheisheh, Paul Goldman from Tel Aviv and Aina Khan from London.