What will happen to the 2.3 million Palestinians trapped in the Gaza Strip? That question, fraught with historical trauma and fears of the future, has hung in the suffocating air of the besieged enclave as Israel intensifies its aerial bombardment and ground assault.
Now, a paper by an Israeli government ministry proposing that Palestinians in Gaza be transferred to Egypt's Sinai Desert has raised the specter of a long-standing but highly contentious idea of forced displacement. 
The proposal has drawn widespread outrage in the Arab world and has been denounced by Palestinian leaders. President Joe Biden said Sunday that he had spoken to Egyptian President Abdel Fattah el-Sissi and that they had discussed "ensuring that Palestinians in Gaza are not displaced to Egypt or any other nation."
Israel has downplayed the seriousness of the paper, but with Gazans' fragile future the subject of its advancing military and furious global diplomacy, the idea does at least appear to be the subject of ongoing discussion. 
Follow live coverage from NBC News here.
A 'complicated' plan
The plan in this "thinking document" has been circulating for weeks but was confirmed by Israel on Monday as one of many ideas put forward by the country's Intelligence Ministry, which conducts research but does not set policy.
It laid out a vision for mass displacement at the end of its war with Hamas: establishing tent cities in Egypt, creating a humanitarian corridor, then building cities in the northern Sinai to house the refugees for the long term, with a security zone to prevent Palestinians from returning to Gaza. 
Sinai is a sparsely populated peninsula, its interior a largely inhospitable desert that has been the subject of past conflicts and negotiations between Israel and Egypt. 
The document deemed the plan to be the best option for Israel's security in the wake of Hamas' deadly Oct. 7 terrorist attack, while acknowledging that the proposal "is liable to be complicated in terms of international legitimacy."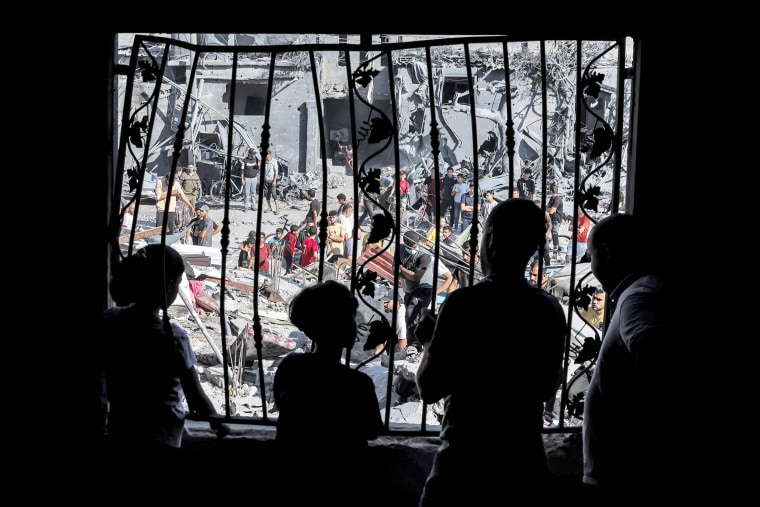 Capturing Israeli fury in the wake of the attack, a lawmaker and former minister on Wednesday called for the erasure of Gaza so that its residents "will fly to the southern fence and try to enter Egyptian territory. Or they will die."
"A vengeful and cruel IDF is needed here," said Galit Distel Atbaryan, a member of the ruling right-wing Likud Party, said in a post on X. Other prominent Israeli figures have also publicly suggested that Palestinians should flee south into Egypt, at least temporarily.
Forced displacement as described in the document is a war crime in violation of international humanitarian law. 
It is also an especially emotive issue for Palestinians. Even as they attempt to escape Israel's bombardment, many fear that their attempts to seek safety will be parlayed into another traumatic mass displacement. 
In 1948, an estimated 700,000 Palestinians left their land in what would become Israel. It was a foundational event for Palestinians, who refer to their displacement as the "Nakba," Arabic for catastrophe. Many of the current residents of Gaza are descendants of Palestinian refugees displaced during the Nakba.
"The biggest trauma in the Arab world that continues to this day is around the failure of Arab states in 1948 to do more to prevent the ethnic cleansing of Palestine," said Yousef Munayyer, a senior fellow and head of the Palestine/Israel Program at the Arab Center in Washington, D.C.
"No Arab leader wants to be seen as complicit in the ethnic cleansing of Palestinians," he told NBC News in a phone interview.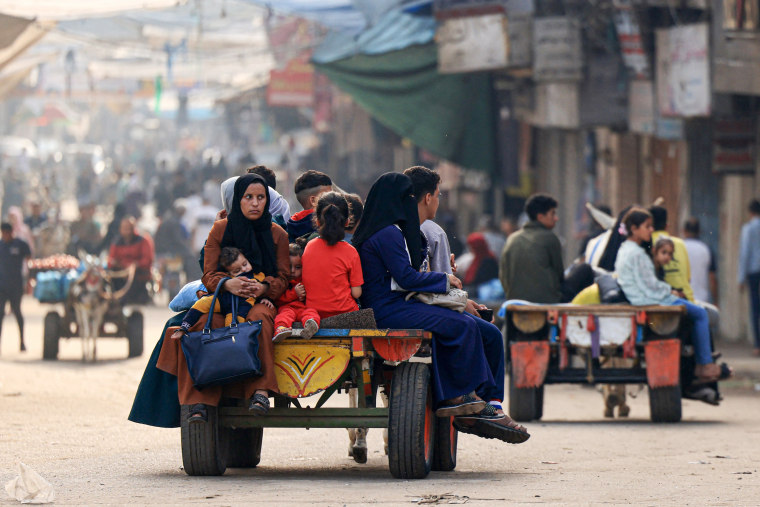 In a statement to The Associated Press in response to the Israeli report, Nabil Abu Rudeineh, spokesman for Palestinian President Mahmoud Abbas, said, "We are against transfer to any place, in any form, and we consider it a red line that we will not allow to be crossed."
"What happened in 1948 will not be allowed to happen again," Abu Rudeineh said, adding that a mass displacement would be "tantamount to declaring a new war."
While el-Sissi has not commented directly on the leaked document, he has repeatedly and staunchly opposed becoming a party to efforts by Israel to displace Palestinians. 
"We are not going to permit that to happen," he said last week, adding that the prospect of displacement endangered the "Palestinian cause." 
Middle Eastern experts are not surprised by the document but they are concerned.
Gamal Abdel Gawad, a political analyst and professor at the American University of Cairo, said the Israeli intelligence proposal is "completely reckless" and deflects from the crux of the long-standing Israeli-Palestinian conflict, which he believes would only be resolved if Palestinians gain their own state. 
The plan is also seen by many observers as an attempt by Israel to push off its responsibility under international law for the protection of Palestinians onto Egypt, a country in the midst of an economic crisis and ill-equipped to absorb 2.3 million refugees. Israel, with the support of its allies, may hope to leverage Egypt's near-insurmountable debt as a way to convince it of such a plan, analysts have said.
El-Sissi's public rejection of such a policy is bolstered by massive public support, including pro-Palestinian protests in Cairo last week. A strongman seeking a third term amid dwindling popularity, he has seen his approval ratings rise on the back of his vocal support for Palestinians.
His government has played an outsize role already in deals involving hostages, humanitarian aid and civilian evacuations.
Egypt's position is not only motivated by a belief in the Palestinians' right to self-determination or by self-interest, but the country also has a complex history with Israel, including past wars over Sinai, a 1978 peace treaty it seeks to preserve and delicate political cooperation. 
National security concerns may also play into the administration's tough stance. In the past, Egypt has struggled with extremist groups' presence in the Sinai and lacked control over terrorist activity there, experts said. 
"The idea of destabilizing Sinai, once again, through this mass depopulation is not just an economic or moral burden for Egypt, but also a major security issue," Munayyer, of the Arab Center, said.
The plan to resettle Palestinians in Gaza to Sinai has surfaced regularly for decades, often meeting with outrage among Palestinians and Arab governments, but it is "not uncommon" in Israeli political discourse as an option during wartime, Munayyer said. 
The United Nations estimates that 1.4 million Palestinians are currently displaced within the Gaza Strip in increasingly desperate conditions, as food, water, fuel and medicines run down under the total siege imposed by Israel and the destruction and death toll climb. It also remains unclear who might govern the coastal enclave after the war, if Israel is successful in eliminating Hamas.
Israel has repeatedly issued evacuation orders forcing people to southern Gaza, against the Egyptian border, while it appears to have focused its ground incursion on isolating the north of the enclave. 
Israeli Prime Minister Benjamin Netanyahu has attempted to downplay the document. In a statement to the AP, his office called it a "concept paper, the likes of which are prepared at all levels of the government and its security agencies." 
Munayyer said it would be tantamount to "complete political suicide" for the Egyptian government to accept such a "horrific possibility." But while Israel has downplayed the document and the U.S., Egypt and others have dismissed the idea, he said he had no doubt that the Israeli government will likely push "very hard" to make it a reality with its actions in Gaza.
"Israel might make the Palestinians Egypt's problem, whether Egypt likes it or not."