EAST OF GAZA CITY, Gaza Strip — An overriding desire drives Mohammad Shaladan to ignore the recent deaths of protesters near the fence between Gaza and Israel and venture there Friday: the wish to go "home."
"I am here to restore my lost rights," the 60-year-old unemployed former farmer said. "I want to return to Palestine."
Shaladan is one of tens of thousands of Gaza residents expected to demonstrate Friday for refugees' right of return to the villages and towns their families lived in before the establishment of the State of Israel — a principle Israel rejects.
At least 18 Palestinians were killed and more than 750 wounded by Israeli bullets on the first day of a six-week sit-in that began last Friday, according to health officials in the Hamas-ruled enclave. However, Israeli officials have said that dozens, at most, were wounded by live rounds. (The death toll, originally 15, was revised on Monday after a 29-year-old man died of his injuries and two other Palestinians killed by Israeli fire in other circumstances were included, officials said.)
Israeli officials have come under intense criticism for what some Western and Israeli rights groups consider a disproportionate reaction to the demonstration. A total of almost 1,500 people suffered injuries during last Friday's rally, according to Palestinian officials.
The Israeli government says troops opened fire against people trying to sabotage the 40-mile fence, which Israel maintains keeps militants away from its citizens.
In Gaza, stacks of tires were being built up so they can be burned to obscure the view of Israeli snipers on Friday.
While the sit-in is scheduled to continue until May 15, crowds are expected to swell each Friday — the Muslim day of rest.
Waad Mismah, a 20-year-old language student, says fears of more violence won't prevent her from attending.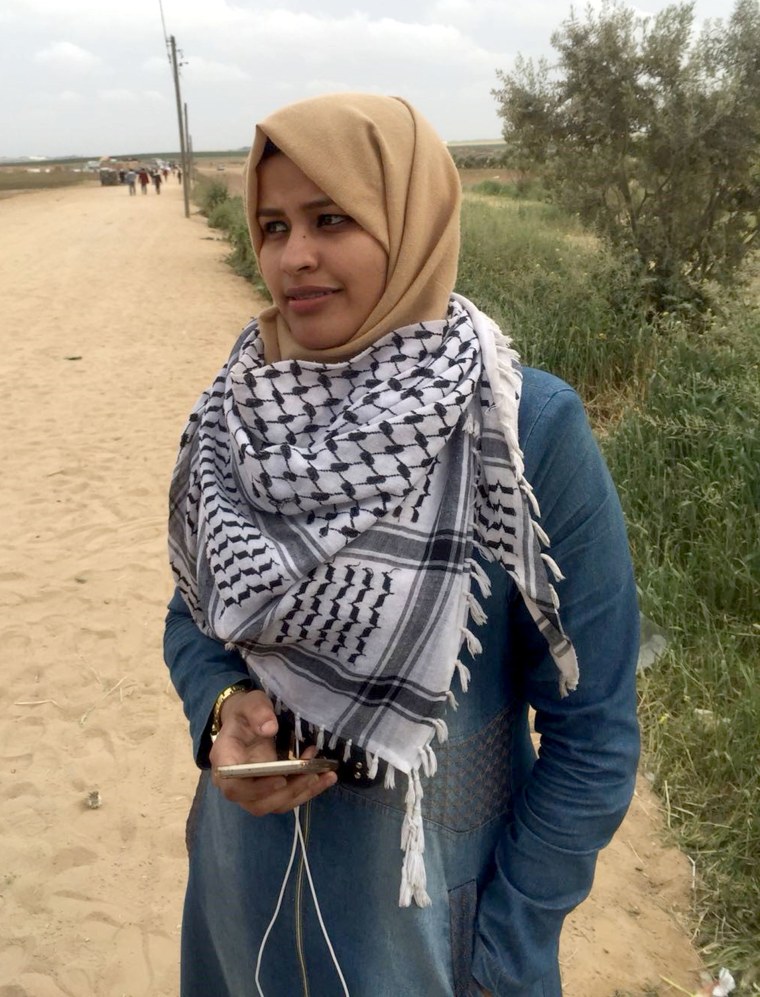 "We are here to deliver a message that we are resistant and we want to return to our land no matter what situations we encounter," said Mismah, who lives in the Nuseirat refugee camp. "It is something inside of all of us."
Last Friday, some groups of Palestinians ignored sit-in organizers' requests to stay away from the barrier, burned tires and threw firebombs and stones as soldiers kept watch from dirt embankments on the other side of the fence.
But over half of the enclave's residents are descended from refugees, so the belief in a right of return resonates deeply in Gaza, which has been ruled by militants Hamas since they won elections in 2006. The sit-in demonstration is set to culminate on May 15 — the day after Israeli independence which is commemorated annually by Palestinians as the Day of the Catastrophe.
However, protesters don't solely blame Israel for desperation brought on by long daily power outages, acute medical shortages, crumbling infrastructure and an unemployment rate of around 40 percent.
Neighboring Egypt also enforces the crippling blockade, residents point out.
Meanwhile, other Arab countries are accused by some locals of abandoning the Palestinian cause and constant infighting between Palestinian leaders has made standing up to Israel close to impossible.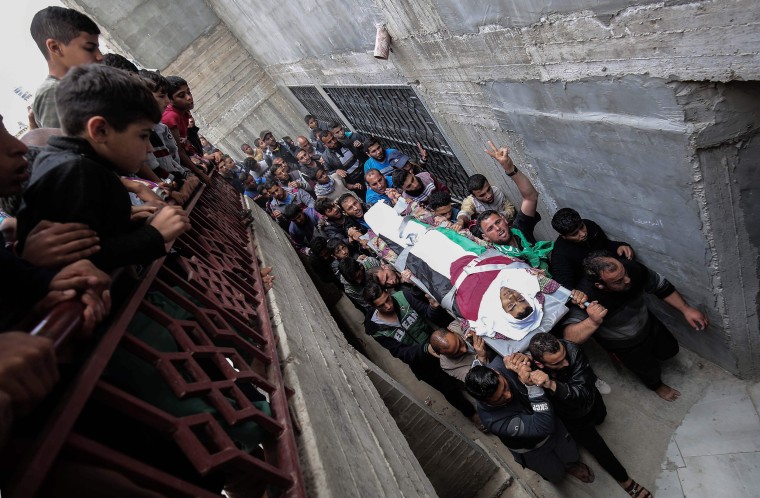 "We blame the Arab leaders, our neighbors who are supposed to protect Jerusalem, Palestine, Gaza," said Saeed Lulu, 31.
"The people of Gaza have made so many sacrifices, they have suffered a lot," added the activist, who promised to return to the de facto no-man's land that last week was the scene of the deadliest day for the territory since the 2014 war with Israel. Lulu said he would protest peacefully.
Despite organizers' assertions that the demonstrations are meant to be peaceful, many Israelis fear a mass breach of the fence that blocks off the coastal enclave.
According to Israeli officials, at least 10 of those killed Friday were "terrorists" linked to Hamas, the Islamist group that runs Gaza and backs Israel's destruction.
"Something inside of me moves me to go to the border and demand my rights."
Hamas' contention that the demonstrations will culminate in a "March of Return," implying the protesters will at some point try cross the fence into Israeli territory, exacerbates these fears.
While Palestinian protesters have vowed to continue their protests, Israeli officials also have not backed off pledges to respond harshly to threats.
"We must understand that most of those killed are … not innocent civilians who came as part of a civil protest," Israeli Defense Minister Avigdor Lieberman said. "We are not initiating any provocation against the residents of Gaza, we are protecting our residents."
He added: "We have set clear game rules and we do not intend to change them. Every person who comes close to the fence is endangering their lives."
New York-based Human Rights Watch said Israeli officials who called for the use of live ammunition against demonstrators who "posed no imminent threat to life bear responsibility" for the killings and injuring of hundreds of largely unarmed protesters.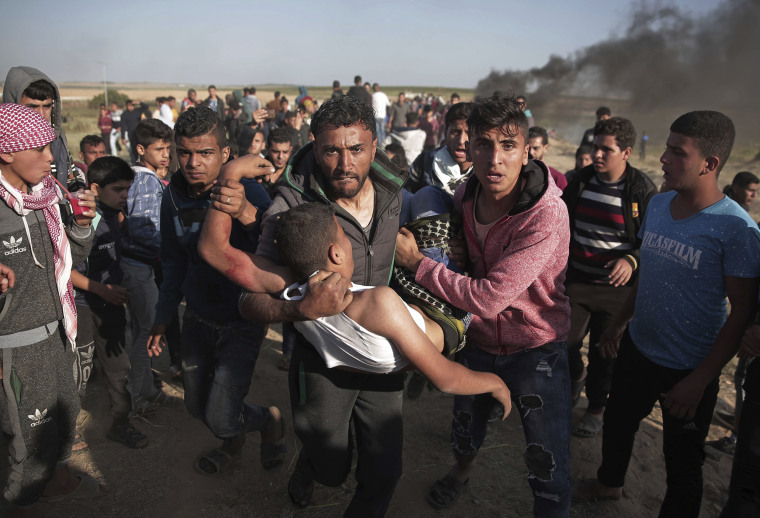 "Israeli soldiers were not merely using excessive force, but were apparently acting on orders that all but ensured a bloody military response to the Palestinian demonstrations," said Eric Goldstein, deputy Middle East director at the group.
Mismah, the language student, said nothing would deter her.
"People ask me, 'Why are you going to the border? You are a girl — what are you going to do? Are you going to free Palestine?'" she said. "I answer, 'No, something inside of me moves me to go to the border and demand my rights.'"
Wajjeh Abu Zarifa reported from Gaza, Lawahez Jabari from Jerusalem, Paul Goldman from Tel Aviv and F. Brinley Bruton from London.