JERUSALEM — Palestinians carried out two stabbing attacks in Jerusalem on Saturday before being shot dead by police, while another two Palestinians were killed during a violent demonstration near the Gaza border fence, as violence continued to spread following a series of attacks against civilians and soldiers in the past week.
Jerusalem has seen a wave of stabbing attacks linked to tensions over a sensitive holy site in the Old City that is sacred to Jews and Muslims. In recent days the attacks have spread to the rest of Israel, while violent protests have erupted in the West Bank and along the Gaza border, where seven Palestinians were killed on Friday.
In the first stabbing on Saturday, a 16-year-old Arab attacked two Israelis who were walking from the Old City toward the city center, said police spokesman Micky Rosenfeld.
Police, who saw the men bleeding from stab wounds in their upper bodies and the knife-wielding Palestinian running toward them, opened fire, killing the attacker. The two victims were lightly wounded and evacuated to the hospital, Rosenfeld said. Photos taken by a witness to the attack showed a dazed-looking youngster in jeans and a sweatshirt holding a knife.
Related: Carry Guns at All Times, Jerusalem Mayor Says
Later, just outside the Old City, another Palestinian stabbed two police officers, one in the neck. Rosenfeld said other police forces opened fire and killed the attacker, but also wounded one of their own. Three officers were taken to a hospital, one in serious condition.
On the Gaza frontier, meanwhile, protests resumed Saturday afternoon, with dozens of Palestinians throwing stones and rolling burning tires toward Israeli troops along the border fence. Gaza health officials said Israeli forces shot dead a 13-year-old and an 11-year-old. The Israeli military said it fired toward protesters who approached the border.
Related: Five Killed in Gaza as Israeli-Palestinian Violence Worsens
Later, the military said dozens of Palestinians breached the border and briefly entered Israel. The military said five were detained for questioning while the others retreated.
Rosenfeld said police in an Arab east Jerusalem neighborhood also came under attack overnight and responded with gunfire, hitting a 25-year-old. Health officials later confirmed the man had died of his wounds.
Violent protests broke out after the man's funeral, with rocks and firebombs hurled toward police, who opened fire and lightly wounded two people.
Recent days have seen a series of attacks by young Palestinians wielding household items like kitchen knives, screwdrivers and even a vegetable peeler. The youths had no known links to armed groups and have targeted Israeli soldiers and civilians at random, complicating efforts to predict or prevent the attacks.
The violence, including an apparent revenge attack in which an Israeli stabbed and wounded four Arabs on Friday, as well as increasing protests by Israel's own Arab minority, has raised fears of a new Palestinian intifada, or uprising.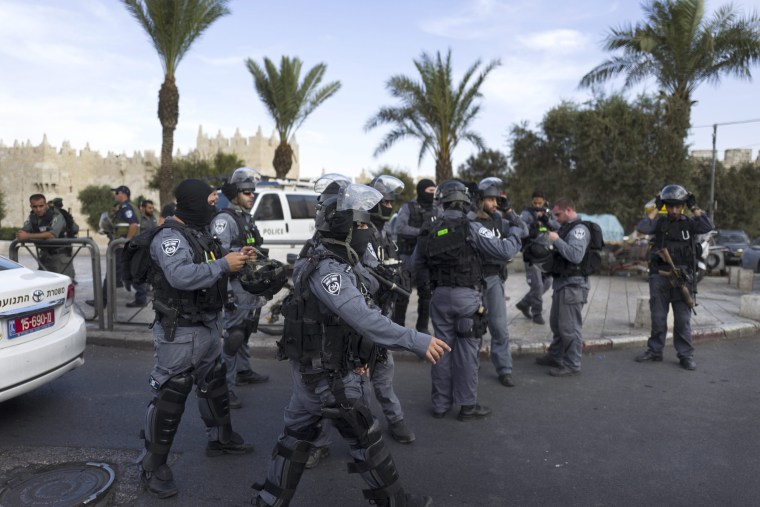 Security forces were on high alert in Jerusalem in preparation for two big events Saturday evening that were expected to draw thousands: a Euro2014 qualifying soccer match pitting Israel against Cyprus, and an open-air concert by reggae rapper Matisyahu.
Related: Palestinian Unrest Leaves 970 Injured Since Weekend: Red Crescent
On Saturday, Netanyahu ordered the mobilization of three reserve border police companies to offer reinforcement amid the wave of attacks. In a previous measure meant to ease tensions, Netanyahu banned Cabinet ministers and lawmakers from visiting the sensitive Jerusalem holy site, fearing any high-profile spectacle could further enflame tensions.
Palestinian President Mahmoud Abbas said his people had no interest in further violence and that he was committed to "peaceful popular resistance." Still, he voiced support for the protesters who have clashed with Israeli police at Al-Aqsa, hurling stones, firebombs and fireworks.