David Chaney, one of the Secret Service agents who lost his job in the prostitution scandal in Colombia, joked about Sarah Palin on his Facebook page during the 2008 campaign.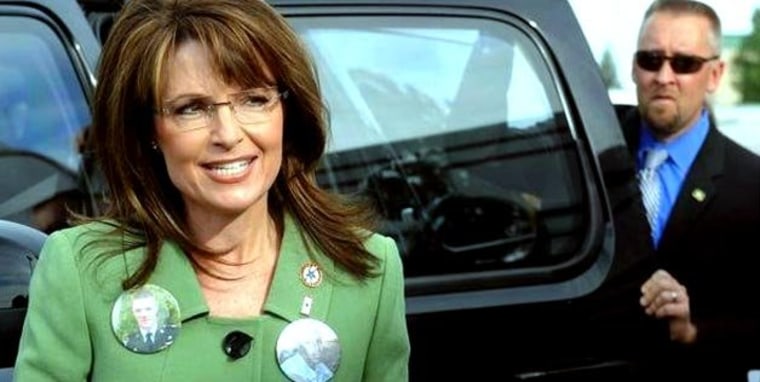 Posting a photo where Chaney is seen glancing at the GOP vice presidential nominee, Chaney wrote: "I was really checking her out, if you know what I mean?"
Speaking on Fox News last night, Palin said the joke is on Chaney.   
"This agent who was kind of ridiculous there in posting pictures and comments about checking someone out," Palin said.  "Well, check this out, bodyguard, you're fired and I hope his wife kicks his ocoli and sends him to the doghouse."
Ouch.  
Well, you can't blame Palin for saying that as Chaney certainly had it coming.  On the other hand, we thought Palin's religious beliefs include forgiveness.  Perhaps she was just joking.
But then Palin really went off the rails, saying the scandal is "a symptom of government run amok" and that President Obama "better be wary, there, of when Secret Service is accompanying his family on vacation. They may be checking out the first lady instead of guarding her."
Three agents, including Chaney, have already been forced out the Secret Service and eight more are still under investigation.
The agents are accused of hiring prostitutes and bringing them back to their hotel in Cartagena last week. They were in Colombia setting up security for President Obama's trip to the Summit of the Americas. 
UPDATE: At least three more Secret Service officers implicated in a prostitution scandal in Colombia were expected to lose their jobs today, a federal official told The Associated Press, and the Pentagon acknowledged that an 11th military person was involved.
The disciplinary announcement expected late today would bring to six the number of Secret Service employees who no longer work for the agency because of the incident. 
The scandal involved 11 officers and supervisors and at least 11 military members who were working on security before President Barack Obama arrived in Cartagena, Colombia, for the Summit of the Americas. The Pentagon acknowledged today that the 11th military person, a member of the Army, was implicated.