Three Americans and one Canadian were gored by bulls Friday during a chaotic day at Pamplona's San Fermin festival, officials said.
They were among seven men — six of them foreigners — who were gored during a second day of bull running at the annual event in northern Spain.
A 23-year-old Californian and a 55-year-old, whose home state was not given, were left with non-serious injuries under their left leg and left arm respectively, Spain's Navarra regional government said.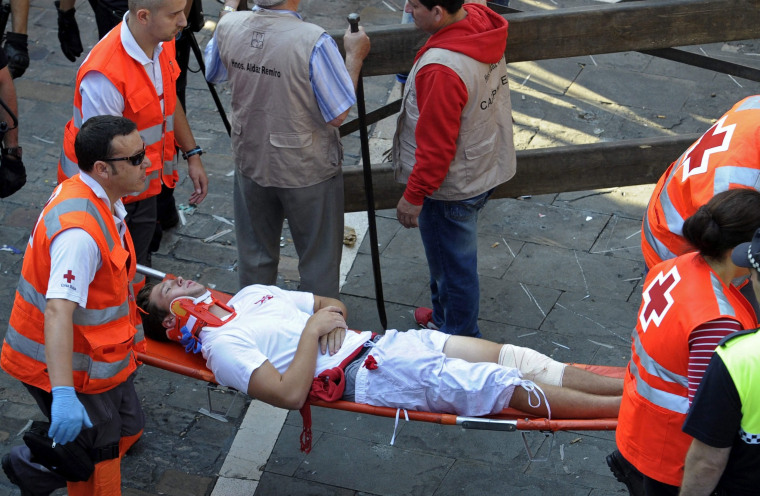 A third American, a 46-year-old man from Pensacola, Florida, was gored in the groin and his condition was described as "mild," officials said.
Less fortunate was a 46-year-old Canadian man who was left in a serious condition after being gored in the left side of his scrotum, receiving a four-inch wound that also injured his rectum.
Among others gored were a 58-year-old Spaniard and a 73-year-old South African were listed in a serious condition, and 26-year-old Indian, whose condition was described as less serious.
Eight others were hospitalized for various other injuries.
Friday's 8 a.m. (2 a.m. ET) run descended into chaos after several bulls — each weighing up to 1,430 pounds, according to The Associated Press — broke away from the pack and began charging at random.
Video showed officials trying to corral the animals as they skidded down cobbled streets. More than 1,000 people took part in the run and it lasted almost six minutes — twice the usual length, the AP reported.
The festival became famous after Ernest Hemingway's 1920 novel "The Sun Also Rises" and attracts thousands of foreign tourists each year.