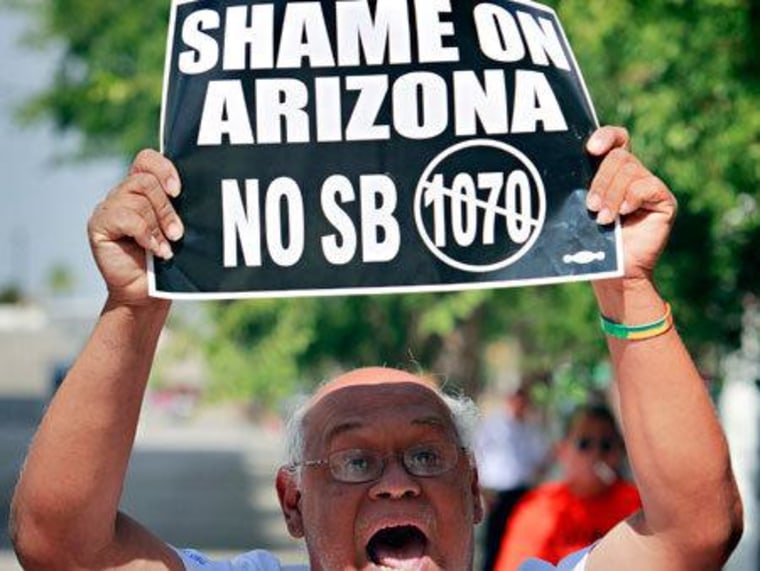 The Supreme Court announced in December that they would decide whether or not a harsh anti-immigration state law rooted in racism, Arizona's SB 1070, is constitutional -- and that process will begin when the justices will hear the first arguments on Wednesday. Inevitably, such news leads to conversations not only about federal vs. state authority (more on that in a bit), but also about its implications for presumptive Republican nominee Mitt Romney, who trails President Obama amongst Latino voters by something akin to several miles.
That's a steep climb made steeper still by the Latino Republican who he's doing his best to buddy up to, Florida Senator Marco Rubio, who last week noted how he and Romney differ on so-called "Papers, Please" legislation:
This week's oral argument focuses attention on illegal immigration just a few days after the most prominent Latino Republican, Florida Sen. Marco Rubio, highlighted the division between himself and Mitt Romney on the Arizona law, saying, "I do not believe that laws like Arizona's should be a model for the country."
Romney did say, "I think you see a model in Arizona" -- but not about SB 1070. As TPM's Pema Levy first noted, he said it about Arizona's 2007 E-Verify law. What's truly curious is that by saying that, Rubio -- who has been pushing a watered-down DREAM Act to get Republicans to temper their far-Right immigration rhetoric when he's not Freudian-slipping his way towards the vice-presidential selection, joins the Democrats in misinterpreting what Romney said in a February debate.
But something a Democrat said to Levy back then is worth noting: with that comment, Romney left the door open for just this kind of thing.
"He pandered," said Luis Heredia, Executive Director of the Arizona Democratic Party in describing Romney's comments. "He said words like 'using Arizona as a model.' This was immediately after a reference to Joe Arpaio. I think Romney might have framed it at the debate as one thing, but his endorsement, his previous comments, how he wants to approach this issue in the primary, is to be extreme."
He's also open to attack because people are starting to realize that the very immigration reform Latino voters crave has been blocked by Republicans throughout. So that, plus the fact that "Papers, Please" is back in the news, isn't good news for Romney, especially in the wake of his clumsy dissing of SB 1070 architect, Kansas Secretary of State Kris Kobach; the attempted (and potentially embarrassing) comeback of the law's sponsor, Russell Pearce; and Sheriff Joe Arpaio's increasing legal troubles. Also problematic? Unless conservatives on the Supreme Court really have turned into House Republicans, the legal decision on this should be a cinch:
"This should be an easy case for the federal government," said Adam Winkler, a professor at UCLA School of Law. "Under longstanding precedent, the federal government has plenary authority over immigration. Yet here Arizona has imposed its own view of how immigration law should be enforced."
As Melissa's guest, NBC Latino's Raul Reyes, said during our discussion yesterday about Latino voters in the coming election, Mitt Romney's Etch-a-Sketch may be insufficient. He may need a time machine. (See that segment below.)
More of what is on our radar this Monday: