PARIS — The sound of sirens, angry chants and the crack of stun grenades echoed throughout the French capital Saturday as riot police fought to contain the latest violent protests in weeks of forceful anti-government demonstrations that have swept the country.
Protests that began last month against planned tax hikes on gas have since morphed into a wider rebuke of Emmanuel Macron's presidency and an expression of anger at his attempts to reform France's long-ailing economy.
An estimated 10,000 yellow jacket protesters flooded Paris' otherwise largely deserted streets on Saturday, while 125,000 demonstrated around the country, according to Interior Minister Christophe Castaner. Police arrested over 1,000 people. In addition, 135 were injured, including 17 police officers, he added.
Police and protesters also clashed in other French cities, notably Marseille, Toulouse and Bordeaux. The effects of the protest were felt beyond France's borders as well, with protesters donning yellow jackets as a symbol of resistance in Belgium Saturday and Iraq earlier this week.
Almost eight in 10 people in France support the protests, according to a poll published last month.
The Champs-Elysées — the scene of last week's clashes with police — was a rallying point for protesters, with many there calling for Macron to resign. Meanwhile, Paris' glittering museums and galleries, including the Louvre and the Eiffel Tower, did not open their doors to the usual troop of holiday season tourists. Soccer matches were also called off across the country.
'Fed up'
Protesters who spoke to NBC News on the Champs-Elysées Saturday said they were not there for violence but to send Macron a message.
"He is amplifying a phenomenon that has existed for years now," said Julian Alla, 31, a teacher from the rural Lozère region in the south of France. "That is that inequality is increasing, the rich are more and more rich and the poor are getting poorer."
"We're fed up and it makes me happy to see that everyone is here to say 'enough is enough,'" said Alla, who had traveled more than 385 miles to Paris to protest.
Antoine Gauthier, 47, who had come to the protest with his 17-year-old son said that while he was not struggling financially, he wanted to show his solidarity with those who were.
"It's fraternity," he said. "We understand that we need taxes but we can't be taxed to the point that we can't live."
Gauthier said that many people after paying rent and taxes find themselves with nothing. "It's those people who we need to help," he said.
John Schiltz, 36, a train-track worker from the Seine-et-Marne region to the east of Paris, said he would continue to protest until Macron resigned.
"He has to go," he said. "He's adding all these taxes without helping us at all — it's just tax, tax, tax."
Alexandre Bouchard who had traveled up from the rural Corrèze department in central France said he had come because he wanted to protest against increasing inequality.
"There is no longer a redistribution of wealth in France," the electrician, 28, said.
As darkness fell across the French capital, the atmosphere on the streets became more unpredictable with some taking advantage of the chaos to loot shops. Some protesters continued to play cat and mouse with riot police.
Meanwhile in Washington, President Donald Trump, who enjoyed an erstwhile bromance with the French leader, tweeted in apparent support of the protests.
There was no evidence of the so-called Yellow Jacket protesters chanting "We want Trump."
Struggle to reform
The French have a history of fiercely opposing reform and quickly falling out of love with their presidents. But Macron, a former investment banker who swept to power on a reformist agenda, was supposed to be different.
The young centrist pledged to overhaul the country's generous welfare state, which redistributes wealth across society with high taxes for the rich.
France has high levels of social security and workers' rights, making it difficult to enact business-friendly reforms in spite of persistent unemployment.
But while he's enjoyed a high profile on the global stage, he has struggled to pass legislation at the heart of his domestic agenda.
Bouchard, from Corrèze, said he was concerned that Macron would break up the welfare state by liberalizing key services.
"We want to defend the French social model, especially anything to do with education or health," he said.
Macron has faced demonstrations throughout his year-long tenure, but the "Yellow Jacket" protests represent a more fundamental challenge to his authority.
A November poll found that only 26 percent of French people have a favorable opinion of their president.
The findings mean Macron is now less popular than his predecessors François Hollande and Nicolas Sarkozy at the same stage of their presidencies. Both would eventually leave office beset by opposition and scandal.
The protests gained even more momentum this week after French farmers and trade unions vowed to join the fray.
Students have also been protesting across France in a series of demonstrations against education reform, and some have said they are protesting in solidarity with the "Yellow Jackets."
As different grievances on the palette of discontent begin to merge, many people in Paris said they thought it would become increasingly difficult for Macron to put an end to the unrest.
'President of the rich'
In a last-ditch attempt to quell the uproar, Macron agreed Wednesday to abandon the gas tax increases which he had previously defended as necessary to help reduce France's dependence on fossil fuels.
However, his concessions appear to have fallen on deaf ears.
Many on the streets of Paris Friday accused Macron of not listening to the people and several said his U-turn amounted to too little, too late.
"The government should do more, it should have reacted better," said Abdul Asis, 28, a construction worker who described himself as "100 percent behind the Yellow Jackets."
Joseph Downing, an expert in French politics at the London School of Economics, said the protests were about "much more" than taxes on gas.
"It's this entire idea of the squeezed middle or the squeezed upper working-class person who feels an entitlement to an ever-increasing standard of living but is something that no politician can deliver," he said.
"This is where we've seen disenfranchisement with Sarkozy, with Hollande and now with Macron."
The self-organized approach of the protest, which sprung up from social media, is also a relatively new phenomenon in France where people have historically relied on the powerful unions to organize discontent.
Several people who spoke to NBC News before the protests Saturday said the strength of the "Yellow Jackets" lies in the fact that the protest isn't specifically linked to any political party or union and has therefore united swathes of the population.
"The politicians are afraid because they don't know how to stop it," said Julian Guillo, 23, a property student. "It's not one organization, it's the people."
Several people directed their frustration directly at Macron, who they described as out of touch.
"He's the president of the rich," said Louis Boyard, a student leader at the high-school student protest Friday. "The youth are angry, we are against Emmanuel Macron."
Among the many grievances listed at Friday's student protest were changes in university admissions procedures and fees, which students and teachers said would make admission more selective and limit access to higher education.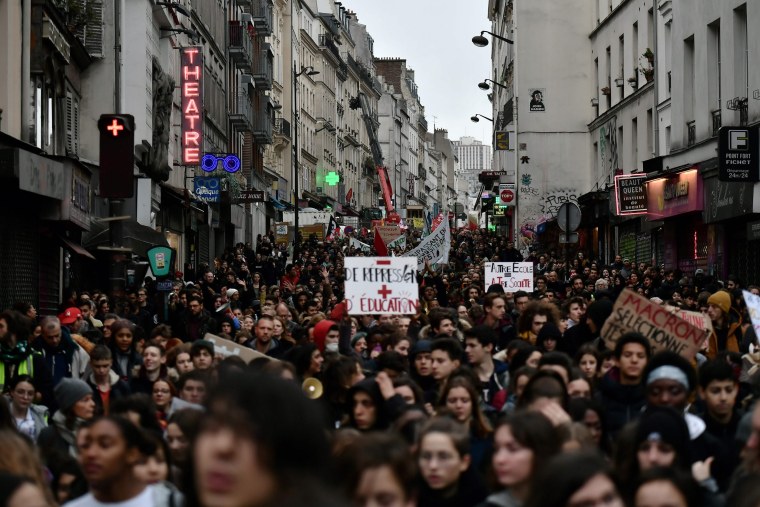 "We have to get rid of Macron to get to a fairer society," said Homa Javadi, 18, who said she supported the cause of the so-called Yellow Jackets.
But while the anger is widespread, the appetite for violence and destruction is not.
"Vandalizing the Arc de Triomphe is unacceptable," said Lea Chauvet, a high school graduate, on Friday.
"I wouldn't want to associate myself with people who destroy everything," she added as one reason she would not go to the protest.
It's not just the students who lay the blame at Macron's door, though. André Rubinot, a retired baker, said the president talked down to the people and portrayed himself as "king-like."
The fact that Macron has largely kept a low-profile since surveying the damage after last weekend's protests has further angered those looking for signs of change from the presidential palace.
"He's not saying anything and the country's on fire," said Meredith Saban, 38, a director of a human resources firm. "He's mocking the people."