The Paris prosecutor's office got a tip in January that the gunman behind a shootout on the Champs-Elysees that left one police officer dead and two others wounded was amassing an arsenal and that he had made death threats against law enforcement.
There was good reason to investigate 39-year-old Karim Cheurfi — he had already served 11 years in prison for trying to kill another police officer, Paris prosecutor Francois Molins said Friday.
They took Cheurfi into custody but let him go after a search of his home in the multi-ethnic Paris suburb of Livry Gargan turned up no evidence, Molins said. He was not on a watch list of Islamic extremists and was not considered a security risk.
Now, a day after Cheurfi ambushed a trio of police officers and was shot dead while trying to escape, police are questioning his mother and two other relatives. Authorities are trying to determine how he got his hands on the Kalashnikov rifle he used in the deadly shooting, Molins said.
Cheurfi, who was a French citizen, was convicted in 2005 of trying to kill a police officer and sentenced to 15 years in prison, said Molins. He was released in 2012, despite a history of violence behind bars that included a conviction for "violence on civil servants" and beating up a cellmate.
But a year later, Cheurfi was back in prison for violating parole and wasn't released until October 2015, after which he was required to regularly report his whereabouts to police, Molins said.
After Cheurfi was shot dead on Thursday, police found a piece of paper bearing pro-Isis propaganda beside his body and a Koran in the trunk of the Audi he had been driving, Molins said. They also recovered a shotgun, two kitchen knives, a pruner and a mask.
ISIS claims Cheurfi was one of their soldiers. But police suspect he may have been inspired by the radical Islamic group but not necessarily a member.
Molins did not address conflicting reports that radicals identified by Belgian security forces may have been involved in the attack on the police officers.
John Finney, an American tourist from Kentucky visiting Paris with his family told NBC News that he had been 10 feet away when the shooter opened fire.
"I stopped to buy my wife a rose and I think if I hadn't done that I wouldn't be here speaking to you right now," Finney said. "We saw the shooter get out of the car, he had a gun. To me, it looked like an AR-15 [and] he started popping of rounds."
Finney added: "It was chaos. People were spreading out, running all over the place, falling down, trampling each other. It was real panic."
French President Francois Hollande has called the deadly shooting a terrorist attack. It happened at a particularly tense time in France just days before the first round of the presidential election.
Some 50,000 police officer and 7,000 military personnel have been deployed for security as the French head to the polls on Sunday, Prime Minister Bernard Cazeneuve confirmed after a meeting of France's National Defense Council.
Cazeneuve compared the attack to recent incidents in Berlin, Stockholm and London.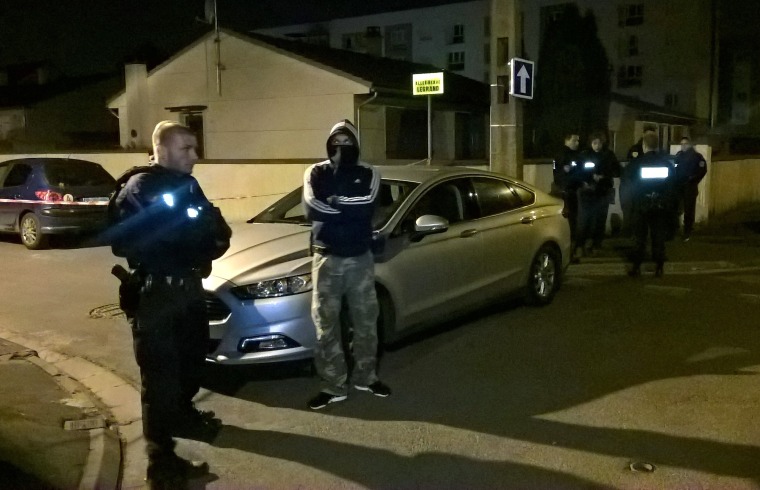 National security has become a burning issue in France after attacks by militant Islamists across the country have killed more than 230 people over the past two years.
Marine Le Pen of the far right National Front, who is one of the leading candidates to make it to the runoff stage, spoke out in the aftermath of the latest Paris attack and called for the expulsion of foreigners with criminal records.
President Donald Trump, who has also taken a hard line against illegal immigrants in the U.S., tweeted early Friday about the Paris shooting, implying the latest bloodshed could Le Pen.
"Another terrorist attack in Paris. The people of France will not take much more of this. Will have a big effect on presidential election!" he wrote.