Paris was hit Monday by yet another suspected terror attack — this time involving a motorist who was killed after he plowed his car into a police convoy heading down the Champs-Elysees.
The suspect's Renault, which was packed with at least two gas canisters, exploded and burst into flames, police said.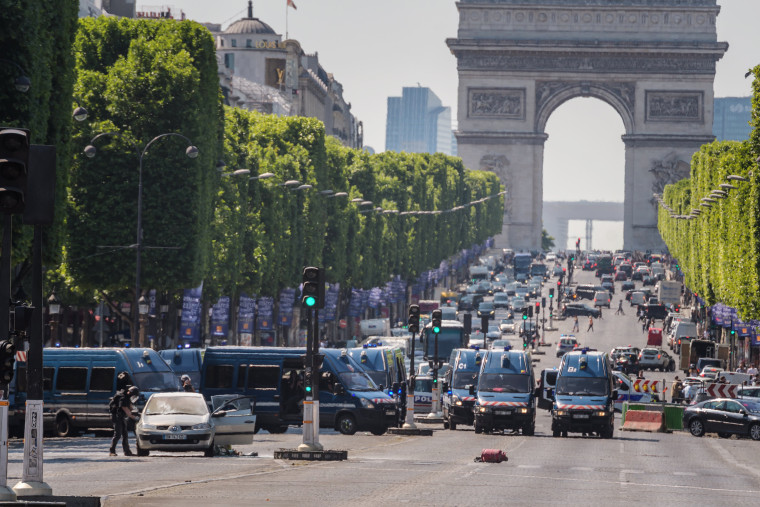 Several police officers then raced over to the vehicle, smashed the windows, and dragged the would-be assassin from the car while others used fire extinguishers to douse the flames, authorities said.
But they were too late. The suspect, the French Interior ministry tweeted, had been "neutralized."
There were no immediate reports of police officers being injured in the incident. Investigators found more weapons and explosives inside the vehicle.
Asked how many, French interior minister Gerard Collomb said, "Enough to allow him to blow up this car."
The French authorities have launched a terror investigation and have not named the suspect, who was 31 and from the Paris suburb of Argenteuil. He was, however, known to the authorities, the Associated Press reported.
A witness, Leonard Odihe, said he was talking to a friend who manages a nearby newspaper kiosk when the blast went off about 3:40 p.m. local time.
"When it exploded we all looked to see where it came from," he said. "We all thought it was a terrorist attack, especially when they took the man out of the car. He was armed and there was also a gun in the car in the back seat."
Odihe said he watched the police break into the vehicle and drag the man out.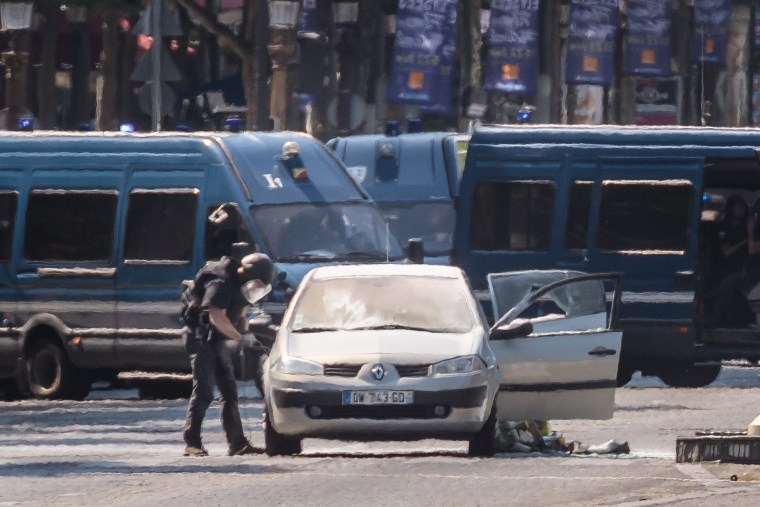 "He was dead in the car," Odihe said. "It was then that we saw, in the car, the guns, the gas canisters, the one that didn't explode and the other that did."
It's the second time this year that police have been targeted on Paris' most famous thoroughfare.
In April, one Parisian police officer was killed and two were wounded by a gunman who ambushed their car. Karim Cheurfi was later shot dead.
ISIS claimed shooter Cheurfi was one of their soldiers. But he was also an ex-con who did time for trying to kill another police officer.
It's also not the first time a vehicle has been used in France as a weapon of mass destruction. Last July, 84 people were killed in the city of Nice when a petty criminal named Mohamed Lahouaiej Bouhlel mowed down Bastille Day revelers on a seaside promenade with a 19-ton rented truck.
The latest Paris attack came as London was still reeling from what that city's mayor called "a horrific terrorist attack on innocent people."
In that incident, the driver of a van rammed into pedestrians near a mosque and injured 10 people — all of them Muslims. The motorist was quickly apprehended.
France has been under a state of emergency since the 2015 terrorist attacks in Paris that killed 130 people.