PARIS — People streamed into a park in northeast Paris on Wednesday evening, finding reprieve from a sweltering heat wave rolling across the continent by sprawling across the cool grass.
"Today was the worst," said Francois Arbelet, sitting by a pond with his wife, Manon, and their 1-year-old daughter Sibylle. "We were quite worried."
The high temperatures brought on by an influx of hot air from the Sahara desert are baking countries from Spain to Poland and smashing temperature records, according to the World Meteorological Organization.
Typical Parisian apartments, many built in the 1920s, are small and not designed for the hot weather stifling much of Europe this week, Francois said. They've managed by setting up a kiddie pool at home as temperatures climbed and by escaping outdoors in the evening. But it's still hard on their daughter.
"She used to take a nap every day in the afternoon, and she can't because it's too hot, so she's grumpy," he said.
Conditions are expected to worsen on Thursday with temperatures reaching or exceeding 104 degrees in the southern two-thirds of the country, according to Météo-France. And the end is nowhere in sight with some areas warned of highs reaching 111 degrees on Friday.
Officials have raised concerns the soaring temperatures will damage autobahns, according to German news media. Older stretches of the concrete highways are particularly vulnerable to buckling and ripping in the heat, and lower speed limits have been introduced as a precaution, the broadcaster Welt reported.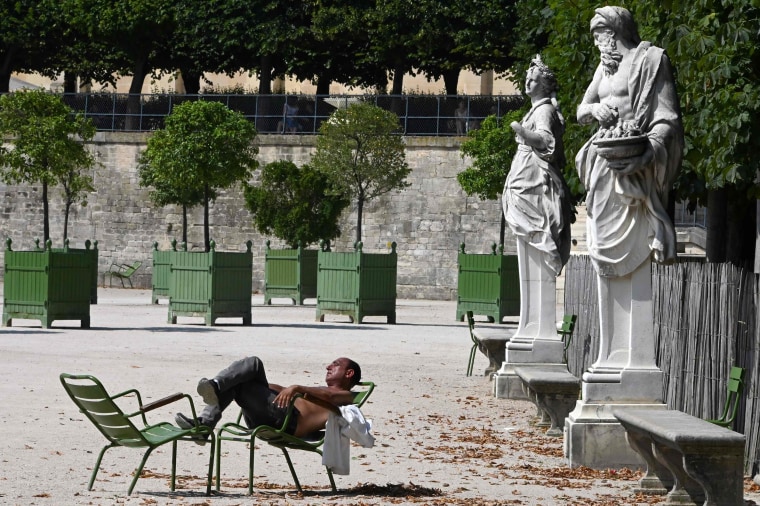 These extreme heat events are part of a new normal due to climate change, the World Meteorological Organization warned earlier this year.
Much of the continent sizzled in 2018 with record-breaking temperatures and wildfires that ravaged thousands of acres because of heat and drought. This year has shown no signs of improvement as extremes are recorded across the globe.
France is being hit hard by harsh weather.
Heat waves have intensified and doubled in frequency over the last 34 years, the French meteorological organization Météo-France has said, and it's expected to double again by the end of the century.
"We have to get used to this because it will happen more and more often because of climate change," said Alice Rustique, 26, while splitting a platter of baguette, meats and dips with her friends in Parc des Buttes-Chaumont in northeast Paris.
"We have to change our behavior to stop this trend."
Her friend, Elora Fernandez, said she was grateful the city decided to keep parks open overnight. Despite having bought a fan on Monday in anticipation of the rising temperatures, she said her apartment is still incredibly hot.
"I think we're going to stay late here," said Fernandez, 26.
This week's blast of hot air has signaled major adaptations on the part of French officials.
In 2003, a prolonged heat wave with temperatures similar to current conditions resulted in 15,000 deaths. A Council of Europe report found that while the majority of fatalities were among seniors over the age of 75 who lived alone, issues of poverty and public health education were contributing factors.
To prevent the tragedy from repeating, both national and city governments have launched a public health awareness campaign while opening cooling centers, extending the hours for public swimming pools and keeping parks open overnight.
The official messages of caution appear to be resonating. In Parc des Buttes-Chaumont, an array of people from young men smoking a hookah to a grandmother trying to calm a wailing toddler lingered under the trees well after 10 p.m.
For Gozde Incegul, 34, a regular visitor from Turkey, the culture of escaping to the outdoors rather than staying at home is part of the appeal of the city.
"You see everyone in the streets, in the parks, by the canal or wherever, out with their friends," she said. "This is probably the most social city ever."