The Taliban claimed responsibility Thursday for an hours-long siege on a Kabul guesthouse that left at least 14 people — including an American and an Italian — dead.
Police said that dozens of people were rescued during attack, which began late Wednesday at the Park Palace Hotel and lasted into the early hours of Thursday morning at the guesthouse popular with foreigners.
Taliban spokesman Zabihullah Mujahid said the hotel was targeted because the group had information that foreign dignitaries — including Americans — would be present.
While police said that three attackers were involved, the Taliban spokesman said just one fighter — armed with an AK-47 assault rifle, pistol, hand grenades and suicide vest — had carried out the siege.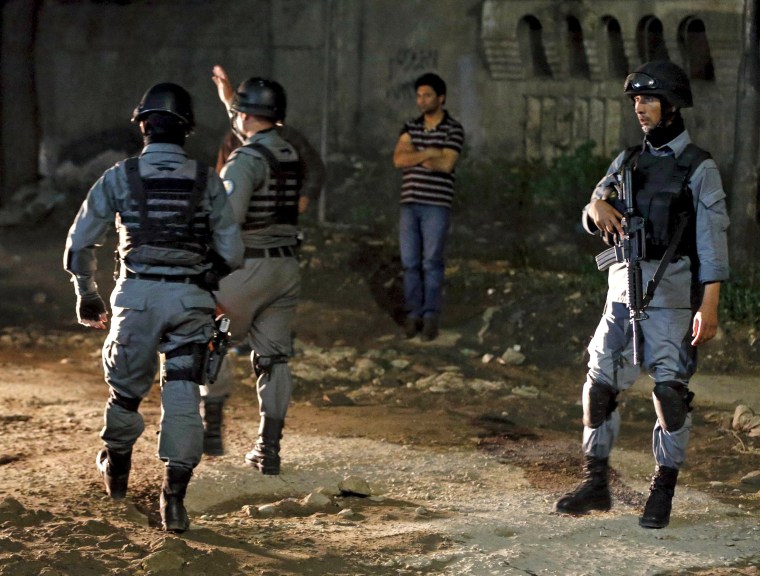 At least 14 civilians were killed in the attack and several others injured, according to the United Nations Assistance Mission in Afghanistan.
"These deliberate attacks on civilians are atrocities," Georgette Gagnon, UNAMA's Human Rights Director, said in a statement. It added that international humanitarian law prohibits attacks against civilians and civilian locations — including hotels — and said such acts "may amount to war crimes."
The State Department confirmed that a U.S. citizen was killed in the attack, but did not identify the victim. Italy's Foreign Ministry also confirmed to NBC News that one Italian had died, and the U.K. Foreign Office said a British dual national had been killed.
India's Prime Minister Narendra Modi said Afghan President Ashraf Ghani had called to express condolences over the "unfortunate demise" of Indian citizens in the attack.
A tweet from the Indian ambassador to Afghanistan suggested four of his country's nationals had been killed.
However, officials in Kabul had only confirmed five deaths as of early Thursday.
Kabul Police Chief Gen. Abdul Rahman Rahimi told reporters that foreigners were among the dead and that investigative teams were working to determine how the attackers managed to enter the guesthouse.
The Taliban have long targeted hotels and restaurants popular with Westerners. In March 2014, a Taliban attack on the luxury Serena Hotel left nine people dead.