SEOUL, South Korea — A passenger opened an emergency exit door during a flight in South Korea on Friday, causing air to blast inside the cabin and slightly injure some on board, officials said. The plane landed safely.
Some people aboard the Asiana Airlines Airbus A321 aircraft tried to stop the person, who was able to partially open the door, the Transport Ministry said.
The plane with 194 people was heading to the southeastern city of Daegu from the southern island of Jeju. The flight is normally about an hour, and the incident occurred shortly before landing with the plane at about 200 meters (700 feet) above the ground, an airline official told NBC News.
A video apparently taken by a person on board and posted on social media shows some passengers' hair being whipped by the air blowing loudly into the cabin through the open door, as some grasp armrests for support.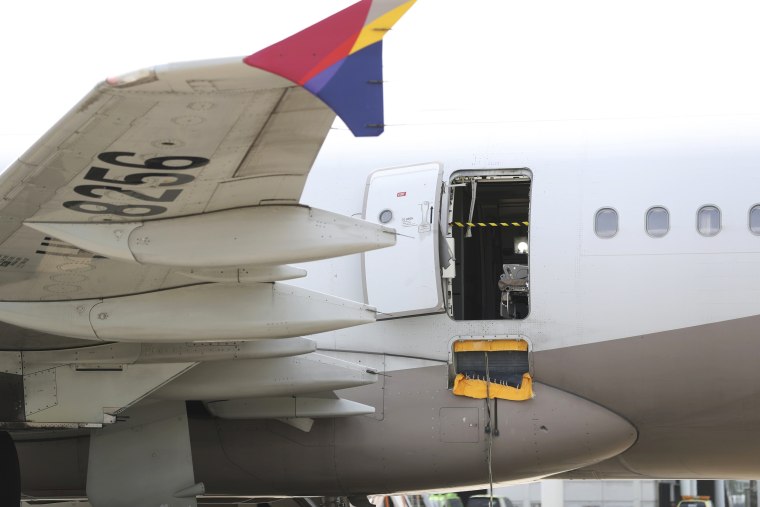 Police detained the unidentified person who opened the door, the airline said. His motive wasn't immediately known.
The incident terrified some passengers but no one was injured, though some passengers were assessed at a hospital, Asiana and Transport Ministry officials said.
"The plane was a few minutes from landing," Han Jae Min, an official from Asiana Airlines, said Friday in a phone interview.
"Nine passengers were taken to the nearby hospital after landing because of breathing issues but we understand that they are in good condition," Han said.
"The male passenger who sat next to the emergency exit door that opened said that he was tinkering with the handle and that he opened the door. He is currently being questioned by the police and we understand that he told the police that he opened the door," Han added.
The passengers included teenage athletes who plan to attend track and field competitions in Ulsan, another southeastern city.