President Donald Trump met with American pastor Andrew Brunson in the Oval Office on Saturday, one day after the North Carolina pastor was freed from detention in Turkey.
Brunson was released on Friday after nearly two years in detention for terrorism charges and arrived in Washington, D.C., on Saturday afternoon.
Sitting in the Oval Office with Brunson, Trump congratulated the pastor repeatedly and thanked Turkish President Recep Tayyip Erdogan for facilitating the release.
"Everybody wanted this to happen. I think we can say this was bipartisan. I think if there was ever a bipartisan event, this was it," Trump said.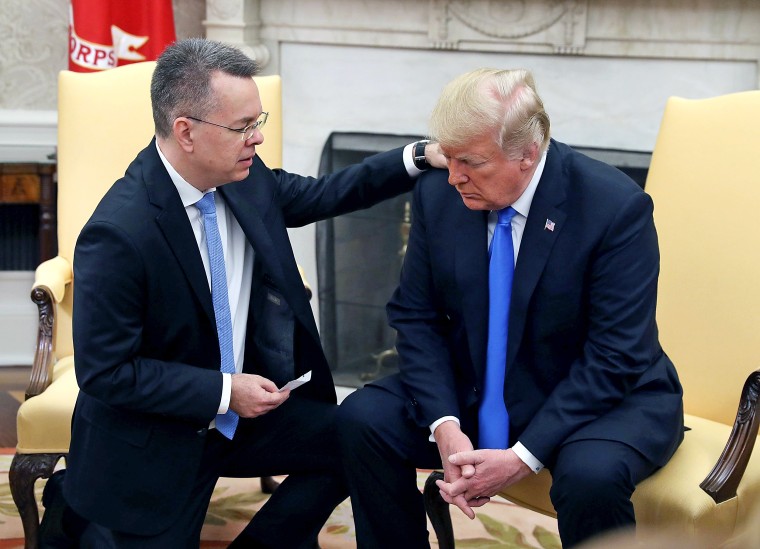 Brunson thanked Trump, his administration and Sens. Thom Tillis, R-N.C., Lindsey Graham, R-S.C., and Jeanne Shaheen, D-N.H., who he said visited him while he was imprisoned. Brunson's wife, Norine, and their children also thanked Trump.
"You really fought for us," Brunson said.
Trump praised Vice President Mike Pence and U.S. Secretary of State Mike Pompeo, who he said brought Brunson's case up frequently.
"I would say we spoke about this at least once a day," Trump said. "We thought we had it done two months ago. Sometimes it doesn't always work out, but I can only tell you that's better than anybody else could have done."
Trump also championed his role in facilitating the release of Americans held in North Korea and Egypt.
"Right now the whole world is fan of yours," Trump said, referring to numerous faith leaders, members of Congress and his administration who advocated for Brunson's release. "The whole world is your fan and your family's fan."
Brunson later asked to pray over the president, which Trump joked he needed "more than probably anybody in this room." Kneeling before Trump, Brunson asked God to give the president "supernatural wisdom to lead the country."
Norine Brunson also offered her prayers to Trump. The president then replied, "Can I ask you a question? Who did you vote for?"
Trump joked that he already knew the answer, and Andrew Brunson offered that he "sent in an absentee ballot from prison."
The president also joked that he wouldn't ask Brunson if he had plans to return to Turkey.
"We do love Turkey. We were there for 25 years and we love the Turkish people" Brunson said.
Bruson said he and his wife plan to go home, pray, and "see what God wants for the next part of our lives." He said he planned to discuss his treatment in Turkish prison at a later date.
"This is a time to thank the administration and people in government who supported us ... We love this country," Brunson said.
While speaking to media Trump also answered questions about Jamal Khashoggi, the Washington Post journalist, who was alleged to have been killed inside the Saudi consulate in Istanbul.
When asked if the timing of Brunson's release and Khashoggi's suspect death were in any way related, Trump said the timing was purely coincidental.
Trump and Pompeo said they have not yet seen or heard any tapes that would prove what happened to Khashoggi, and added that they're going to "determine what happened first" before considering any action.
NBC News reported a day before Brunson's release that a deal had been struck between the U.S. and Turkey that would result in certain charges against him being dropped. Senior Trump administration officials told NBC News that discussions between the two countries included a commitment by the U.S. to ease economic pressure on Turkey.
But Trump tweeted on Saturday that there was no deal made with the Turks and that he doesn't "make deals for hostages."
Brunson, a North Carolina native, was one of two dozen Americans charged with helping Kurdish militants and supporters of Fethullah Gulen, the cleric whom the government blames for planning a failed coup in 2016. Brunson, who had lived Turkey for more than two decades, has denied the charges.
The evangelical pastor who led a small congregation in Turkey had been convicted and sentenced to more than three years in prison. But he was ordered released for time served and allowed to leave the country after spending nearly two years in detention. A separate charge of espionage was also dropped.
Trump was among many politicians celebrating his release. It's viewed as a triumph for both the president and Republicans who are counting on the support of evangelical Christians in the November election.
Trump told a crowd of thousands of supporters in Lebanon, Ohio, on Friday, "We've had a lot of success."