Pakistani teen Malala Yousafzai, who was shot in the head by the Taliban for advocating girls' education, and Indian children's rights advocate Kailash Satyarthi were jointly awarded the 2014 Nobel Peace Prize on Friday. Yousafzai, 17, is the youngest winner of the award. She was honored for "her heroic struggle," said Thorbjørn Jagland, chairman of the Norwegian Nobel Committee. "Despite her youth, Malala ... has shown by example that children and young people can contribute to improving their own situation."
Satyarthi, 60, has been a lifelong campaigner against the exploitation of children for financial gain. The announcement of a joint Indian and Pakistani winner came as the two countries were involved in deadly clashes along a stretch of disputed border. "The Nobel Committee regards it as an important point for a Hindu and a Muslim, an Indian and a Pakistani, to join in a common struggle for education and against extremism," Jagland added.
Yousafazi, who received a standing ovation when she made a powerful address to the United Nations on her 16th birthday, express hope that the leaders of Pakistan and India would come together on education and asked for them to jointly attend the award presentation in December.
"I'm proud that I am the first Pakistani and I am honored that I am the first young woman or the first young person to be receive this award," she said in a press conference from Britain, where she is still receiving treatment for her injuries. "I'm thankful to my father for not clipping my wings and for letting me to fly."
She said she was in chemistry class when she learned of the award.
"I was totally sure that I hadn't won it," she explained, saying that she was accepting the award on behalf of children everywhere. "When I found that I got the Nobel peace prize.. I decided that I would not leave my school I would continue to learn."
In her hometown of Mingora, Ahmad Shah, principal of the Sarosh Academy, expressed deep pride over the win.
"I was across the street when she was shot. And I now I see this day. What a day," Shah said.
Still, some view the teen with suspicion in her conservative homeland, and Malala is unable to return there because of Taliban death threats. Mehar Bokhari, 30, one of Pakistan's leading female news anchors, said: "It's ironic, really. She is such an inspiration for the rest of the world, yet we fail to gain any inspiration from her as a people and a nation."
Before the announcement, the secretive Norwegian Nobel Committee revealed that it had received a record 278 nominations. Committee member Geir Lundestad had suggested the choice was more difficult this year, telling The Associated Press they had "seven meetings rather than five or six." The $1.1 million prize will be presented on Dec. 10, the anniversary of prize founder Alfred Nobel's death in 1896.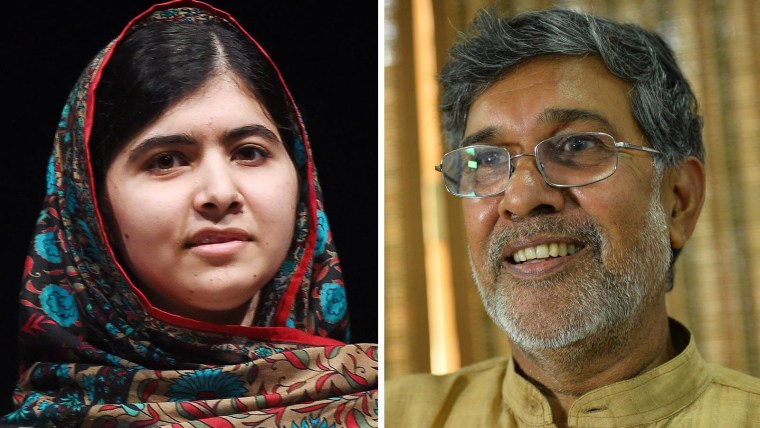 IN-DEPTH
SOCIAL
- Alastair Jamieson, Wajahat S. Khan and Jason Cumming
The Associated Press contributed to this report.