The U.S. embassy in Israel will move to Jerusalem by the end of 2019, Vice President Mike Pence said on Monday.
"In the weeks ahead, our administration will advance its plan to open the U.S. Embassy in Jerusalem — and that United States Embassy will open before the end of next year," Pence said in a speech to the Israeli parliament in Jerusalem.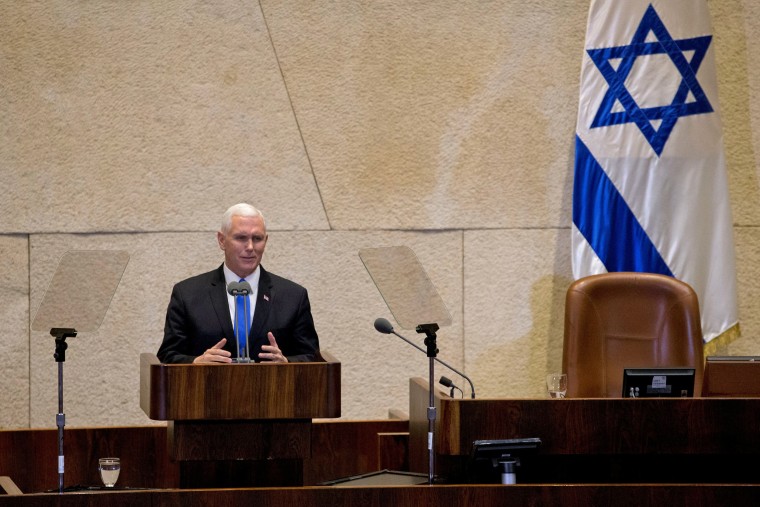 "Jerusalem is Israel's capital — and, as such, President Trump has directed the State Department to begin initial preparations to move our embassy from Tel Aviv to Jerusalem," said Pence, explaining the decision. He did not give an exact date.
The main Arab party in the Israeli parliament protested during his remarks after saying earlier that it will boycott the speech. The lawmakers stood up while the vice president spoke and waved signs before they were removed by security.
Ayman Odeh, leader of the Joint Arab List, said it was the party's democratic right to boycott the speech.
In a tweet, he said he was "proud to lead the Joint List in strong, legitimate protest, against the Trump-Netanyahu regime's exaltation of racism and hatred, who speak of peace solely as lip service."
Israeli Prime Minister Benjamin Netanyahu has called the boycott a disgrace.
Related: Vice President Pence lays blame on Democrats for shutdown during visit with troops
On Monday morning, Pence kicked off his visit to Israel with a meeting with Netanyahu in which he said it was an honor to be in "Israel's capital, Jerusalem."
Netanyahu told Pence it was the first time a visiting dignitary could utter those three words along with him, and he thanked him for President Donald Trump's "historic" recognition of Jerusalem. The Israeli leader also lauded the American-Israeli alliance, which he said has "never been stronger."
The brief exchange was part of an exceptionally warm welcome for Pence in Israel, which has praised the Trump administration's decision last month to recognize Jerusalem as Israel's capital. The decision, though, has infuriated the Palestinians, with whom Pence is not meeting, and upset America's Arab allies as well.
Pence placed his right hand over his heart as an honor guard greeted him with the American national anthem. White House Mideast envoy Jason Greenblatt, U.S. Ambassador David Friedman and the Israeli ambassador to Washington, Ron Dermer, joined the ceremony and Pence chatted briefly with Israeli soldiers before beginning his meeting with Netanyahu.
Pence said he was grateful to be representing Trump and that his decision to designate Jerusalem as the Israeli capital would "create an opportunity to move on in good faith negotiations between Israel and the Palestinian Authority."
Related: Amid Jerusalem unrest, Pence postpones Mideast trip to mid-January, citing tax bill
The vice president said he was hopeful "we are at the dawn of a new era of renewed discussions to achieve a peaceful resolution to a decades-long conflict."
Snubbed by Palestinians
Prior to his arrival, Pence visited Egypt and Jordan, where he was warned by King Abdullah II that he had to "rebuild trust and confidence" after the Jerusalem move.
After the Jerusalem announcement, Palestinian President Mahmoud Abbas said he would not meet Trump administration officials and called off a meeting with Pence that had been scheduled for mid-December.
In a new expression of that snub, Abbas overlapped with Pence in Jordan from Saturday evening to midday Sunday, when the Palestinian leader flew to Brussels for a meeting with European Union foreign ministers. There, Abbas is expected to urge EU member states to recognize a state of Palestine in the pre-1967 war lines, and to step up involvement in mediation.
In Brussels, EU's top diplomat Federica Mogherini said the aim was "to support an international framework to accompany direct negotiations" despite the U.S. decision to recognize Jerusalem as the capital of Israel.
Mogherini said "the only pragmatic, realistic solution for Jerusalem has to come through direct negotiations."
Nabil Abu Rdeneh, an Abbas adviser, reiterated that the United States "is no longer acceptable as a mediator" in the Israeli-Palestinian conflict.
A small group of Palestinians in the West Bank town of Bethlehem protested Pence's arrival by burning posters with his image.