Vice President Mike Pence sought to calm European leaders, who have expressed disquiet at President Donald Trump's pronouncements on trans-Atlantic relations and his admiration for Russian President Vladimir Putin.
"We must stand strong in defense of the sovereignty and territorial integrity of nations in Europe," Pence said during a visit to Brussels, Belgium.
"In the wake of Russian efforts to re-draw international borders by force, we will support efforts in Poland and the Baltic states through NATO's Enhanced Forward Presence initiative," he added, in a reference to a NATO plan to bolster the defenses of member states.
Speaking later in the day at NATO headquarters, however, Pence offered a sterner assessment of the challenges facing the United States' relationship with its alliance partners.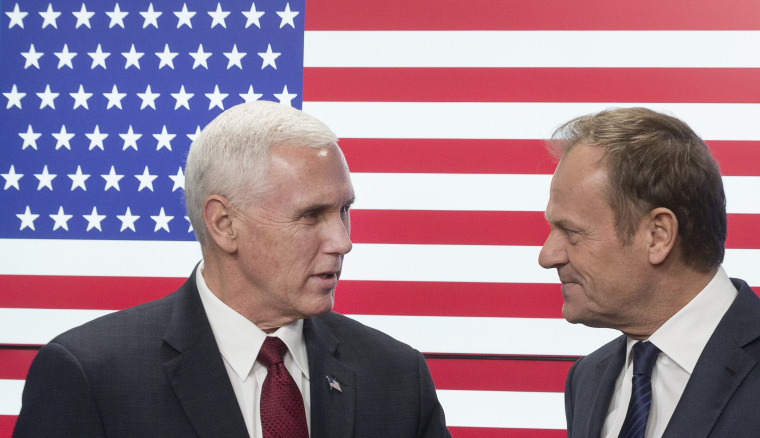 "The president of the United States and the American people expect our allies to keep their word and to do more in our common defense. And the president expects real progress by the end of 2017," he said.
Speaking of NATO allies who have not yet mapped out a plan to achieve the required spend of two percent of GDP on defense, he said: "If you don't yet have a plan — get one," adding "the patience of the American people won't endure forever."
"Too much has happened in the last month ... for us to pretend that everything is as it used to be"
The vice president also said that the Trump administration retained a "strong commitment to partnership with the EU," emphasizing trade and collective security.
Pence also said that the administration would "also search in new ways for new common ground with Russia, which President Trump believes can be found."
The disquiet felt among EU leaders during the first weeks of the Trump administration was clearly on display at the event.
Donald Tusk, the president of the European Council, who was speaking with Pence ahead of talks Monday, said that European leaders "truly needed" reassurance from the U.S.
"Too much has happened in the last month, in your country and in the EU, too many new and sometimes surprising opinions have been voiced in this time about our relations and our common security, for us to pretend that everything is as it used to be," Tusk added.
Pence's remarks come toward the end of his first foreign trip as vice president.
He has sought to reaffirm the America's commitment to working through international organizations like NATO, while pushing some of Trump's priorities to allies in a softer tone.
He told NATO allies that the failure of a majority of the group's members to meet defense spending commitments undermined the alliance, and insisted that the U.S. would seek warmer ties with Russia.