WASHINGTON — President Donald Trump suggested Monday that he would leave some U.S. troops in Syria to protect oil resources, but said he saw no need for U.S. forces to defend America's Kurdish partners.
"We never agreed to protect the Kurds for the rest of their lives," Trump told reporters at a Cabinet meeting at the White House.
"Where is the agreement we have to stay in the Middle East for the rest of humanity?" he added.
He said the military personnel would be "leaving not expeditiously, intelligently" and that the priority would be protecting the region's oil resources. He said the U.S. would work out a deal where some oil revenue would go to the Kurds, and suggested a large oil company could be involved. He also said the U.S. would leave a small number of troops near Jordan at the request of Israel.
"Keep the oil, we want to keep the oil and we will work something out with the Kurds so they have some money, they have some cash flow," Trump said.
Should Trump ultimately decide to leave some forces within Syria, it would be the second time he has reversed course on pulling all U.S. troops out of the region in less than a year.
Trump has been harshly criticized by Republicans and Democrats alike for his decision this month to remove about 1,000 troops from Syria, representing most of the U.S. military presence in that country. A garrison of about 300 personnel at the U.S. base at Al Tanf in the south wouldn't be affected by the order, administration officials said at the time.
Trump attempted to swat away growing criticism of his Syria strategy, declaring, "I'm the one that did the capturing, I'm the one who knows more about it than you people or the fake pundits."
"It was me, and this administration, working with others including the Kurds that captured all of these people because President Obama was a mess," Trump said, referring to the ISIS fighters detained by the Kurds.
He cited public support outside of Washington for his decision to bring troops back from the Middle East, noting that it was one of his biggest applause lines during a recent campaign rally in Dallas.
"Within the beltway, people don't like it. It's much tougher for me. It would be much easier for me to let our soldiers be there, let them continue to die," Trump said of the political heat he has been faced over the Syria decision. "I go out to Dover and meet the parents, and it's the most unpleasant thing I do."
Trump's comments came after Defense Secretary Mark Esper said that the Pentagon was discussing keeping some U.S. troops in parts of northeastern Syria. Speaking with reporters during a trip to Afghanistan, Esper said that while the withdrawal from northeastern Syria was underway, some troops were still present to ensure oil fields do not fall into the hands of the Islamic State group or other militants.
Esper said he had not presented that option yet to Trump but that the Pentagon's job was to look at different options.
Asked whether there was a plan or discussions of keeping a residual force in any part of eastern Syria, Esper responded that it had been discussed.
"There has been a discussion about possibly doing it, there's been no decision with regards to numbers or anything like that," he said.
"My job, the military's job is to prepare options and then present them to the president and let him decide."
But he added that he had not yet presented the option to the president.
Download the NBC News app for breaking news
The withdrawal from the Syria-Turkey border allowed Turkey to invade and attack Kurdish forces in Syria. Both Turkey and the Kurdish forces are U.S. allies, but Turkey considers the Kurds an enemy.
On Saturday, Esper said that all of the almost 1,000 U.S. troops being removed from northern Syria would head to western Iraq to continue the campaign against ISIS militants.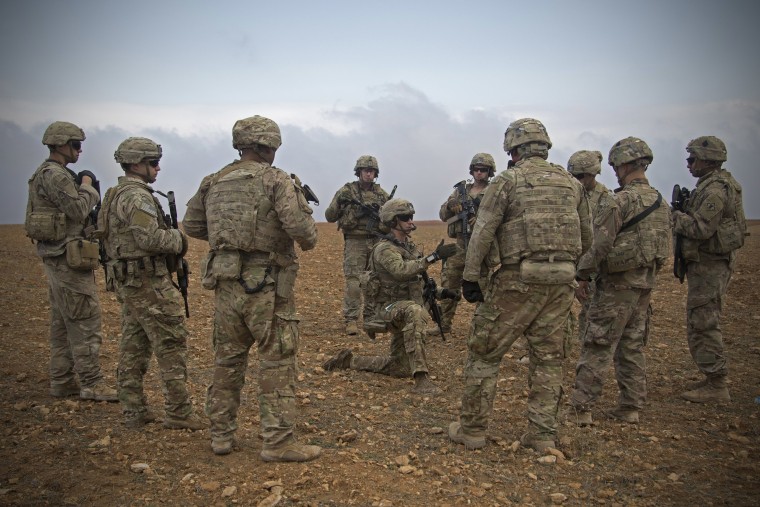 Gen. Mazloum Kobani, commander of the Kurdish militia known as the Syrian Democratic Forces, told NBC News he feared that the Turkish campaign in Syria would lead to "ethnic cleansing."
"We trusted them for five years and the continuing war against ISIS, but now [there is] ethnic cleansing against the Kurdish people under their eyes," Kobani said, referring to the U.S. "If they wanted, they would have interfered to stop it."
The Syrian Democratic Forces have been among the most loyal partners of the U.S. in its campaign against ISIS.
He unexpectedly announced in December that all U.S. forces would immediately be withdrawn, declaring, "We have won against ISIS."
A similar outcry greeted that announcement, and Jim Mattis resigned as defense secretary. In early January, the president pulled back from the plan, insisting that "I never said we'd be doing it that quickly" and indicating that he no longer believed ISIS had been routed, saying, "We won't be finally pulled out until ISIS is gone."