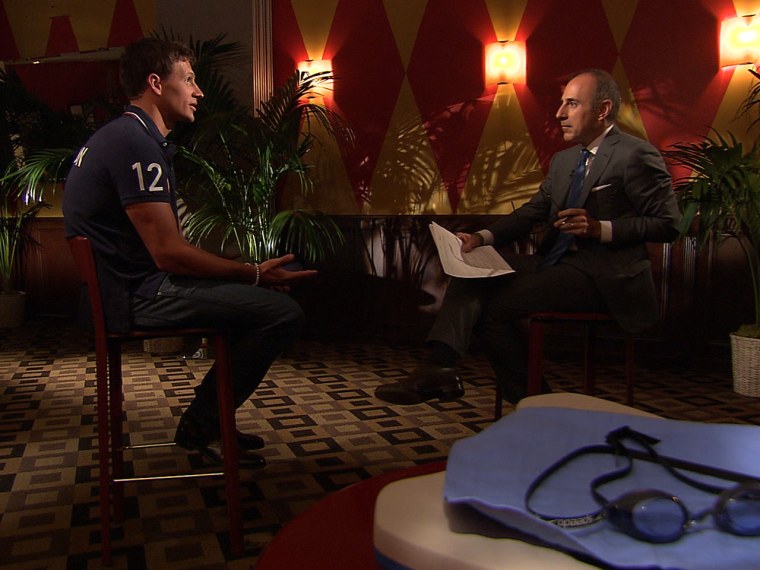 Ryan Lochte may be facing arguably the greatest swimmer in history, but he is ready to pass by Michael Phelps to become the big story out of the London Olympics.
In an interview on TODAY Tuesday, Matt Lauer asked Lochte to write the headline to his own London story.
"Ryan Lochte takes over,'' Lochte replied.
That's a bold prediction, considering Phelps has a record 14 gold medals and a knack for rising to the occasion in the Olympics. However, after having beaten Phelps regularly over the past three years, including a five-gold-medal performance at the 2011 World Championships, Lochte is favored to win after playing the bridesmaid several times in 2008. The two are expected to go head-to-head in the 200 and 400 individual medleys.
"To me, Michael is just another swimmer,'' Lochte said. "It's just another person that I've got to go up against and race. He's one of the toughest competitors I've ever had a race against, and I love racing against him.''
Lochte plans on celebrating his victories in his unique style. That means his infamous diamond mouthpiece will be making an appearance on the podium.
"(The grill) will come back, yes,'' Lochte said.
Lochte also refuses to turn off his goofy side, which in the past has led to a sprained ankle while playing with his dog, a knee injury suffered while breakdancing, and a scooter crash. Lochte said if Lauer handed him a skateboard on the spot he would bust out some tricks.
"If I don't be myself, then I won't swim to my best,'' he said. "I need to live life. I can't do anything different. Life is too short. You don't know when it's going to end, so you've got to live life to the fullest.''
Lochte has made some changes, however, after finishing behind Phelps in two events in Beijing. He ditched his well-publicized fast-food habit and also added more variety to his training. He began doing exercises usually used by competitors in strong-man competitions in addition to his work in the pool.
"I'm lifting like an 850-pound big tire,'' he said. "I'm dragging a 525-pound boat chain like 60 feet. I'm doing keg tosses in the air. I'm a lot stronger. I can pull a lot more water than I've ever pulled before, and I think that's one of the reasons why I'm so much faster than 2008.''
That was the year he took his spot on the Olympic podium, after winning gold and setting a world record in the 200-meter backstroke.
"I just remember looking up in the ceiling and being like, 'Thank God, it finally happened,''' Lochte said. "My dad was even crying. Then once I saw that, I was like, 'Oh my gosh, I'm going to lose it.' Then I started getting teary-eyed. It was something that I'll never forget.''
And once London is over, Lochte said, he may ride off on to the runway.
"After swimming is all said and done, (and) I hang up the Speedo, I'm definitely going to go into fashion, designing my own clothing line.'' 
More: Video: Olympians give advice to Savannah Guthrie
Fashion lover Ryan Lochte has 130 pairs of shoes
Matt's live in London! Let the Games begin 
Missy Franklin on winning for Colorado 
Matt Lauer to Jimmy Fallon: Help us cover the Olympics! 
Table tennis Paralympian to fulfill Olympic dreams, too 
Meet 'The Missile': Missy Franklin 'aims to make my country proud