MANILA, Philippines — Firebrand Philippine leader Rodrigo Duterte said he was Secretary of State Rex Tillerson's "humble friend" Monday as the two met to discuss the Asian nation's struggle to contain ISIS-linked fighters, among other regional issues.
"I am your humble friend in Southeast Asia," Duterte said in a marked change from the crass criticism the strongman leader offered former President Barack Obama, and the U.S. in general.
The U.S. is helping the Philippines battle militants for control in parts of the southern Philippines island of Mindanao.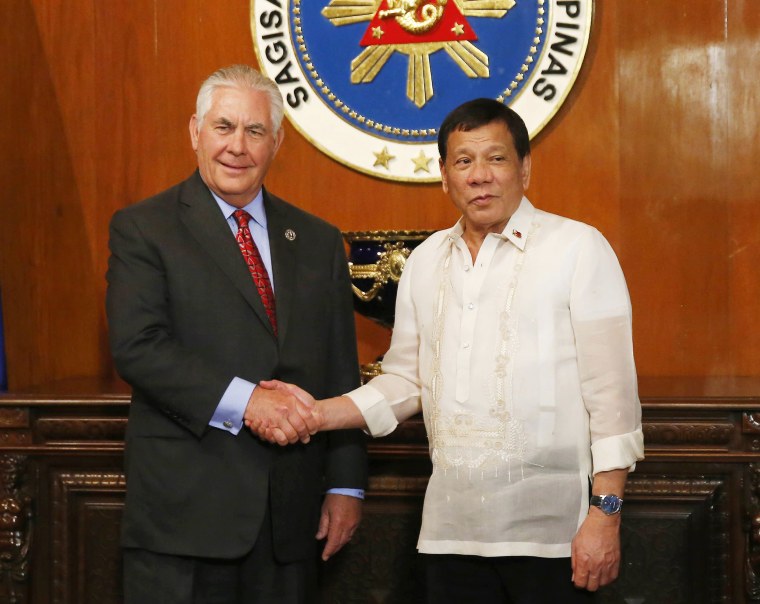 Tillerson said the U.S. has been providing the Philippines with surveillance capabilities, training, information and aircraft to help it fight the militants. He said the equipment includes a few Cessna aircraft and a few drones.
The aircraft are part of the more than $300 million in military aid granted to the Philippines in the last five years.
"We are providing [the Philippines] some training and some guidance in terms of how to deal with an enemy that fights in ways that is not like most people have ever had to deal with so it's a tragic situation down there," Tillerson said at the ASEAN forum in Manilla.
Nearly 700 people have died in intense fighting since black flag waving gunmen stormed buildings and homes in the business district and outlying communities of the city of Marawi, a center of Islamic faith in the southern third of the predominantly Roman Catholic nation.
Related: ISIS-Linked Militants in Philippines Plotted to Set City Ablaze
Although Tillerson said he believed the Philippines was beginning to regain control of the violence-hit areas, he added the real challenge would come when the fighting was over and "creating the conditions on the ground to ensure it does not re-emerge."
Duterte has faced intense international criticism for a brutal drugs crackdown since coming to power last year.
Some 7,000 people were killed in between June 30, 2016, and Janurary 2017, according to Human Rights Watch, with many deaths attributed to the Philippines National Police.
However, Tillerson said that there was "no big contradiction" in providing assistance to the Philippines in spite of human rights concerns.
"We see no conflict at all in our helping them with that situation and our views of the human rights concerns we have with respect to how they carry out their counter narcotics activities."
When asked by reporters later what had been he discussed during his meeting with Tillerson, Duterte refused to answer.
"Human rights, son of a bitch," Duterte said, arguing he shouldn't be questioned about alleged violations given the challenges he's facing. "Policemen and soldiers have died on me. The war now in Marawi, what caused it but drugs? So human rights, don't go there."
President Donald Trump has drawn fire for fostering a relationship with Duterte, who once told Obama to "go to hell."
Related: Philippine President Duterte Calls U.S. 'Lousy' and Vows to Never Visit
The White House described an April call between Trump and Duterte as "very friendly."
U.S. diplomat for Asia, Susan Thornton, who traveled to the Philippines, told reporters before the trip that alongside counter-terrorism, Tillerson would also be addressing human rights abuses with Duterte.
"There will be a chance for, to have a very good, robust bilateral program with the Philippines while we're there on the margins of the ministerial meetings," said Thornton.
"It's one of our very important and oldest friends and partners in the region, and we are looking forward to being able to furnish the relationship and restore those bonds of friendship," she added.
Abigail Williams reported from Manila, and Eoghan MacGuire reported from London.