Oscar Pistorius was to hold a private memorial service Tuesday for the girlfriend he was charged with murdering.
Slain model Reeva Steenkamp was cremated and mourned at a family service last week while Pistorius was in custody during a weeklong hearing on whether he should be released on bail.
Now that the South African athlete is free on $112,000 bond, he "specifically requested the memorial service as he continues to grieve and remains in deep mourning for the loss of his partner," a statement from his representatives said.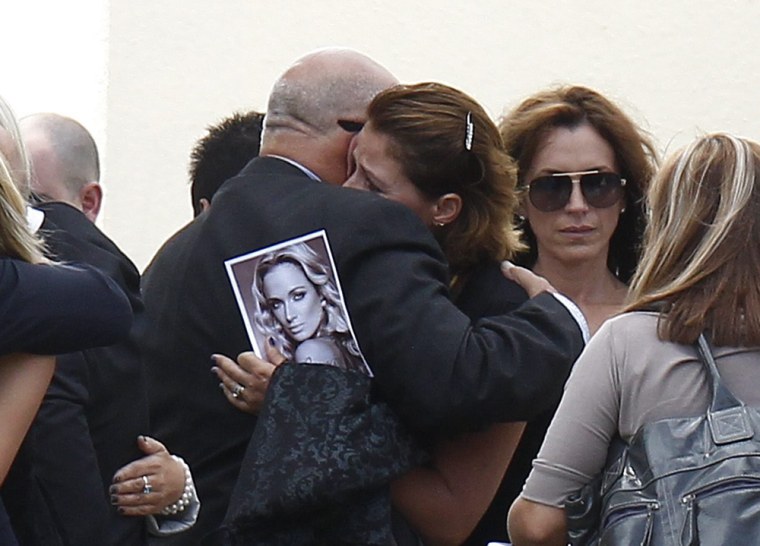 "Since it is such a sensitive issue," the statement said, "Oscar has asked for a private service with people who share his loss, including his family members who knew and loved Reeva as one of their own."
The service was to be held at the hilltop Pretoria home of his uncle, Arnold Pistorius, where he has been staying.
The sprinter known as "Blade Runner," who inspired millions when he became the first double-amputee to compete in the Olympics, has admitted he fatally shot Steenkamp, 29, his girlfriend of four months.
He said in a court statement that he heard what he thought was a prowler, grabbed his gun, rushed to the bathroom on his stumps and fired through a closed door.
Prosecutors contend that he knew Steenkamp was in the bathroom and that he meant to kill her after a Valentine's Day argument. They charged him with premeditated murder, which carries a sentence of 25 years to life.
Steenkamp's family did not attend the emotionally charged bail hearing, where Pistorius, 26, sobbed numerous times as prosecutors leveled accusations against him.
Her mother has said she wanted answers about what happened the night of the shooting. Her father said last week that if Pistorius was telling the truth, he might one day forgive him, but that if he was lying, "he will suffer."
Meanwhile, the judge who presided at the bail hearing confirmed Tuesday he was dealing with a personal tragedy: his first cousin is suspected of poisoning her 12-year-old and 17-year-old boys and then killing herself in Johannesburg over the weekend, the Associated Press reported.
The revelation was one of several twists in the Pistorius case. Last week, the chief investigator was tossed from the inquiry because attempted murder charges stemming from a police-involved shooting in 2011 had been reinstated. And Pistorius' brother is also facing a homicide charge in connection with a 2008 car accident that left a woman dead.
Cheryll Simpson of NBC News contributed to this report