The fairy tale season of the professional Brazilian soccer team Chapecoense ended in tragedy when their plane crashed in Colombia, killing all but six of the 77 people aboard.
As Colombian investigators tried Tuesday to pin down the cause and retrieve the bodies, Brazilian President Michel Temer declared three days of national mourning and his countrymen braced for a series of wrenching funerals.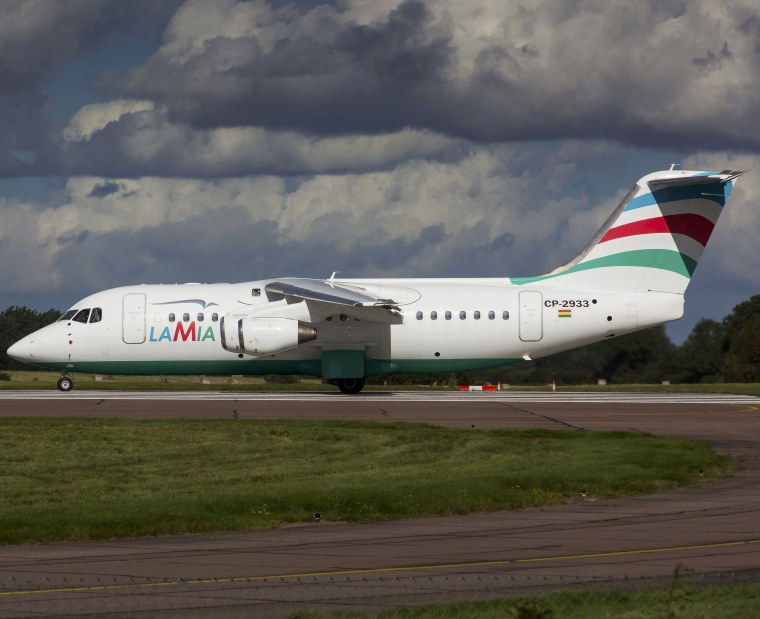 Meanwhile, in a show of sportsmanship, the Colombian club Atlético Nacional that the Brazilians were flying down to play in South America's second biggest soccer tournament asked organizers to award the doomed team the title.
Founded in 1973 and based in the city of Chapeco (pop. 210,000), Chapecoense was little known outside of Brazil until Monday, when their chartered plane crashed around 10 p.m. ET while on its way from Santa Cruz in Bolivia to Medellin's international airport.
Operated by LaMia, the plane was about 18 miles from its destination when for reasons still unclear it went down in a mountainous jungle area, killing 71 of the people on board, said Gen. Jose Acevedo, who heads the local police force.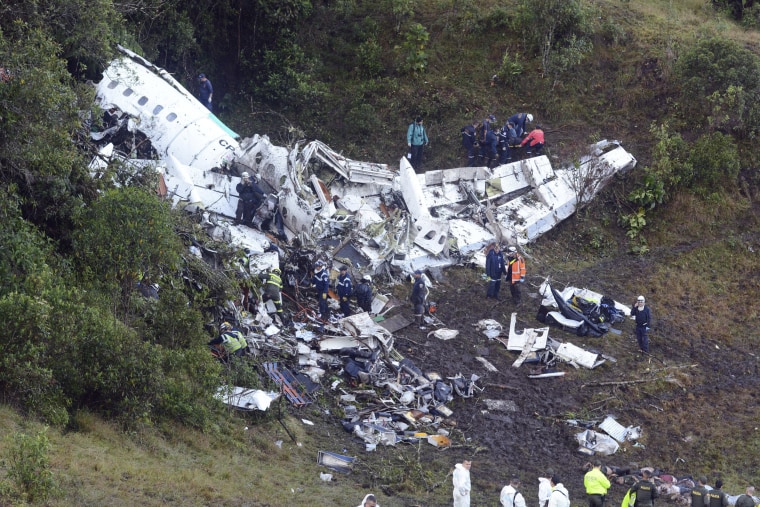 Colombian officials initially reported 75 fatalities but four of the passengers first believed to be dead had not boarded the flight.
Foul weather conditions were reported at the time of the crash and rescue operations were suspended overnight due to heavy rain.
"We are working fast, in part to relieve the pain of the families of these victims who came to play a sport, but found death here in Colombia," a spokesman for Colombia's national Risk Management and Disaster Unit said after removing 50 of the bodies.
Alfredo Bocanegra, the head of Colombia's civil aviation agency, said that communication with Bolivian officials suggested the plane was experiencing electrical problems.
Investigators were also checking reported claims by a cabin crew member who said the plane had run out of fuel. And they were seeking Portuguese translators so they could communicate with the families of the victims.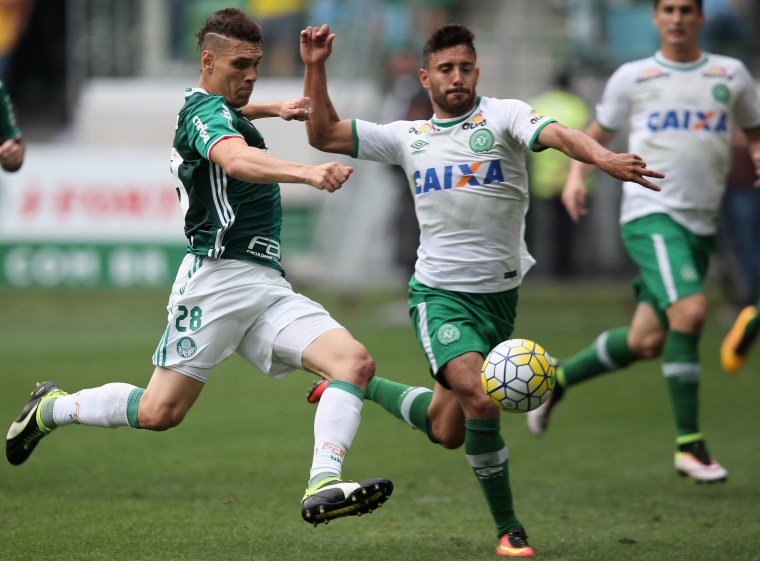 The six survivors were identified as soccer players Alan Ruschel, Jackson Ragnar Follmann and Hélio Hermito Zampier, flight attendant Ximena Suarez, aircraft mechanic Erwin Tumiri, and journalist Rafael Henzel Valmorbida.
A doctor told Colombian TV that Ruschel was being operated on after suffering multiple injuries to his limbs and a lumbar spine fracture. The 27-year-old defender was later confirmed to be in an intensive care unit.
Related: He Survived a Plane Crash. Here's How You Might Be Able To
Suarez was listed in stable condition while Tumiri suffered non-life threatening injuries, hospital officials said. The other survivors' conditions were unclear.
Marcos Danilo Padilha, a 31-year-old goalkeeper with the club, was pulled from the wreckage alive but later died of his injuries.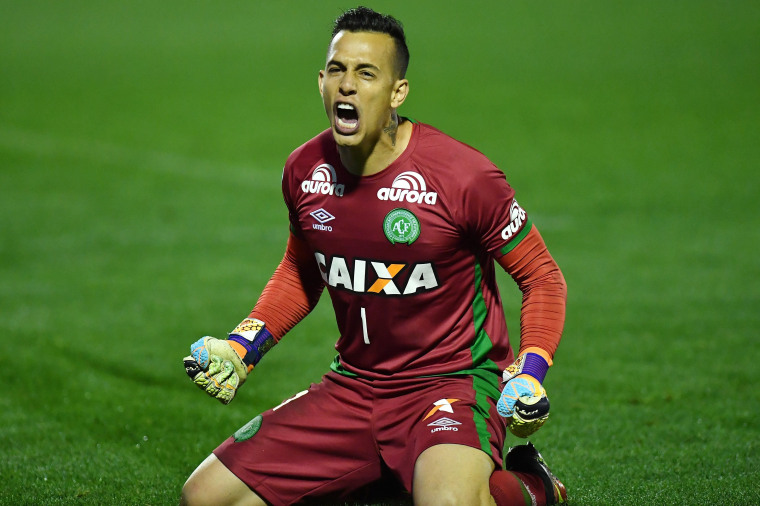 Officials initially put the number of survivors at five — but police told NBC News that Zampier was found alive some time following the other group.
"What was supposed to be a celebration has turned into a tragedy," Medellin Mayor Federico Gutierrez said from the search and rescue command center.
Related: Doomed Plane Crashed 18 Miles From Airport
Once all the bodies are collected, Brazilian officials plan to fly them back to Chapeco for a collective funeral at the team's stadium Arena Condá, Chapecoense board member Gelson Dalla told NBC News.
"I woke at 4 a.m. with the news and cried a lot today," Dalla said. "We are a different club. A very small club in Brazil with a close relationship with players and his parents, wives and kids."
In addition to players and coaches, the plane was carrying several journalists and nine crew members.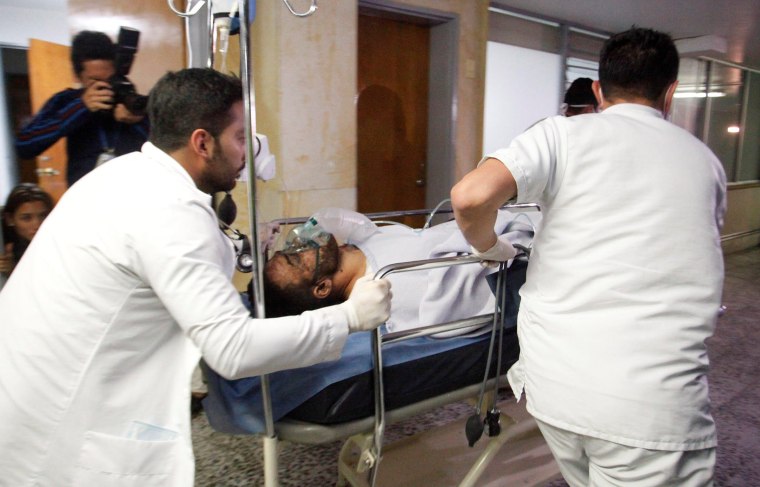 Local radio said the same British Aerospace Avro RJ85 had transported Argentina's national squad for a match earlier this month in Brazil, and had previously had also flown Venezuela's national team to competitions.
Chapecoense had played for years in Brazil's lower leagues before breaking out in 2014 and making it into the soccer-mad country's top Serie A league.
Last week, the team qualified for the Copa Sudamericana finals — the equivalent of the UEFA Europa League tournament — after defeating Argentina's San Lorenzo squad. And their first opponent Wednesday was supposed to be the Medellin-based Atlético Nacional.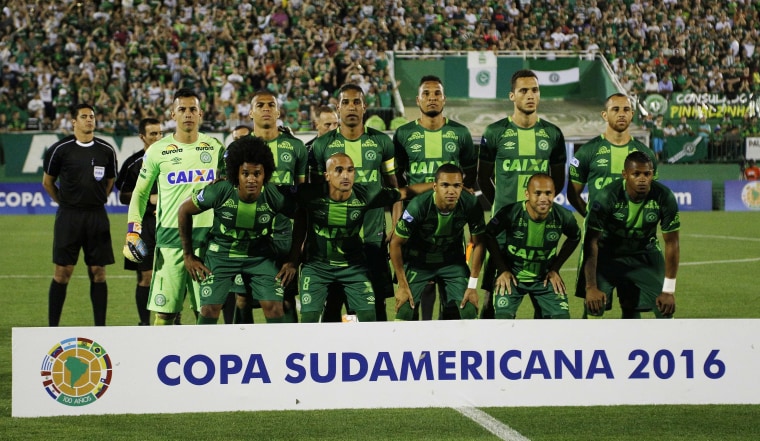 They were considered the underdogs.
"The Brazilian soccer family is mourning," Brazilian soccer legend Pele said in a statement. "This is a tragedy."
Chapecoense' s best-known player was Cleber Santana, a midfielder whose best years were spent in Spain with Athletico Madrid and Mallorca.
The team's coach, Caio Junior, had previously managed some of Brazil's biggest clubs, Botafogo, Flamengo and Palmeiras among them.
Related: Other Sports Teams Devastated by Plane Crashes
In terms of revenue, Chapecoense is just the 21st biggest club in Brazil, bringing in $13.5 million in 2015, according to an annual list compiled by the Itau BBA bank.
The crash evoked memories of the Munich air disaster in 1958, which killed 23 people including eight Manchester United players, journalists and traveling officials.