The pilot of the plane carrying a doomed Brazilian soccer team reportedly told a Colombian air traffic controller he had run out of fuel moments before the jet crashed into the Andes Mountains, killing all but six of the 77 people aboard.
Those frantic last words from the jet chartered by the Chapecoense team were captured on a recording of the flight's final moments that were obtained Wednesday by various Colombian news outlets, The Associated Press reported.
On the audiotape, the pilot can be reportedly heard repeatedly requesting permission to land because of a "total electric failure" while a female controller gives instructions.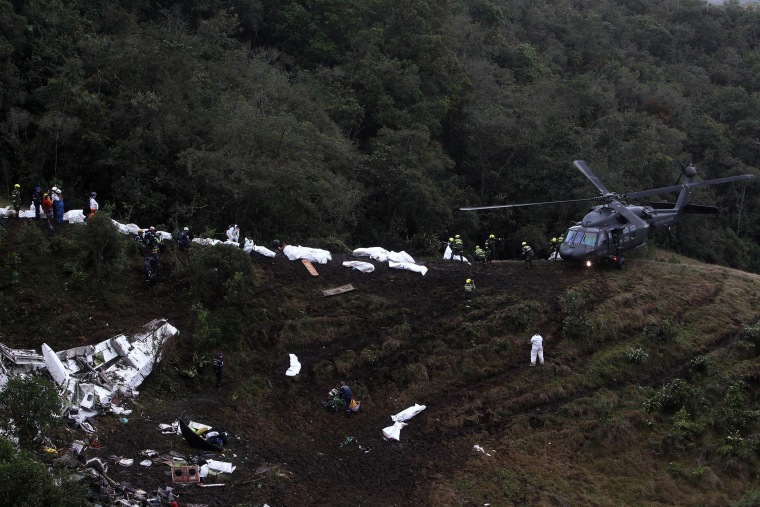 Then, moments after the pilot alerts the tower in Medellin that he is flying at an altitude of 9,000 feet, the tape goes silent.
The recording appeared to buttress earlier reports that a Bolivian flight attendant who survived the wreck warned the plane was flying on empty before it crashed Monday night while en route to Medellin's international airport.
Related: All Bodies, Survivors Recovered at Plane Crash Site as Brazil Mourns
"We ran out of fuel," Ximena Suarez told rescue worker Arquimedes Mejia, according to the AP. "The airplane turned off."
The downed plane was a British Aerospace Avro RJ85 with a range of around 1842 miles when equipped with standard fuel tanks.
NBC on Monday, citing data from Flightradar, reported that the plane had flown about 1848 miles from the Bolivian city of Santa Cruz when it fell from the sky.
Colombian officials have not publicly identified the cause of the crash, which wiped out most of the Chapeco, Brazil-based soccer team as it was heading to a tournament.
But Alfredo Bocanegra, who heads the country's aviation agency, has said they have not ruled out electrical problems or a lack of fuel as the likely culprit.
"If this is confirmed by investigators it would be a very painful ... because it stems from negligence," Bocanegra told Caracol Radio on Wednesday.
Meanwhile, two investigators from the National Transportation Safety Board with expertise in jet engines were flying to the South American country to help in the investigation, NBC confirmed.
In Chapeco, city officials were preparing to hold a funeral at the city's main soccer stadium that was expect to draw hundreds of thousands of heartbroken fans.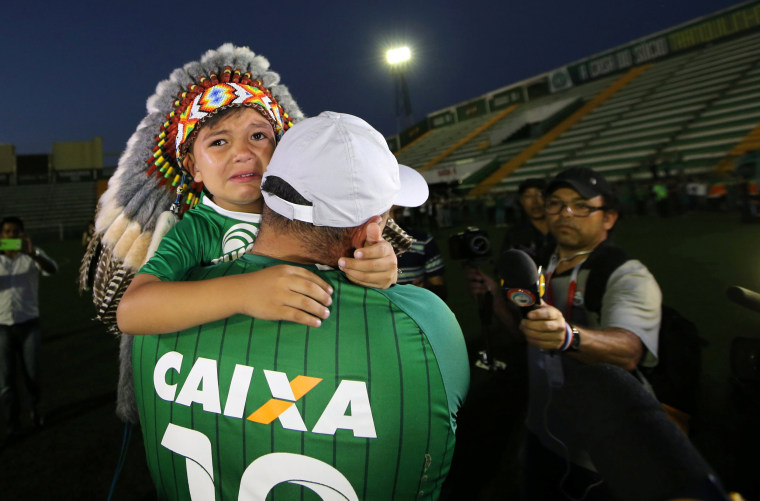 In Medellin, doctors gave an update on the condition of the three players who survived the crash.
The worst off was reserve goalkeeper Jackson Ragnar Follman, who had one leg amputated and whose remaining foot doctors are trying to save. Another player, defender Hélio Hermito Zampier, better known as "Neto," was in critical but stable condition. And Alan Ruschel underwent spinal surgery but has been able to move him upper and lower limbs.
Another survivor, journalist Rafael Henzel Valmorbida, suffered chest trauma and a broken leg and was expected to recover, doctors said.
There was no new information of the conditions of the other two survivors, Suarez and aircraft mechanic Erwin Tumiri. Both were reported earlier to have non-life threatening injuries.