A U.S. military plane crashed in the central Afghanistan province of Ghazni on Monday, according to images of the site analyzed by NBC News.
Photos and video from the scene showed what appeared to be a U.S. E-11A military aircraft and what looked like a U.S. military insignia on the plane.
The number of people on board was not immediately known, nor was the cause of the crash.
U.S. officials did not respond to requests for comment. The U.S. military told The Associated Press that it is investigating and that it remained unclear whose aircraft was involved in the crash.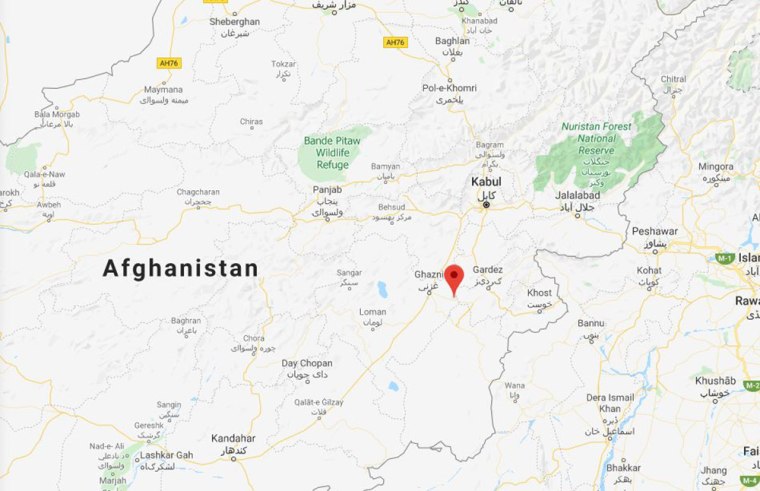 Arif Noori, a spokesperson for the province's governor, earlier said damage was so extensive it was difficult to identify bodies in the wreckage.
Earlier, Noori had also said that around 100 people were killed in the crash, but it later emerged that an E-11A, which typically has a two-person crew, was involved. NBC News reached out to Noori for clarification of his earlier comments but did not receive a response.
The plane went down in Deh Yak in Ghazni, around 100 miles south of Kabul.
Noori told the AP separately that the crash site is in territory controlled by the Taliban. He said the plane went down around 1:10 p.m. local time (3:40 a.m. ET).
Much of Afghanistan is inaccessible to journalists, and NBC News was not able to confirm the reports.
Download the NBC News app for breaking news
Afghanistan's state-owned airline, Ariana Afghan Airlines, denied that the plane belonged to it.
The last major commercial air crash in Afghanistan occurred in 2005, when a Kam Air flight from the western city of Herat to Kabul crashed into mountains as it tried to land in snowy weather.
The war, however, has seen a number of deadly crashes of military aircraft. In 2013, an American Boeing 747 cargo jet crashed shortly after takeoff from Bagram Airfield north of Kabul en route to Dubai in the United Arab Emirates. All seven crew members were killed.
A National Transportation Safety Board investigation found that large military vehicles were inadequately secured and had shifted during the flight, causing damage to the control systems that "rendered the airplane uncontrollable."