A plane helping battle wildfires in Australia crashed in New South Wales state Thursday, killing three American firefighters, officials said.
The C-130 Hercules firefighting aircraft, which officials said was from Coulson Aviation — a private American company contracted by the Rural Fire Service, crashed in the Snowy Monaro area. The Rural Fire Service lost contact with the air tanker around 1:30 p.m.
"Initial reports are that there was a large fireball associated with the impact of the plane as it hit the ground," Rural Fire Service Commissioner Shane Fitzsimmons said at a news conference.
"Unfortunately, all we've been able to do is locate the wreckage and the crash site. We have not been able to locate any survivors," he said.
Download the NBC News app for breaking news
Coulson Aviation (USA) Inc. confirmed the three deaths in a statement, saying it lost contact with one of its large air tankers in southern New South Wales.
It said an accident response team had been activated. The Australian Transport Safety Bureau will also deploy a team to investigate the crash, the agency said.
The C-130 left Richmond in New South Wales with a load of retardant and was on a "firebombing mission," Coulson said.
The identities of those killed have not been released.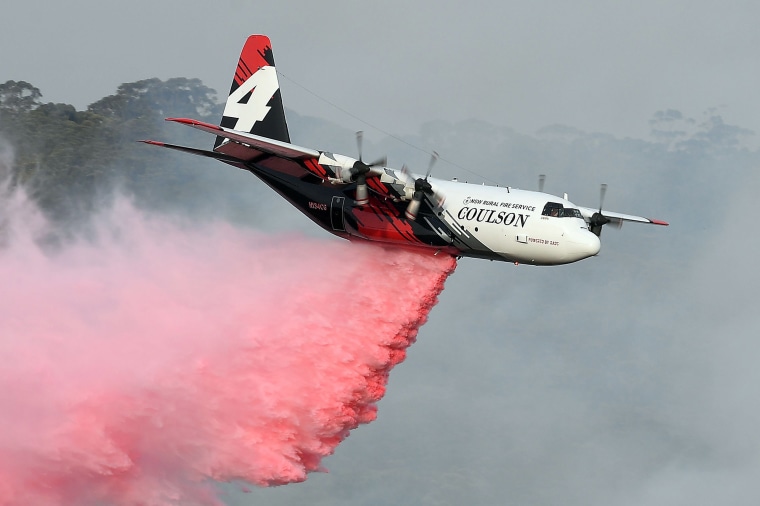 Fitzsimmons said the victims were known among local firefighters as well as U.S. firefighters helping crews fight the wildfires.
"Our hearts are with all of those who are suffering what is the loss of three remarkable, well-respected crew that have invested so many decades of their life into firefighting and fire management," Fitzsimmons said.
Coulson Aviation grounded its large air tankers as a standard precaution following the crash, he said, noting that the company has worked with New South Wales for years and has a long and respected reputation fighting wildfires.
Australian Prime Minister Scott Morrison tweeted that he was "deeply saddened" by the deaths. "My deepest condolences to the loved ones, friends and colleagues of those who have lost their lives. Such a terrible tragedy," he wrote.
Australia is battling massive brush fires that have killed dozens of people and destroyed more than 2,500 homes.
"Unfortunately, as we've been saying all along, the fire season is far from over, and today, again, we've seen tragic consequences where three people have lost their lives," said New South Wales Premier Gladys Berejiklian.
There were more than 80 fires burning in New South Wales Thursday, half of which are not contained, Fitzsimmons said. More than 70 aircraft were used to fight the fires in New South Wales on Thursday.
Four fires in the state are at emergency warning levels, as well as one in the neighboring jurisdiction of the Australian Capital Territory.
The premier said that officials were confident that weather conditions would ease somewhat Thursday and "hopefully we won't see any further concern beyond the fire complexes that are currently at emergency level already."
She said flags would fly at half-mast Friday across New South Wales out of respect for the three firefighters.
Also Thursday, Canberra Airport closed because of nearby wildfires, and residents south of Australia's capital were told to seek shelter.
The blaze started Wednesday, but strong winds and high temperatures caused conditions in Canberra to deteriorate. A second fire near the airport that started Thursday morning is at the "watch and act" level.
The U.S. embassy in Canberra says that the United States has deployed more than 200 Forest Service and Department of Interior wildland fire staff to help Australia with the fire response, including two 20-person hand crews who are heading to the country Thursday.
The ambassador, Arthur B. Culvahouse Jr., expressed his sympathy for the crew that died in Thursday's crash. "The brave Americans who died near Snowy Monaro died helping Australia in its time of need," he wrote in a statement. "The families of those who we have lost are in our thoughts and prayers. Thank you Australia for your sympathy and solidarity."