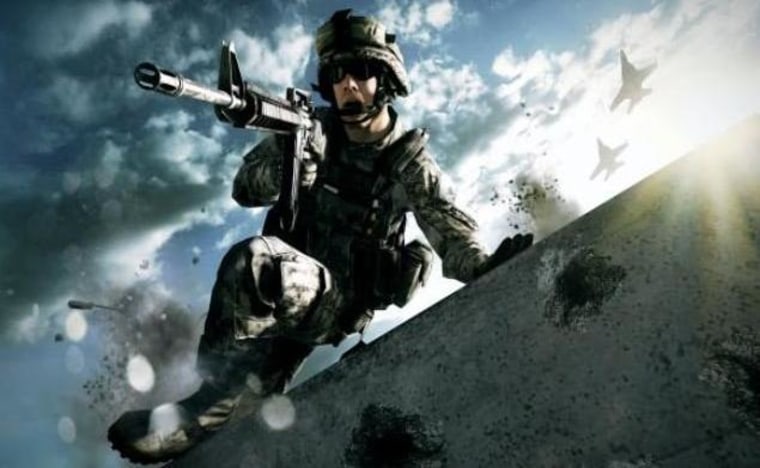 Are you a battle-hardened "Battlefield" player? Do you plan to master "Battlefield 3" within days ... nay hours ... of its launch?
Then your time is now, my friend.
Electronic Arts, DICE and Virgin Gaming have announced the Battlefield 3 Worldwide Conquest Tournament — a tournament in which the best of the best "Battlefield 3" players (or at least those who play the game on an Xbox 360 or PS3) will compete to win a rather enormous prize of $1.6 million.
The organizers say this will be the biggest console gaming competition in history — that's right, this one is not for the many "Battlefield" PC gamers out there (please, do not shoot the messenger).
And PC gamers have already taken to the Battlefield Facebook page to make their displeasure known.
"Why are you doing this? Sure there's a lot of casual gamers that play consoles but don't you want the real hardcore gaming PC players to be able to compete?" complained Morgan MurrGutt Klasén. "This is quite unfair."
"What about PC? We have superior graphics yet you don't give us tournaments like this," Chris-Michael de Kort wrote. "You fail."
Hard feelings aside, the tournament, which will take place online up until the live grand finale, will get underway sometime in early 2012 — which means that after "Battlefield 3" launches on Oct. 25, you'll have some time to brush up on your skillz. Meanwhile, you'll need to go to BattlefieldMillions.com to sign up.
As for that whopping $1.6 million prize, note that Virgin and EA haven't made it clear at this point exactly how that jackpot will be divied out among the winners but it will be shared by "the players with the best Battlefield skills."
"The Battlefield series has always been a very social experience with its best-in-class multiplayer gameplay and we're honored to have such passionate and loyal fans," Karl Magnus Troedsson, General Manager at DICE, said in a news release announcing the tournament. "We want to give them the best Battlefield experience we've ever created with Battlefield 3. The Worldwide Conquest Tournament with Virgin Gaming is a great way to celebrate the gameplay and reward our fans."
For more gaming news, check out:
Winda Benedetti writes about games for msnbc.com. You can follow her tweets about games and other things here on Twitter or join her in the stream here on Google+. And be sure to check out the In-Game Facebook page here