WARSAW, Poland — Poland's Senate approved draft legislation Thursday penalizing suggestions of any complicity by the country in the Nazi Holocaust on its soil during the Second World War.
The move has the potential to strain relations with both Israel and the United States. Critics have raised concerns that the Polish state will decide itself what it considers to be facts. Israeli Prime Minister Benjamin Netanyahu has compared it to an effort to change history.
The bill calls for up to three years in prison for a mention of "Polish death camps," although scientific research into World War Two would not be constrained.
Poland has fought against the use of the phrase in some Western media for years, arguing it suggested the Polish state was at least partly responsible for the camps, where millions of people were killed by Nazi Germany.
Senators voted 57 to 23 in favor of the bill with two abstentions. To become law, the bill requires approval from President Andrzej Duda, who supports it.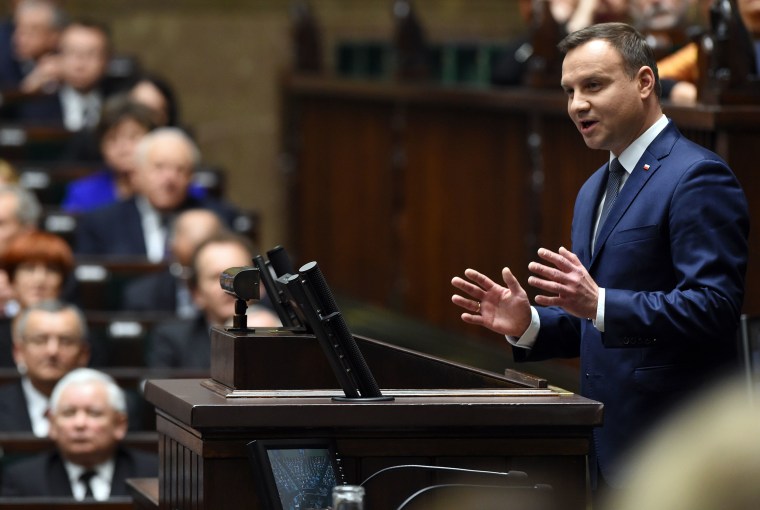 Though Deputy Justice Minister Patryk Jaki suggested Israel had been consulted on the bill and voiced no objections, many in Israel have argued that the move is an attempt to whitewash the role some Poles played in the killing of Jews during World War II.
Poland has gone through a painful public debate in recent years about guilt and reconciliation over the Holocaust.
The camps were built and operated by the Nazis after the 1939 invasion of Poland, home to Europe's largest Jewish community at the time.
Halina Birenbaum, a Holocaust survivor and acclaimed Israeli author, called the new law "madness," telling Israel's Army Radio it was "ludicrous and disproportionate to what actually happened to Jews there."
Birenbaum, a member of the International Auschwitz Committee, said she was concerned the Polish government "might arrest me there for what I'm saying now."
And Israeli Transportation Minister Yisrael Katz said the law constituted "a denial of Poland's part in the Holocaust of the Jews."
Just hours before the Senate's vote, the U.S. asked Poland to rethink the proposed legislation saying it could "undermine free speech and academic discourse."
State Department spokeswoman Heather Nauert voiced concern about the "repercussions this draft legislation, if enacted, could have on Poland's strategic interests and relationships — including with the United States and Israel."
But Jaki, the deputy justice minister, said the country had to "send a clear signal to the world that we won't allow for Poland to continue being insulted."
Poland was home to some 3.2 million Jews before the war. Germany attacked and occupied Poland in 1939 and later built death camps, including Auschwitz and Treblinka, on Polish soil. Most of the Jews who lived in Poland were killed by the Nazi occupiers.
According to figures from the U.S. Holocaust Memorial Museum, the Germans also killed at least 1.9 million non-Jewish Polish civilians during World War Two.