WARSAW, Poland — When the Russian invasion started, Adriana Porowska, a Polish social worker, could hardly keep track of the flood of people signing up to volunteer to help Ukrainian refugees arriving in Warsaw.
But more than nine weeks into the war, that wave of volunteers is receding. She is having an increasingly difficult time finding people to fill volunteer shifts.
"There are no new people coming to join the volunteers, only leaving," she said. Those who do sign up "have to do more work, and they are even more tired," she said.
Sitting in a food tent outside a Warsaw train station on the Saturday before Easter, Porowska said she had hardly been home in the past two months. Her house was a mess. She was exhausted. And she hadn't had time to prepare for the holiday.
"I just hope my husband doesn't divorce me and my son doesn't abandon me," she joked. "But really, my hope is that the volunteers do not abandon me."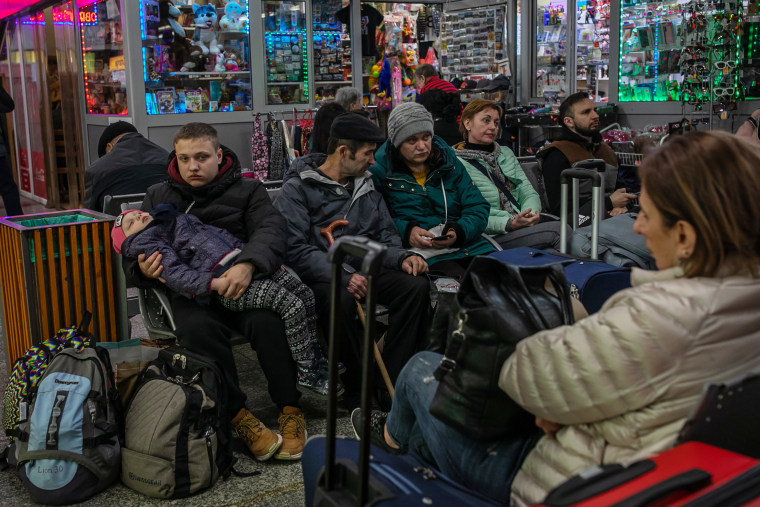 As the war in Ukraine drags on with no immediate end in sight, Poland's initial embrace of the refugees is starting to show signs of strain, as resources — including volunteers, housing, classroom space and jobs — are running thin.
Poland has taken in an estimated 2.9 million of the more than 5 million Ukrainians who have fled the country. Here in the capital city, the population has grown by roughly 15 percent since the war started. Mayor Rafal Trzaskowski has warned that Warsaw is at "capacity" and unable to absorb another wave of refugees, which he worries could be coming as Russia changes its strategy to focus its attacks on the eastern part of Ukraine. 
"Long term, we envision quite a lot of problems and it puts an enormous strain on the city," he said in an interview with MSNBC on Tuesday. The mayor visited the United States to plead for more help from the international community and warn that "with the escalation in the east and with 7 million people displaced within Ukraine, we can expect another wave."
Thousands of people in Poland mobilized at the start of the war to welcome Ukrainians into their own homes, but finding housing has since become more difficult. Polish families willing to host refugees have already filled up their spare rooms. The number of available apartment units for rent in Warsaw has diminished significantly and rental prices have increased by more than 30 percent since the end of February.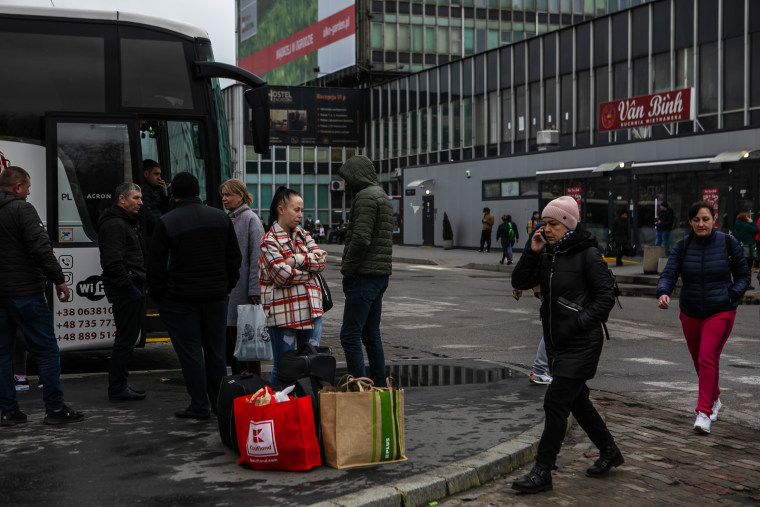 At first, an expo center on the outskirts of Warsaw — which was hastily transformed into a mass refugee shelter when the war started — served as a brief stop-off point for refugees to catch up on sleep and get a free hot meal. Many stayed at the center for one or two nights before traveling to a different country or finding accommodations in Poland better suited to a long-term stay.
But increasingly, the center has become home for people with nowhere else to go.
Alina Kushnir, 35, from Kropyvnytskyi in central Ukraine, has been living in the expo center since the beginning of March with her four children, her sister and her parents. They've been unable to find a Polish family willing to take in such a large family, and they've had little luck finding an apartment of their own. She said landlords keep rejecting her rental requests, telling her that her family is too large for the apartments that she can afford to rent.
"It's difficult and uncomfortable," she said about living in the expo center. "There's too many people and no personal space."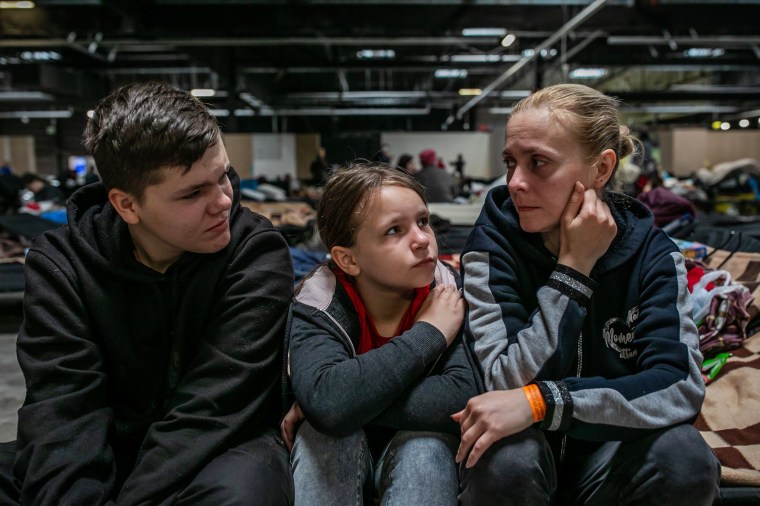 Employment has emerged as another major hurdle for some refugees, as they grapple with the reality that it could be a long time until they can return to their lives, their jobs and their support systems in Ukraine.
Although Poland had a high number of job vacancies when the war began, refugees who don't speak Polish or English have had trouble finding work. Since the vast majority of refugees are women and children, many women are also competing for a limited supply of jobs that can accommodate child care needs.
Taras Tsymbaliuk, a manager at an international employment services organization who has been helping refugees at the expo center find jobs, said that employment opportunities have become increasingly scarce over the past two months.
"There's a lot of refugees looking for a job, and not a lot of jobs to offer," Tsymbaliuk said, sitting at the employment booth at the expo center.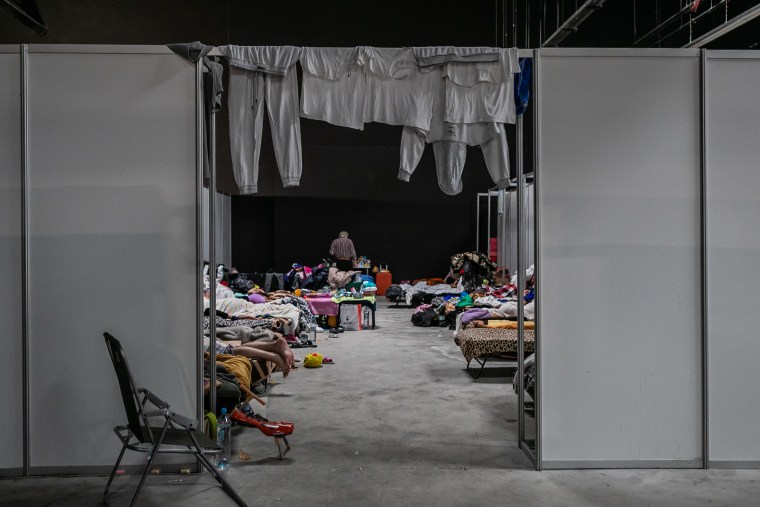 Many Poles think that more needs to be done to support the refugees, and in turn ease the burden on the volunteers and charity organizations. But no one is sure whom to blame.
Polish opposition leaders have criticized the conservative nationalist Law and Justice party for doing too little and taking credit for the work of everyday people. Others point the finger at the European Union for not giving Poland more emergency funding to respond to the crisis.
Poland's central government insists its response has been robust.
The Polish Parliament has given Ukrainian refugees permission to stay in the country legally for 18 months, granted them access to social security and health care systems, and set up programs to give small cash payments to Polish families hosting refugees in their homes.
The efforts have won Poland widespread praise and helped the government burnish an international image damaged by the ruling Law and Justice party's past hostility to non-European immigrants and asylum-seekers.
Many Ukrainians say that Poles have been incredibly welcoming and generous. But Trzaskowski said people in Poland could become increasingly resistant to supporting the refugees if more is not done to help cities like Warsaw.
"As this crisis goes on and the city services are strained… then we might expect a bit of a backlash," he said. "That's why we need a system, we need to share the burden."
The potential cracks loom large in public services such as education. Although remote learning is still an option for many refugee students, Polish Education Minister Przemyslaw Czarnek said that more than 190,000 Ukrainian children have registered in Polish schools, and that number could grow to as many as 700,000 students.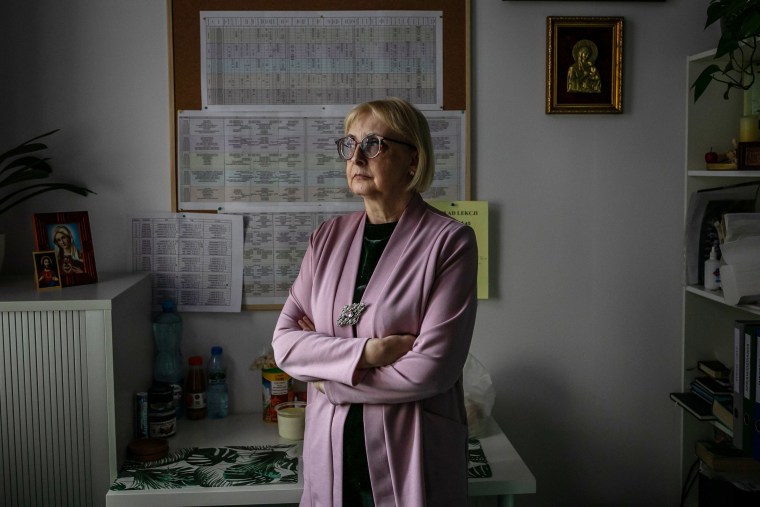 Ewa Petrykiewicz, the director of the St. Stainslaw Kostka school in Warsaw, a private school that has experience teaching children from countries such as Belarus, said that her school is uniquely positioned to take in Ukrainian students.
When the refugees began arriving in Poland, she rented additional classroom space, hired more teachers and doubled class sizes. But while the school is receiving some money from the government to help the Ukrainians, she said, she is relying heavily on private donations.
Petrykiewicz is determined not to turn away any refugee students, but the school is running out of room. And even before the war, Poland was facing a teacher shortage.
"We can expand and rent more space, but we don't have any more money to do that," she said. "Buying basic supplies like toilet paper is challenging."