IDOMENI, Greece— Police used tear gas and stun grenades to repel hundreds of migrants and refugees who stormed the Macedonian border from Greece Monday, tearing down a gate as frustrations boiled over at restrictions imposed on people moving through the Balkans.
Thousands of desperate refugees have been stuck for days on the Greek side of the border, overflowing from a packed refugee camp at Idomeni into the surrounding fields as they waited for Macedonian authorities to let them continue their trek through the Balkans. Only a tiny trickle of people from specific countries have been allowed to cross every day.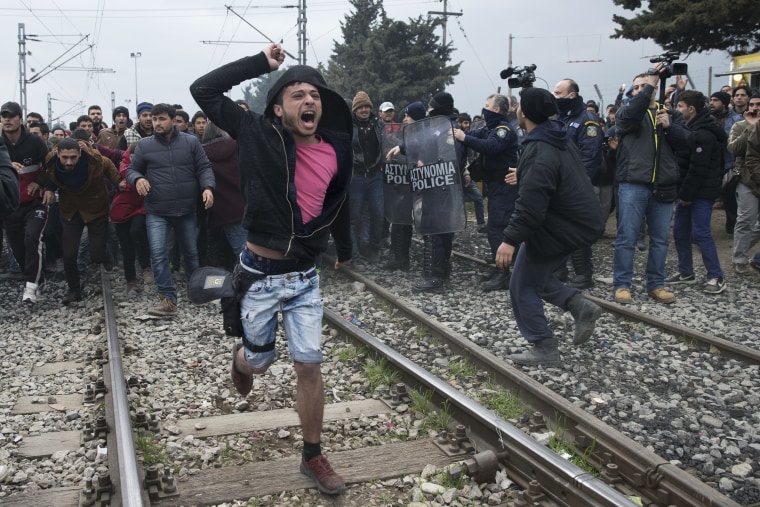 Separately, clashes broke out Monday as work got underway to clear part of the vast shanty town outside Calais in northern France where migrants are trying to reach Britain.
Police fired tear gas around midday, about 150-200 migrants and activists threw stones, and three makeshift shelters were set ablaze.
"The migrants are just going to run and hide in the woods and the police are going to have to go after them," said activist Francois Guennoc of the Auberge des Migrants migrant support group.
At least 3,000 migrants live at the camp. Many attempt to climb illegally onto trains using the Channel Tunnel or into trucks heading to Britain where they hope to settle.
Back in Macedonia, several women and children were nearly trampled in the border melee and Macedonian authorities said one officer was injured.
Chanting "Open the border!" and "We want to go to Serbia!", the protesting migrants broke down a gate at a nearby rail crossing after pushing their way past Greek police.
Macedonian police opened the crossing to receive about 50 people just before midday but closed it again after the clashes. A police spokeswoman said a train with 450 refugees left the Greek border early Monday and was heading for Serbia.
Macedonia has said it will only allow in as many people as Serbia accepts, and Serbia has been responding to refugee caps set by Austria further up the migrant trail into Western Europe. This has led to a huge bottleneck in Greece, where authorities say more than 22,000 people are stuck and more are arriving every day.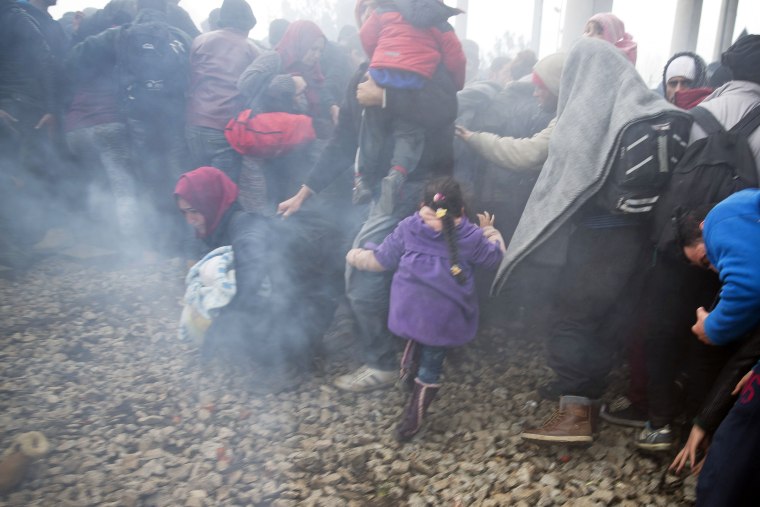 About 6,500 Syrian and Iraqi refugees are camped out around Idomeni, with another 500 moved to a hastily erected camp on a small concrete landing strip 20 kilometers (13 miles) away. Syrian refugee Nidal Jojack, 45, said she has been camped out with her family at Idomeni for three days and nights.
"Very many people were forced to sleep in the open, without tents, wrapped in blankets," she said. "It was very cold. The borders are effectively closed, it's a huge problem. To get food, we have to wait in very long queues."
Jojack hopes to reach Germany, where her 18-year-old son has already arrived.
The Idomeni crossing is a key point on the mass migration route that has prompted a major Europe-wide crisis. More than a million people have entered the continent since January 2015 — most arriving in small smugglers' boats from Turkey on Greece's eastern Aegean Sea islands.
After first sending welcoming messages, European authorities are now struggling to handle the situation. Hungary has fenced off its borders, refusing to accept any migrants, and other eastern European countries say they will not take in anyone under an EU refugee-sharing deal.