Police in Canada's capital have opened "several criminal investigations" following reports of demonstrators urinating on the country's National War Memorial, desecrating a statue dedicated to Canadian hero Terry Fox and carrying flags with swastikas during weekend anti-vaccine mandate protests.
Dubbed the "Freedom Convoy," hundreds of trucks and other vehicles blocked downtown streets as demonstrators also rallied on foot.
The demonstrations caught the attention of former President Donald Trump, who praised Canadian protesters for "resisting bravely these lawless mandates" at a rally in Texas on Saturday.
The protests initially started with plans to protest a vaccine requirement for cross-border drivers. However, the rallying cries appeared to quickly shift focus to broader opposition to the Trudeau government and vaccine mandates across the country.
In the midst of the chaos, Canadian Prime Minister Justin Trudeau and his family left their downtown Ottawa home on Saturday because of security concerns, according to Reuters.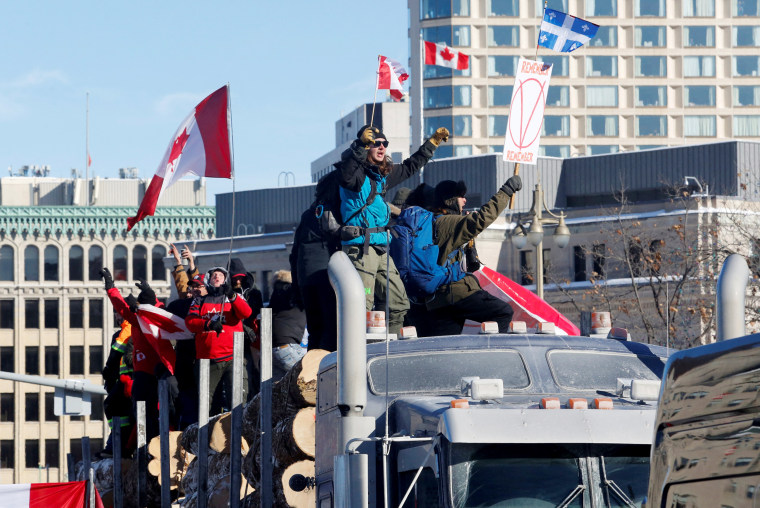 Speaking at a virtual news conference Monday, Trudeau said he believed that many of the demonstrators did not represent truckers or "the vast majority of Canadians." He also revealed that he had tested positive for Covid-19. 
In the days before the protest, Trudeau said that the convoy represented only a "small fringe minority," and that it's "important to underline that 90 percent of truckers in this country are vaccinated like close to 90 percent of Canadians," referring to the percentage of Canadians who have received at least one dose of a Covid vaccine.
While the protests had been considered largely peaceful, the Ottawa Police Service said in a tweet Sunday that several criminal probes had been launched in connection to the demonstrations.
Specifically, police said they were investigating the alleged "desecration" of the National War Memorial, as well as of a statue honoring Fox, a cancer patient and amputee who gained national fame after launching a fundraising trek across Canada in 1980 to raise money for cancer research.
Fox died of cancer in 1981 before he was able to complete the journey, but he is remembered as a national icon whose campaign has seen millions of dollars raised in his memory.
In photos shared on social media, an upside down Canadian flag could be seen on the statue with a sign that said "mandate freedom."
Sharing a tweet with an image of the desecrated statue, Brad West, the mayor of Fox's hometown in British Columbia, Port Coquitlam, condemned the incident, writing: "Whatever your cause, you don't get to appropriate (Fox's) legacy and you don't touch his statue. Ever."
Police said they were also investigating reports of "threatening/illegal/intimidating behavior to police/city workers and other individuals."
"Illegal behavior will not be tolerated and will be fully investigated," the department said, adding that it had "investigative and evidence-gathering teams in place to support the management of the demonstration."
A number of Confederate flags and flags bearing swastikas were also spotted among the crowds, according to Canadian officials and witnesses, with photos also appearing to confirm the presence of Confederate flags.
'The ultimate sign of evil'
Transport Minister Omar Alghabra told Canadian broadcaster CTV that while not all of those at the rally appeared to express hateful views, those who did should be condemned.
"Some of the images and the voices that we heard come out of that protest were alarming. Canadians saw for themselves. We had swastika flags, we had the Confederate flag, we had voices that called for the overthrow of the government," Alghabra said. "Canadians saw for themselves that some voices are really disturbing and unacceptable."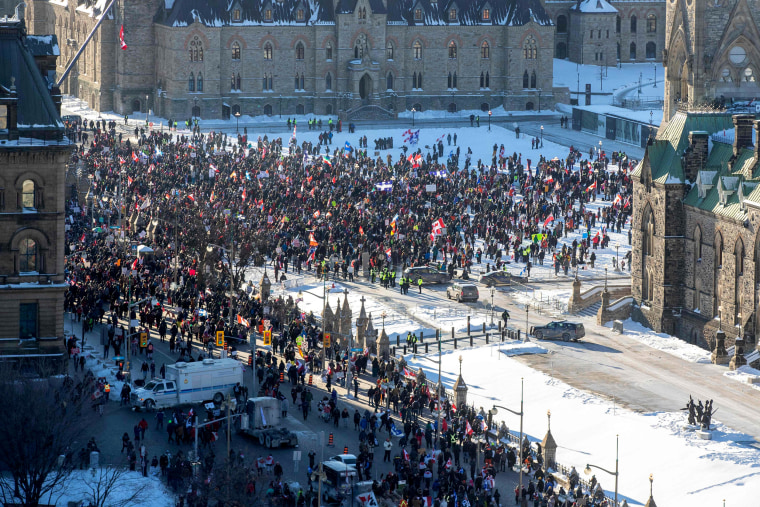 The Canadian Anti-Hate Network, a nonprofit group that monitors hate groups, far-right groups and hate crimes in Canada, asserted that some of the organizers of the protests, including people behind crowdfunding initiatives to support them, appeared to be associated with "the far-right movement" in Canada.
In a statement on its website, the network said multiple organizers and individuals promoting fundraising efforts to support the protests were "previously known figures in Canada's far-right ecosystem."
In an interview Monday with NBC News, Bernie Farber, chair of the Canadian Anti-Hate Network, said that while the protests may have started with the intention of demonstrating against Covid vaccine mandates, by the end of the weekend, they had effectively been co-opted by the far-right.
"Like in the United States and as I've seen in (the U.K.) and everywhere else, there's a lot of anger and there's a lot of frustration," he said.
"I think that this particular so-called Freedom Convoy really was able to take advantage of that frustration and it did ... allegedly start out as a protest against health mandates and vaccine mandates," he said. But, he added: "You don't need a large number of people to co-opt a protest like this. You need a few instigators, you need a couple of Nazi flags and Confederate flags, and the media quite rightly so starts focusing in on that."
Farber, whose father survived the Holocaust, described his own horror seeing flags bearing swastikas on Ottawa's Parliament Hill.
"To me, the swastika is the ultimate sign of evil, poison and hatred," he said. "To see one swastika flag flying on Parliament Hill is as shocking and bewildering to me as it is to most Canadians."
Protesters harassed soup kitchen workers, mayor says
In an interview with the Canadian Broadcasting Corporation, Ottawa Mayor Jim Watson said some demonstrators had harassed workers at a soup kitchen, demanding free meals because their refusal to comply with mask mandates meant they were unable to order food in restaurants.
"These kinds of actions, the swastikas, Confederate flags and the like ... really hurt the credibility of the organizers," he said.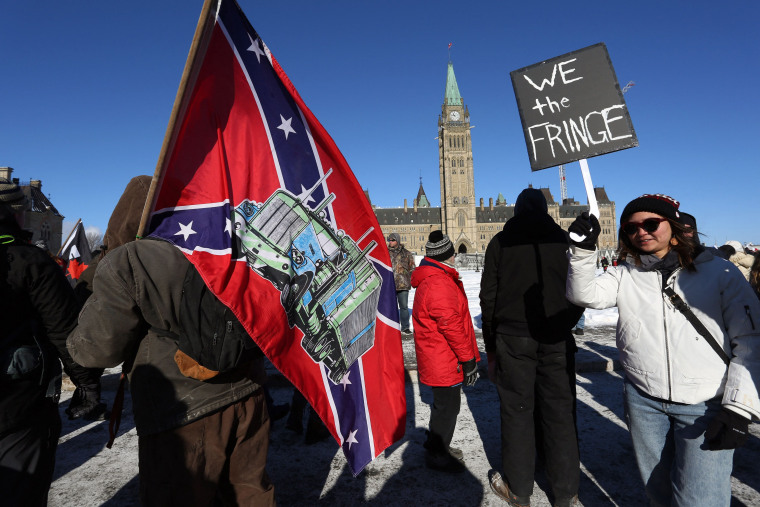 On the official Facebook page for the rally, organizers condemned some of the actions reported over the weekend, writing: "We do not condone any disrespectful behavior."
On Saturday, the Canadian Trucking Alliance, which represents truckers in the country, issued its own statement condemning reports of demonstrators having desecrated the National War Memorial as a "disgusting act" and a "dishonor to those soldiers who have given their lives for our country and those Canadian soldiers who continue to fight for our freedom today." 
In an earlier statement, it also made its stance on the backlash to rules requiring truck drivers to be vaccinated clear, saying: "The only way to cross the (U.S.-Canada) border, in a commercial truck or any other vehicle, is to get vaccinated."
"As an industry we must adapt and comply with this mandate and the vast majority have," the alliance said.
It also sought to remind people that "many of the people you see and hear in media reports do not have a connection to the trucking industry."
By early Monday morning, Farber said trucks remained parked on the streets near Parliament as lawmakers were expected to resume work after a winter break.
Some truckers said they would not leave until vaccine mandates were overturned, Reuters reported. Meanwhile, the Ottawa Police said residents should avoid traveling into the city's downtown core.
The protests come as Canada continues to battle a recent rise in Covid cases fueled by the spread of the omicron variant.
Covid cases surged to their highest numbers so far in the pandemic in early January, reaching tens of thousands of confirmed cases in a single day, before continuing to decline over recent weeks.
As of Sunday, the Canadian government said it had recorded a total of 102,735 confirmed Covid cases within a seven-day span.