Four people are dead and at least 14 severely injured after a shooting in Vienna's inner district Monday evening, which was carried out by at least one attacker who was killed by officers, officials said.
Police confirmed early Tuesday that three people had been killed in the attack, and later an Interior Ministry spokesman confirmed that a fourth woman had died.
Austria's Chancellor Sebastian Kurz tweeted on Tuesday morning that 14 people were injured and a law enforcement officer had been shot.
Six crime scenes were under investigation, police have said.
Police said Tuesday that the attack was carried out by at least one suspect who was armed with what police called an assault rifle as well as handguns. The suspect appeared to be wearing an explosive vest that was determined to have been a dummy device.
Authorities are trying to determine whether further attackers may be on the run, The Associated Press reported.
Austrian Interior Minister Karl Nehammer said that initial investigations indicate that the suspect who was killed had sympathized with the Islamic State group, according to the news agency. He declined to elaborate, citing the ongoing investigation.
Police said that the suspect's apartment has been searched, and police were evaluating numerous videos.
Authorities have asked anyone with photos or videos from the shooting to refrain from posting them to social media and instead upload them to share with police to aid in the investigation.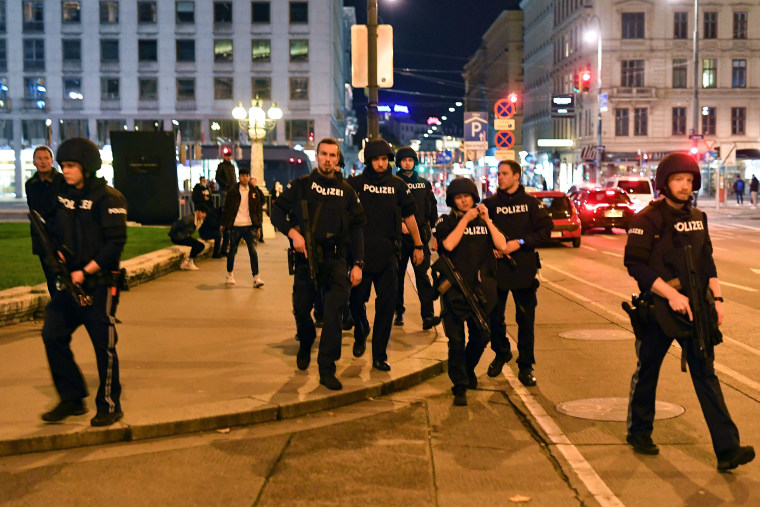 Austrian Chancellor Sebastian Kurz described the shooting as "hideous terrorist attack" in a statement posted to Twitter. Kurz thanked officers for their response and said the country "will never allow ourselves to be intimidated by terrorism."
"So that the police can concentrate fully on the fight against terrorism, the federal government has decided that the armed forces will take over the property protection previously carried out by the police in Vienna with immediate effect," Kurz said.
Alexander Van der Bellen, president of Austria, offered his thoughts and compassion to the injured and their families in the "alleged terrorist attack in downtown Vienna."
"We will defend our freedom and democracy together and resolutely by all means," Van der Bellen said. "I am in contact with the federal government and thank you on behalf of the republic for the statements of support from international heads of state and government."
Pamela Rendi-Wagner, chairwoman of the Social Democratic Party of Austria, said she was "deeply shaken" by the attack.
"I am deeply shaken, stunned and appalled by this horrific terrorist attack in downtown Vienna," the chairwoman tweeted. "Please follow the instructions of the police and be careful."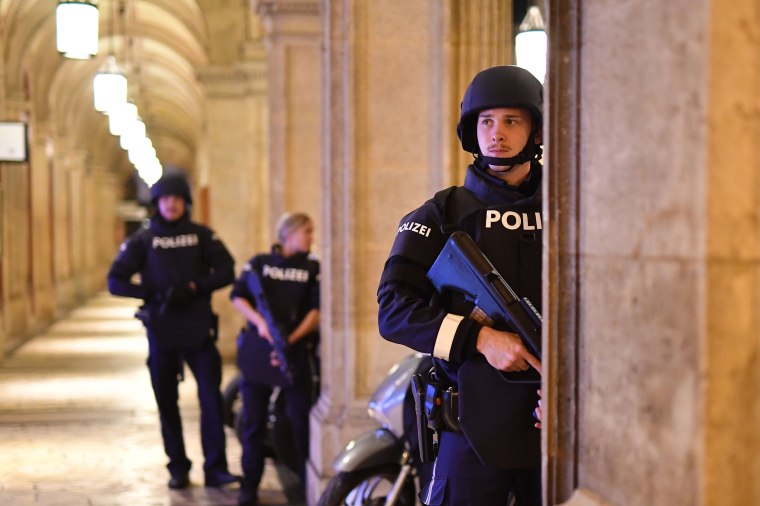 The shooting took place Monday on the last night before Austria's second lockdown is set to begin, restricting access to non-essential businesses until the end of November as coronavirus cases begin to rise once again.
It also takes place just days after an attack on a church in Nice, France, that killed three people. Authorities believe a 21-year-old Tunisian national who entered France in early October began stabbing people after he entered the Notre Dame basilica Thursday morning.
The incident in Nice is being investigated as a suspected terror attack.
French President Emmanuel Macron offered his support to Austrians, calling theirs a "friendly country" under attack in a tweet translated to English.
"This is our Europe. Our enemies need to know who they are dealing with," Macron said. "We won't give in to anything."