HONG KONG — Protesters clashed with police in riot gear and armed with pepper spray in Hong Kong's main airport terminal Tuesday, leaving at least one person injured.
Video showed officers trying to clear out the crowd at Hong Kong International Airport as the protesters chanted. Not long after the altercation began, most of the protesters had left the airport and the police had pulled back.
Several demonstrators were arrested during the confrontation. The Hong Kong Police Force said in a tweet that at least one person was injured and required immediate medical attention but that protesters were blocking ambulance access.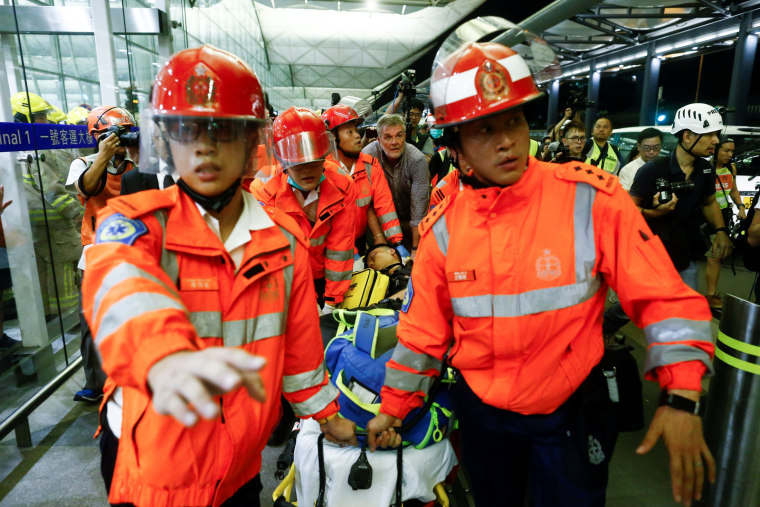 Video from inside the terminal showed a large crowd gathered around someone who appeared to have been injured. A video posted on Twitter showed an officer drawing his pistol and pointing it at the crowd after he appeared to have been beaten with a baton.
Following the confrontation, President Donald Trump tweeted that he had been informed by U.S. intelligence that the Chinese government was "moving troops to the Border with Hong Kong." It's not clear what intelligence agency Trump was referring to or if authorities in China were in fact headed to the border.
Download the NBC News app for breaking news and politics
"Everyone should be calm and safe!" he posted.
The president had earlier called the protests in Hong Kong a "very tough situation" and said he "hopes it works out for everybody."
Michelle Bachelet, the United Nations high commissioner for human rights, said in a news briefing via her spokesperson that she "condemns any form of violence or destruction of property" and urged protesters and police to "engage in an open and inclusive dialogue aimed at resolving all issues peacefully."
Demonstrators have been in the departure hall of the airport for the past several days. Tuesday was the first time police had moved in on the protesters to clear the terminal.
Saturday and Sunday were particularly violent in the city as Hong Kong authorities shot tear gas and fired bean-bag rounds into crowds of protesters who had gathered at underground train stations. Scores of demonstrators were arrested, sometimes after being beaten with batons and left bloodied by authorities.
Police officers have also reported injuries, including burns from Molotov cocktails, bruises and eye irritation from laser pointers.
Bachelet called on the Hong Kong Special Administrative Region to investigate the incidents.
Protesters have been in the streets for months, after initially opposing a bill to create an extradition treaty with the neighboring People's Republic of China. Critics of the bill said Hong Kong residents, who enjoy freedoms and liberties not available to their neighbors in China, could be swept up in that nation's murky judicial system.
Even after the bill was removed from consideration by Hong Kong's chief executive, Carrie Lam, protesters have not relented. They've called for Lam's resignation and greater democratic freedoms.
The Chinese central government said in a statement Tuesday that it "firmly supports" Lam.
Earlier Tuesday, the airport announced that all check-in services for departing flights would be shut down. Check-in services were also suspended Monday.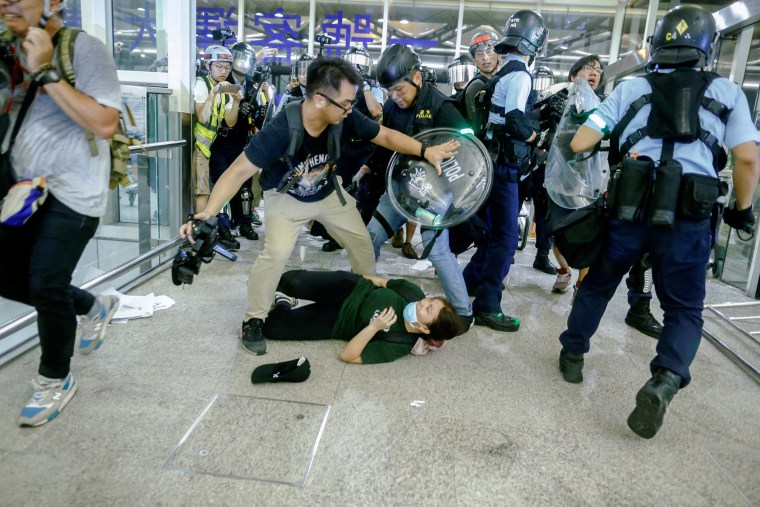 All check-in services for departures were suspended at 4:30 p.m. local time (4:30 a.m. ET), the airport authority added, advising people not to come to the airport.
Joshua Wong, a protester who was at the airport during the clashes with police, said they were demonstrating to stop the bill, end police brutality and fight for elections that aren't controlled by the government.
"The leaders of Hong Kong should represent the voice of people instead of being the puppet of communist authorities," he said during an appearance on MSNBC.
The former British colony was handed back to mainland China in 1997, under the so-called one country, two systems framework that would allow Hong Kong residents to retain civil liberties for at least 50 years.
But Hong Kong residents do not directly elect their chief executiv, and they've been increasingly frustrated with Beijing's opposition to full suffrage.
Paul Goldman reported from Hong Kong, and Minyvonne Burke from New York.