An improvised explosive device blew out windows and ignited a small fire at the Jackson County prosecutor's office in Medford, Ore., Wednesday, but authorities said the damage could have been far worse had it ignited a large propane tank at the scene.
No injuries were reported as a result of the blast, which occurred at about 4:30 a.m. Local and state police and the FBI and ATF are currently investigating.
Law enforcement sources familiar with the case said there was no immediate claim of responsibility and as of yet, there are no suspects, but they are attempting to determine if the bombing was related to two previous incidents involving improvised explosive devices in nearby Coos Bay. 
"We are certainly looking into a connection with the Coos Bay cases," said Lt. Mike Budreau of the Medford Police Department. "We are keeping a very open mind on this."
The FBI is offering a reward of up to $10,000 for information leading to the identification, arrest, and conviction of those responsible for leaving the devices in Coos Bay, which a source described as smaller propane tanks. One was found at the base of Vietnam War Memorial at a city park on Aug. 22.
On Sept. 3, someone placed another IED inside a church.
The Coos Bay Police Department released a composite sketch of a person believed to have been in the vicinity of the church shortly before the IED was found there. Witnesses described that person as a white man, approximately 55 years old, 5'6"-5'7" tall, and about 150 pounds with a shaved head.
A motive for Wednesday's Medford blast is under investigation and authorities are examining whether the Jackson County District Attorney's office was targeted because of a past or ongoing criminal matter or some related grudge.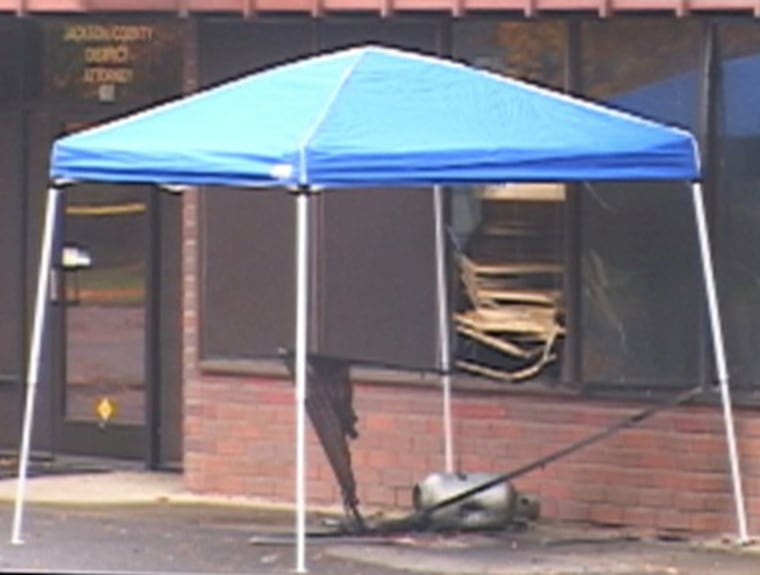 "The D.A.'s office receives threats on a regular basis," said Medford Police Chief Tim George during a morning press conference, "but it it very unusual to have an actual attack. We had no prior knowledge of this attack. We are pulling resources from the Seattle and Portland areas."
"The explosive device was clearly intended to target a government facility, the DA's office. An attack on such a visible symbol of government and justice demands our singular focus.  Although no one was injured, this device posed a significant risk to the firefighters and police officers who responded to the incident," said Greg Fowler, Special Agent in Charge of the FBI in Oregon. " All of the investigators working this case are fully committed to finding the person or people responsible as quickly as possible."
Law enforcement sources stressed it was early in the investigation and it was not clear whether the IED was planted by an individual "lone wolf" bent on revenge or affiliated with a group.
The valve on the propane tank was open when officers arrived and the gas was rushing out with one witness described as the sound of a "jet engine." "All we could do at that point was back off," said Lt. Budreau. The tank ran out of fuel without igniting.
Authorities did not immediately say whether the blast was timed for later, went off prematurely and/or accidentally; or was timed to go off at the appointed early hour to send a message by causing damage but not injuring people.
More from NBC News Investigations: