Poland's President Andrzej Duda said Monday that he would veto two of three bills passed by parliament in a judicial reform that has triggered nationwide street protests and raised EU and U.S. concerns about a politicization of the courts.
Duda is an ally of the ruling right-wing, euroskeptic Law and Justice (PiS) party and, although he had threatened to water down one of the bills, his veto of a second bill was a surprise.
"I have decided that I will send back to the Sejm (lower house of parliament) - which means I will veto - the bill on the Supreme Court, as well as the one on the National Council of the Judiciary," Duda said.
On Saturday, the upper house had given final approval to a bill that would remove all current Supreme Court judges immediately except those hand-picked by the justice minister.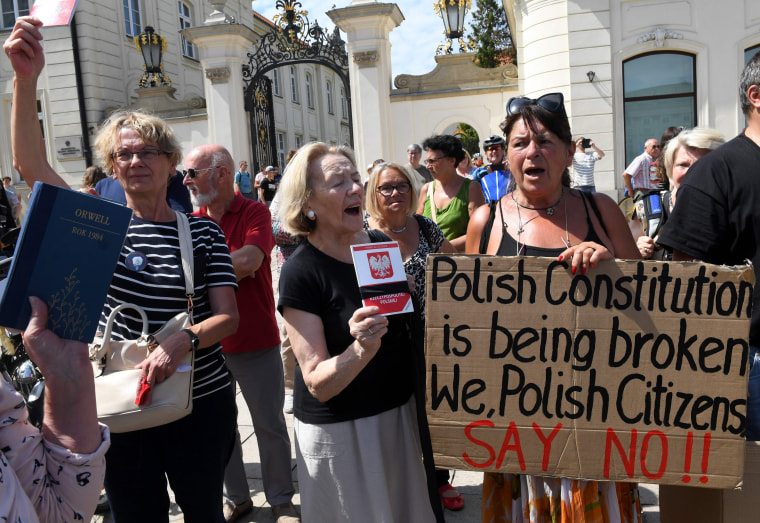 Parliament had earlier passed a bill giving it the right to appoint most of the members of the National Council of the Judiciary, which would nominate future candidates for the president to appoint to the Supreme Court.
"As president, I feel deep inside my soul that this reform in this form will not increase the sense of security and justice," Duda said in a brief live statement.
The overhaul of the judiciary, coupled with a drive by PiS to expand its powers in other areas, including control of the media, has provoked a crisis in relations with the European Union and sparked one of the biggest political conflicts since Poland overthrew communism in 1989.
For many days, tens of thousands of protesters have been gathering in cities including Warsaw, Krakow and Poznan for candle-lit vigils, demanding that Duda veto the reforms.
The opposition and most legal experts say the changes violate the Polish constitution.
But the government has rebutted accusations that it is heading toward authoritarian rule. The PiS says the changes are needed to ensure courts serve all Poles, not just the "elites".
The EU executive, the European Commission, on Wednesday gave Poland a week to shelve the reforms, which Brussels says would put courts under direct government control. The United States, Poland's most important ally in NATO, also expressed concern.
Anna Materska, a political scientist at the University of Warsaw, said Duda's move to distance himself from a flagship PiS policy after previously appearing closely aligned to the party could be a political watershed.
"What happened required courage, but president was backed against the wall and had no other option. This is a key moment in the events of the latest months, maybe even years."
Duda's vetoes can in theory be overridden in parliament, but this requires a two-thirds majority, which PiS and its coalition partners are unlikely to be able to muster.