A little more than half of the middle class believe President Obama's policies will improve their situation, according to a new Pew Research Center report. Fifty-two percent prefer Obama's policies to the 42% who said Republican candidate Mitt Romney would aid the middle class.
Figures from an NBC-Wall Street Journal poll last month showed a similar lead by the president in winning the middle class. It found that 49% of voters believe Obama's policies look out for the middle class, compared to 33% that believe Romney does—a 16-point advantage. A whopping 80% of those respondents said they would vote for the candidate they believe will strength the middle class. Interesting, because a new Obama campaign ad released Thursday has the popular former President Clinton promising that Obama's economic plan will do just that.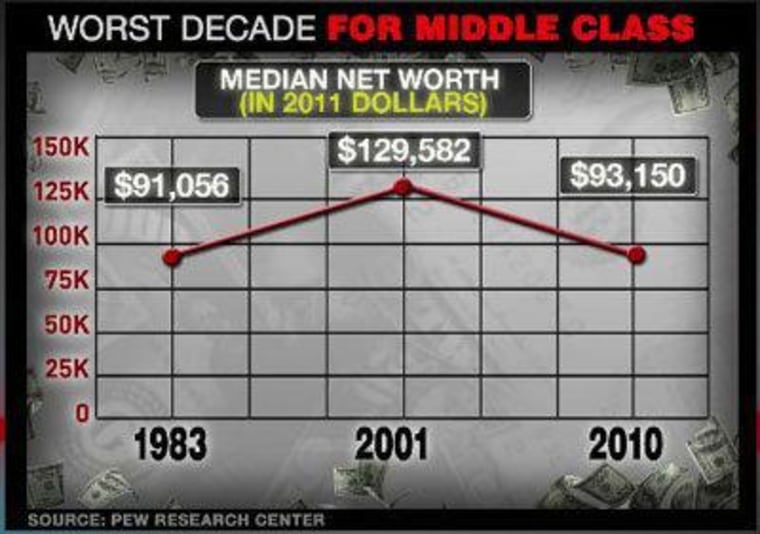 This doesn't mean the president's path to re-election is a simple skip down the yellow-brick road. Indeed, only 44% of voters in the NBC/WSJ poll approve of his handling of the economy (though up 2% from the prior month).
While both campaigns profess their dedication to strengthening and improving the middle class, the number of those who possess a middle class income are dwindling as more people join the ranks of the poor and the wealthy, increasing America's income disparity, Pew found. In 2011, 51% of adults were considered middle class, a 10-percentage point drop from 1971 when 61% were middle class.
While upper-incomers wealth held steady over the last decade, the middle class' median net worth fell by $36,432 (see chart).
And they aren't happy. Eighty-five percent of those who identify as middle class say it is more difficult for them to maintain their standard of living today than it was a decade ago. Who do they blame for this? Politicians and a few other culprits. 
62% blame Congress
54% blame banks and financial institutions
47% blame corporations
44% blame the Bush administration
39% foreign competition
34% blame the Obama administration
In discussing the Pew report this morning, conservative Morning Joe host Joe Scarborough blamed both parties for the "depressing" news. "It's all B.S.," he said. The rich are getting richer and the poor are getting poorer because for 40 years our economy has been changing...We had an IT revolution that displaced a lot of people."
"The political parties are just stupid in their simple-minded solutions," Scarborough continued while pointing to tax reform suggested by each candidate for president. 
Watch the clip below.