Despite a month's worth of efforts looking to knock down his credentials, presumptive Republican nominee Mitt Romney retains an advantage over President Barack Obama in the new NBC News/Wall Street Journal poll on questions of which candidate would better manage the economy.
Still, while Romney holds a small lead on the central issue of the election, voters seem find Obama's message about fairness and boosting the middle class more agreeable than the Republican alternative, which emphasizes free markets and small government.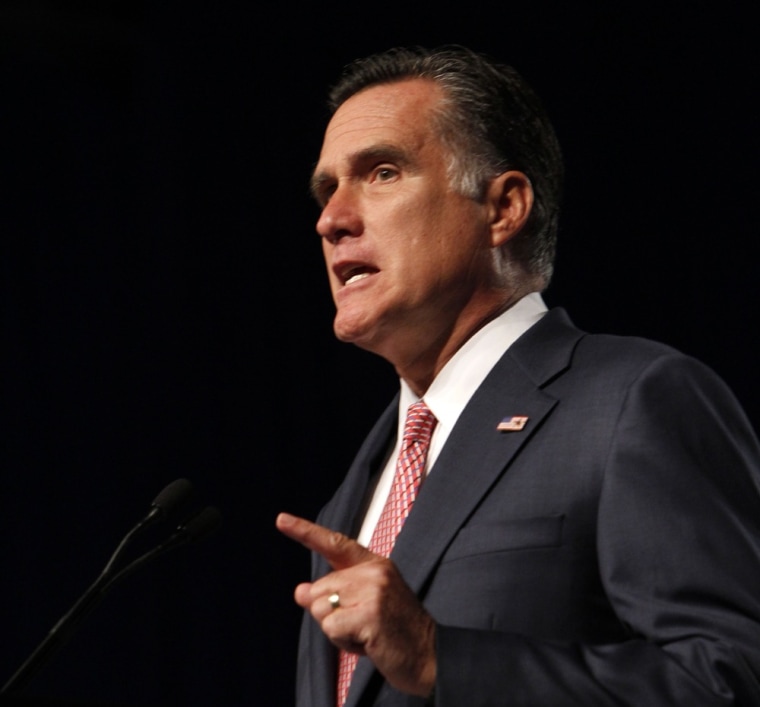 These crosscurrents set the stage for the dogfight between Obama and Romney on the issue of the economy that's set to play out over the next 104 days.
Related: NBC/WSJ poll: Negative campaign takes toll on candidates; Obama up six points
Romney leads Obama by seven points – 43 percent to 36 percent – on the question which candidate has better ideas for how to improve the economy, the poll found. On the more direct question of which candidate would better deal with the economy, 43 percent of registered voters preferred Romney, versus 37 percent who thought the president would do better.
Given how much time Romney has spent emphasizing his economic acumen, said Maryland Rep. Chris Van Hollen, a veteran Democratic campaigner, the former Bain Capital executive's margin should be even wider.
"It shows that Romney has a much weaker starting hand than he thought. His so-called experience was going to be a trump card. But it's more of a wild card," said Van Hollen. "This is supposed to be his strongest argument, and yet he's far short."
The president's re-election campaign has sought to drive that perception by an effort over the past month to tear down and redefine Romney's business record, along with questioning the propriety of the GOP candidate's personal finances.
Republicans contend Obama's offensive is little more than an effort to shift the blame for his own difficulties.
"Barack Obama's positioning statement is, I may have sucked, but this guy will make the economy suck even more," joked Republican pollster Jim McLaughlin.
But the Romney campaign has shrugged off most of the attacks as a distraction, betting a bad economy will overwhelm any misgivings voters might have about the Republican nominee come Election Day. And Romney's headquarters in Boston might be heartened by increased economic pessimism contained in the poll; the number of registered voters who expect the economy to improve declined 8 percent in the last month alone, and more voters expect the economy to get worse in the next year. 
"Romney, if he is aggressive, he's going to be fine on the economy," said Republican Georgia Rep. Jack Kingston. "If he can't win on the economy, he can't win it anyhow."
The presumptive GOP nominee's latest tack has been to seize on a comment made earlier this month by Obama in Virginia, in which the president seemed to suggest businessowners' successes were more rooted in government support than their own efforts.
The president's comment gave such kindling to the Romney campaign, though, because it cuts to the core of his argument on how to fix the economy's ills. Romney has stressed the primacy of business in spurring job creation, asserting that allowing businesses greater flexibility and lower taxes would help boost growth.
Suggesting that this attack has had some success, Obama on Tuesday released a new TV ad in response, saying, "of course Americans build their own businesses."
Sixty-eight percent of voters said in the NBC/WSJ poll that this kind of message – one who "wants to restore the values of economic freedom, opportunity and small government" – would make them more likely to vote for a candidate for president. But a message like Obama's tests better. Eighty percent of voters said they'd be more likely to support a candidate who "will fight for balance and fairness and encourage the investments needed to grow our economy and middle class."
"I think what they miss is that it's not simply a referendum on the economy," Democratic strategist Jamal Simmons said of the Romney campaign. "People are choosing someone to be the captain of the American ship, and they've got to trust you at the helm."
The election might fall, then, on the question of whether Obama's vision should trump Romney's résumé. It explains why Obama has gone so forcefully after Romney's business record – Democrats call it "contrast," Republicans say it's "negative."
It's a line of attack meant to play out primarily in swing districts across a series of states that will decide the election. And despite the fact that these attacks have driven up negative perceptions of the Obama campaign, it's a strategy with which Democrats express happiness 
"I don't think it's been overly negative. He's pointing out what Romney's record really has been, and quite frankly, the most negative voices against Romney has been some of his own people," said Democratic Rep. Tim Ryan, who hails from the kind of eastern Ohio district that could swing the election.
"I think he's hit his stride on the message. I think this is the crispest and clearest message he's had since he's been in office," Ryan added.
For Republicans, preserving Romney's advantage on the economy is a matter of being aggressive. McLaughlin says he "wouldn't have let [the Obama campaign] have the advantage in the swing state spending that they've let him have," and another Capitol Hill Republican said he was "floored" that Romney didn't have a better response ready on Bain and his taxes, given the way those issues were litigated in the Republican primary.
"Any presidential election is going to have distractions and bad days," said the Republican. "He's got to have more good days than bad days, but he doesn't need to have a perfect campaign."