Support for stricter gun-control measures has dropped to its lowest level since last year's tragic shootings in Newtown, Conn., according to the latest NBC News/Wall Street Journal poll.
Fifty-two percent of Americans now say they want stricter laws covering the sale of firearms. By comparison, 38 percent think gun laws should remain the same, and another 8 percent say they should be less strict.
That support for tighter restrictions is down from earlier in the year. In Jan. 2013, a month after the shootings, 56 percent favored stricter gun laws in the NBC/WSJ poll.
Read the full poll here (.pdf)
In February, support increased to 61 percent. And in April – as the U.S. Senate was debating gun-control measures that ultimately failed to advance – 55 percent said they wanted stricter gun laws.
Almost exactly a year ago, on Dec. 14, 2012, a lone gunman killed 20children and sixadults at Sandy Hook Elementary School.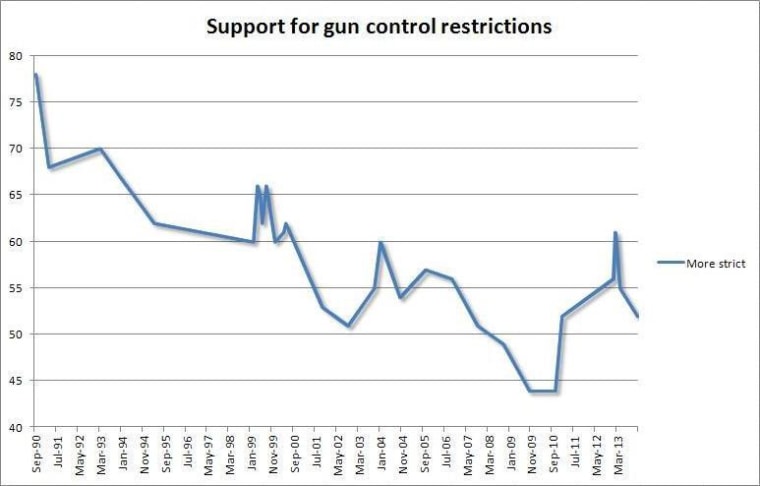 That tragedy led President Barack Obama, many congressional Democrats and a handful of Republicans to press for new gun control measures, including universal background checks for all firearm sales.
But on April 17, that background-check legislation failed to get the 60 votes needed for passage in the U.S. Senate, essentially bringing the legislative pursuit for gun control in the 113th Congress to an end.
The NBC/WSJ poll also shows a predictable partisan split when it comes to gun control. Seventy-six percent of Democrats say they back stricter gun laws, versus just 28 percent of Republicans who do.
Additionally, the survey finds that the National Rifle Association is more popular than outgoing New York Mayor Michael Bloomberg, who is one of the nation's most prominent (and deep-pocketed) gun-control advocates.
In the poll, 39 percent have a favorable impression of the NRA, while 31 percent have an unfavorable impression.
That's compared with Bloomberg's 19-percent-to-24 percent favorable/unfavorable rating.
And the poll shows the Democratic Party having a 7-point advantage over the Republican Party (29 percent to 22 percent) when it comes to which party would do a better job in reducing gun violence.
The NBC/WSJ poll was conducted Dec. 4-8 of 1,000 adults (including 300 cell phone-only respondents), and it has an overall margin of error of plus-minus 3.1 percentage points.
Related: