Secretary of State Mike Pompeo laughed Friday when asked whether he planned to present Kim Jong Un with a CD of the Elton John hit "Rocket Man."
It was one of the more left-field questions posed by reporters after he landed in North Korea, a trip designed to "fill in some details" on the denuclearization agreement signed by Kim and President Donald Trump last month.
The secretary of state's response neither confirmed nor denied a report in South Korea's Chosun Ilbo newspaper that the recording was among the gifts Pompeo intended to present to Kim.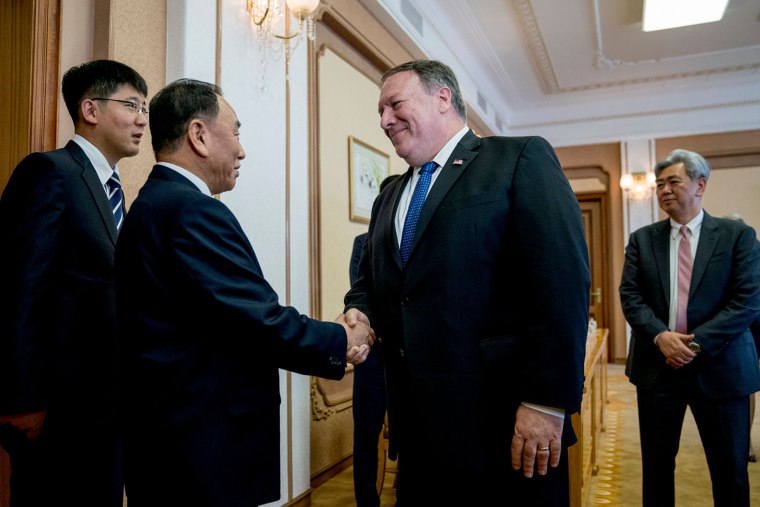 Quoting unidentified sources in Washington, the newspaper said that during their meeting last month Kim told Trump he had never heard the 1972 song that lent its name to Trump's nickname for Kim — "little rocket man" — during the height of tensions last year.
According to the newspaper, Trump signed a copy of the CD and told Pompeo to present it to Kim along with a written message. The report has not been verified by NBC News or any other media organization, and it is not clear whether Pompeo will actually meet Kim during this week's trip.
Friday kicked off Pompeo's third visit to the country and his fourth meeting with North Korean officials in the space of three months.
He was met at the airport by Kim Yong Chol, a senior ruling party official and former intelligence chief, and Foreign Minister Ri Yong Ho.
"The more we meet the deeper our friendship will be, I hope," Kim Yong Chol said in front of reporters at the Paekhwawon, or 100 Flowers Garden guesthouse. "Today's meeting is really meaningful meeting."
"This is the first time we've had a chance to be together face-to-face since the summit between our two leaders so I'm looking forward to our time together today," Pompeo replied. "I was joking that if I come one more time I'll have to pay taxes here."
Pompeo and Kim Jong Chol's meeting Friday lasted about 2 hours and 45 minutes.
Kim Jong Un and Trump signed a joint statement agreeing to "work toward denuclearization of the Korean Peninsula" at last month's Singapore summit, but the document included no details on the location of the nuclear weapons program, how it would be dismantled or how that dismantling would be verified.
Pompeo said he would be hoping to flesh out some of that specific information.
"On this trip I'm seeking to fill in some details on those commitments and continue the momentum towards implementation of what the two leaders promised each other and the world," Pompeo said in a statement before his trip, adding that he expected North Korea was "ready to do the same."
Trump declared shortly after his return from Singapore "there is no longer a Nuclear Threat from North Korea," and "the problem is largely solved."
However, as first reported by NBC News, American intelligence officials believe Pyongyang does not intend to give up its nuclear weapons program and is actively working to deceive the U.S.