Secretary of State Mike Pompeo met with Saudi King Salman and Crown Prince Mohammed bin Salman in Riyadh on Tuesday to discuss the disappearance and alleged murder of journalist Jamal Khashoggi.
President Donald Trump sent Pompeo to Saudi Arabia where he is scheduled to dine with the crown prince, the country's putative leader who has pledged to modernize the kingdom while at the same time overseeing a widespread crackdown on dissent.
On greeting the secretary of state, the crown prince said, "We are strong and old allies so we face our challenges together."
"Absolutely," responded Pompeo.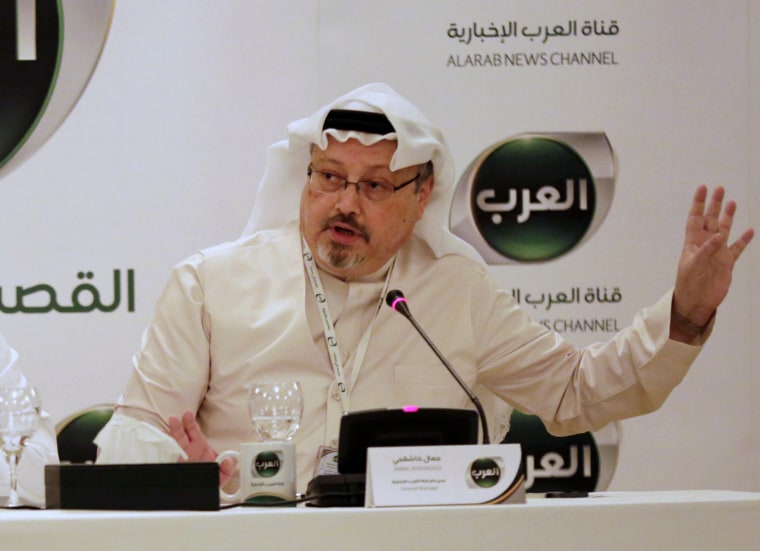 Pompeo's trip to Riyadh came as Turkish investigators searched the Saudi consulate in Istanbul, removing soil samples and bricks from the grounds, according to a Turkish individual familiar with the investigation. Khashoggi, a longtime Saudi insider who last year left the kingdom and began writing pieces critical of the powerful crown prince for The Washington Post, vanished after entering the consulate on Oct. 2.
State Department spokesperson Heather Nauert said Pompeo's meetings in Riyadh were "direct and candid."
Pompeo thanked King Salman for "his commitment to supporting a thorough, transparent and timely investigation of Jamal Khashoggi's disappearance," she said.
"Learning what happened to Jamal Khashoggi is the primary purpose of this trip and is of great interest to the president," Nauert said. "The secretary has made that clear in each of his meetings today."
While longstanding Saudi-U.S. ties grew strained under the administration of President Barack Obama, Trump and Jared Kushner, his son-in-law and senior adviser, have embraced the king and crown prince as a close and crucial partners in the administration's Middle East strategy. Trump went to Saudi Arabia in his first foreign trip as president.
As Pompeo traveled to meet with the king and his son, reports swirled that Saudi Arabia's government is discussing a plan to admit that Khashoggi was killed after he went to the consulate.
The Saudis are putting together an explanation that would absolve the crown prince of responsibility by giving him plausible deniability to say he didn't order the killing and didn't know about it, two individuals with knowledge of the situation told NBC News on Monday.
One of the two said he was told by those close to the Saudi leadership that the kingdom will claim that rogue operatives killed Khashoggi during an interrogation or a rendition attempt that went horribly awry.
A third individual said the U.S. government still doesn't know precisely what explanation the Saudis plan to give, but that the Saudis intend to admit "culpability."
The possibility of a shift in the Saudis' explanation is expected to be discussed directly with Pompeo, whose visit to Riyadh came amid mounting international pressure on Saudi Arabia to reveal what it knows about Khashoggi's disappearance.
Michelle Bachelet, the United Nations High Commissioner for Human Rights, called on Saudi Arabia and Turkey to reveal all of the information it has on the missing journalist and said that immunity should be lifted on diplomatic premises and officials.
"Our family is traumatized, and yearns to be together during this painful time."
On Sunday, Trump spoke by phone with King Salman. The next day the president tweeted that the king had denied any knowledge of the whereabouts of Khashoggi.
Moments later, he told reporters that it had sounded from the conversation that "maybe these could have been rogue killers — who knows?"
Meanwhile, in Istanbul Turkish investigators entered the consulate late Monday night and left before sunrise on Tuesday morning, according to a Turkish individual familiar with the investigation.
They spent about nine hours inside the consulate. Investigators included forensic teams looking for DNA samples. They also removed soil samples and bricks from the consulate grounds.
They were not allowed to interview any Saudi staff. It was not clear if they had access to all of the consulate rooms, the person told NBC News.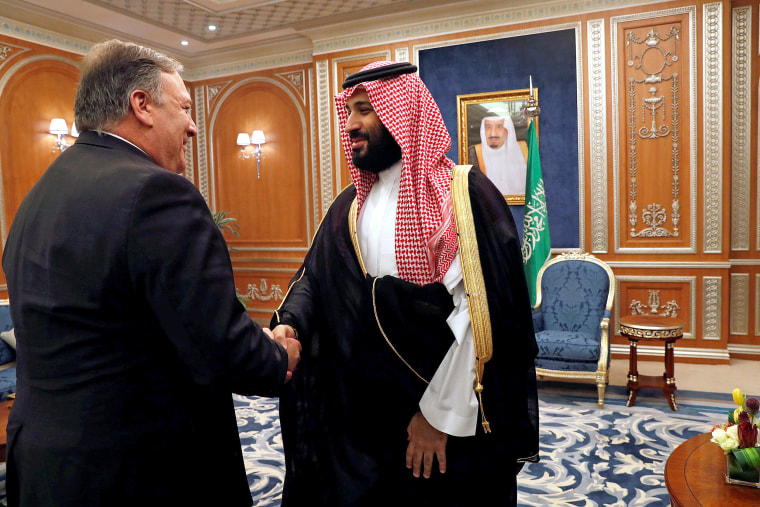 Turkish President Recep Tayyip Erdogan said Tuesday in Ankara that the investigation in the Saudi consulate was looking into many things "such as toxic materials and those materials being removed by painting over them," according to Reuters.
Turkish Foreign Minister Mevlut Cavusoglu said that investigators would also search the Saudi consul residence and cars, according to Reuters.
Khashoggi's disappearance has created a major diplomatic crisis for the kingdom, with mounting evidence that the Saudis were involved fueling a growing outcry from foreign governments, U.S. lawmakers and the Trump administration.
On Tuesday, Sen. Lindsey Graham, R-S.C., blasted the crown prince, calling him "a wrecking ball" who had the missing journalist killed.
"He had this guy murdered in a consulate in Turkey, and to expect me to ignore it, I feel used and abused," Graham said on "Fox and Friends."
Graham, who has been a staunch defender of Saudi Arabia, did not provide any evidence to support his claim.
Turkish officials say they fear Khashoggi was killed and dismembered inside the consulate. But Saudi officials have called the allegations "baseless," and responded furiously to what it termed "threats" of economic or political pressure after Trump warned of "severe punishment" over the weekend.
Khashoggi's family issued a statement on Monday calling for the establishment of an "independent and impartial commission to inquire into the circumstances of his death."
"We are sadly and anxiously following the conflicting news regarding the fate of our father after losing contact with him two weeks ago, when he disappeared after entering the Saudi consulate in Istanbul," the statement said. "Our family is traumatized, and yearns to be together during this painful time."
As the scandal continues to unfold, a slew of businesses leaders and media companies announced they were pulling out of the Future Investment Initiative economic conference set for next week in Riyadh.
Treasury Secretary Steven Mnuchin has said that he still planned to attend to conference, but Trump said Monday that the final decision would be made by Friday.
"We haven't made a decision about going yet," he told reporters.
Saphora Smith and Michele Neubert reported from London; Josh Lederman from Washington; and Ayman Mohyeldin from Dubai.