Secretary of State Mike Pompeo's last overseas trip as top U.S. diplomat has been canceled, the State Department announced Tuesday, citing the need for him to stay in Washington to prepare for the transition to the Biden administration.
Pompeo was set to travel to Brussels on Wednesday for meetings with NATO Secretary General Jens Stoltenberg and Belgian Foreign Minister Sophie Wilmès, but the State Department called off "all planned travel this week."
The secretary's brief European tour was to initially include a stop in Luxembourg but officials from the small NATO country called off the visit after last week's pro-Trump riot at the U.S. Capitol, according to three sources with knowledge of the decision.
Luxembourg Foreign Minister Jean Asselborn told The Atlantic he had been informed that Pompeo was heading to a meeting with Stoltenberg, and "would like to stop by Luxembourg too.
"We were waiting to hear details. And then Sunday evening we were told Pompeo will not come," he said.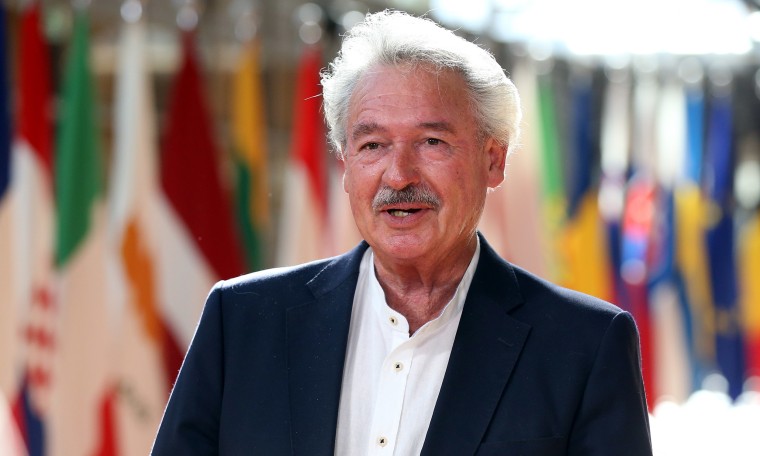 "I am willing to meet with any foreign minister, from anywhere. But maybe it's not a bad thing that he won't be in Belgium and Luxembourg," Asselborn added.
In an interview with local outlet RFL last week, Asselborn called President Donald Trump "a criminal" and "a political pyromaniac who must be put before criminal court."
A spokesperson for the Luxembourg government declined to comment.
The State Department's public announcement of the trip, released 24 hours before it was pulled down, listed Belgium as Pompeo's only destination.
Download the NBC News app for breaking news and politics
Travel to Belgium by the United States' top diplomat would traditionally involve a meeting with E.U. leaders, as has often been the case for Pompeo. But no meetings with E.U. officials were planned even before Wednesday's events, according to two European and two U.S. officials familiar with the trip planning.
America's allies have been united in their dismay at the violent scenes at the heart of American democracy, with some world leaders explicitly blaming Trump for inciting his supporters to storm the building. Both Stoltenberg and Wilmès described Wednesday's violent attack on the Capitol as "shocking," and reiterated the legitimacy of President-elect Joe Biden's victory.
But the secretary's meetings in Brussels were still on as of Tuesday morning, the sources said, with some State Department officials already on the ground.
By Tuesday afternoon Pompeo had called Stoltenberg to inform him he would no longer be traveling, a NATO official confirmed to NBC News. The official who was not on the call said the secretary conveyed the cancellation was due to necessary arrangements around the transition.
A trip to Taiwan by U.S. Ambassador to the United Nations Kelly Craft was also called off as a part of the State Department's cancellation of all travel this week.
Craft would have been the first member of the Trump administration to meet with Taiwanese officials after Pompeo removed all restrictions on relations between the U.S. and Taiwan last weekend. That move was heavily condemned by China, which sees Taiwan as a renegade province that it should control.
China's Foreign Ministry spokesperson Zhao Lijian warned Pompeo at the time to "stop going further down the wrong and dangerous path" or he would "be harshly punished by history."
Abigail Williams and Josh Lederman reported from Washington, D.C., and Carlo Angerer reported from Munich.