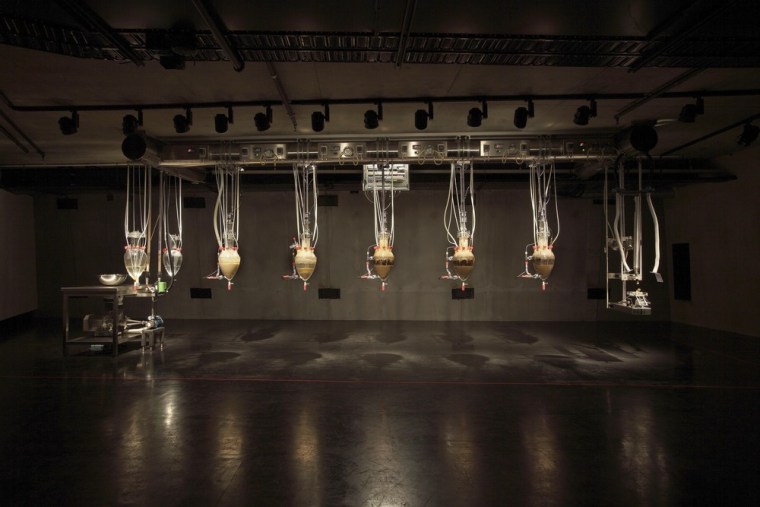 SYDNEY -- Smelling excrement may not be everyone's idea of fun, but for those who like to push the boundaries, Australia's most controversial new museum may be just what they are looking for.
Dubbed "the subversive adult Disneyland", the Museum of Old and New Art (MONA) is located in Tasmania and features around 400 works of art from Egyptian mummies to Young British Artists including Chris Ofili and Jenny Saville.
But the most talked-about piece is the Cloaca Professional, labeled the "poo-machine." It was built by Belgian artist Wim Delvoye to mimic the actions of the human digestive system.
A series of glass receptacles hang in a row with the machine being "fed" twice a day on one end. The food is ground up "naturally," the way it is in the human body, and the device produces feces on the clock at 2 p.m. at the other end.
The smell is so powerful that not many visitors can take it.
"It put me off because of the overwhelming assault on the senses," said Diane Malnic, a Sydney-based accountant.
'Vomit room'
Yet this was her second visit in five months, following a family holiday in Tasmania earlier in the year. This time, she flew without her husband and children just to have another look at the collection, interested in Delvoye's other pieces.
She took great care to avoid the "smelly" parts and still talked vividly about the "vomit room" which was part of an earlier exhibit no longer on display.
"I wouldn't go back to see them," she said, laughing.
The Cloaca is part of a series of at least five similar machines built by the artist, another of which will soon be exhibited at the Louvre. It is the most hated piece in the museum but also the most visited.
The museum, which opened in January 2011, is owned by eccentric and philanthropist David Walsh, who made his fortune as a professional gambler, and features one of the largest private art collections in the world with an estimated value of around $100 million.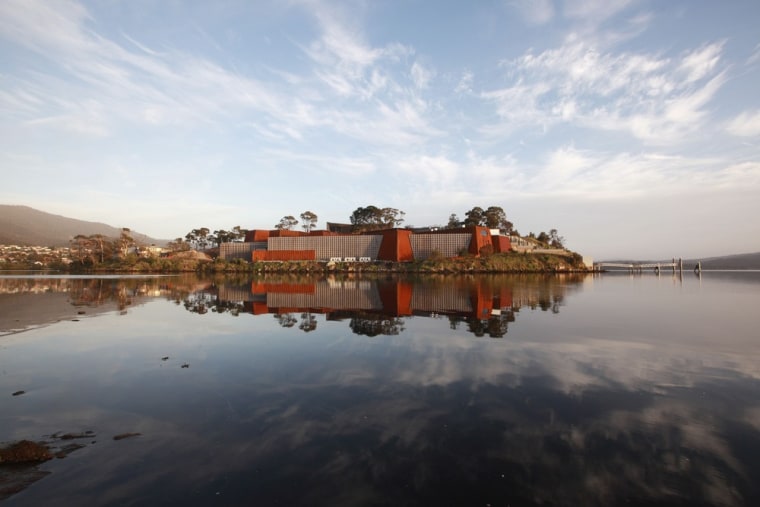 Its motto is to shock, offend, inform and entertain.
"It definitely challenges your interpretation of what art is," said Malnic.
Elephant dung
Pieces include Chris Ofili's Holy Virgin Mary, which features elephant dung and porn-magazine cutouts of genitals. It caused controversy in 1996, with then-New York City Mayor Rudolph Giuliani reportedly describing Ofili's work as "sick".
Another much-talked-about piece is the Matrix by Jenny Saville, a full-frontal large painting of a naked transgender man with his modified genitals exposed.
"It's confronting," said Margarita Silva, a Melbourne-based dentist making during her third trip to the MONA.
Detractors argue that some of the pieces don't belong to a museum, which is also what Malnic initially thought. But upon reflection, she said the Cloaca machine opened her mind and argued that perhaps it was the future of art.
For Silva, her favorites were a soundproof room of 30 Madonna fans who were individually filmed singing a capella the artist's Immaculate Collection album. The other was a waterfall with droplets spelling out a series of words.
Keeping with the MONA's sensibility, none of its art work is grouped or chronological, leaving viewers to walk at random.
"Overall, it's a fantastic experience," said Silva.
The museum charges A$20 ($20) for entry and has drawn around 389,000 visitors in its first year.
More world news from msnbc.com and NBC News:
Follow us on Twitter: @msnbc_world