Tens of thousands gathered at the Vatican on Thursday for the funeral of Pope Emeritus Benedict XVI, a stalwart of conservative values who shocked the Catholic Church when he resigned a decade ago.
Mourners dressed in black poured into St. Peter's Square ahead of the Mass, which began at 9:30 a.m. local time (3:30 a.m. ET). Pope Francis presided — with the pontiff leading the farewell to his predecessor in an event unprecedented in modern times.
As fog shrouded the top of St. Peter's Basilica, the ceremony began with a prayer by Francis for Benedict, and readings were made in Spanish, English and Latin. Hymns sung by the Sistine Chapel Choir included Psalms 23 and Hallelujah.
Francis honored Benedict in his homily but didn't dwell on his specific legacy and only uttered his name once, in the final line.
Prayers were also said in German, French, Arabic, Portuguese and Italian.
Francis placed his hand on Benedict's cypress coffin as it was being carried into St. Peter's Basilica, before placing his hand on his chest and bowin. The coffin was led away from the square to applause and cheers from the crowds.
Benedict, who died New Year's Eve at the age of 95, shocked the Catholic Church when he retired in 2013, becoming the first pontiff to do so in 600 years. That decision will shape his legacy, as will the sexual abuse scandal that has plagued the church in recent years.
In 2013, he ceded the papacy to Francis, who is widely seen as a more reformist leader, and spent his twilight years living at the Vatican in a refurbished monastery.
Because Benedict was no longer a head of state when he died, only two countries, Italy and his native Germany, sent official delegations to the funeral. But other world leaders and royals attended in a private capacity.
Heavy security measures were enforced in the Holy See to ensure the event's safety, with more than 1,000 Italian security personnel deployed and its air space closed for the day.
Some 50,000 people attended Thursday's Mass, according to the Vatican.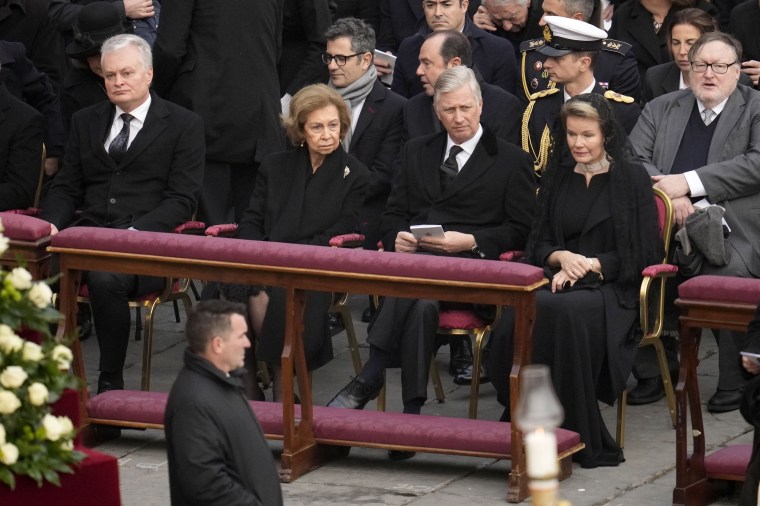 Among prominent clergymen attending the funeral were Hong Kong Cardinal Joseph Zen, his secretary said. Zen, a retired 90-year-old bishop, has been sharply at odds with Francis over the Vatican's agreement with Chinese authorities on the appointment of bishops.
Almost 200,000 people paid their respects as Benedict's body was lying in state at St. Peter's Basilica from Monday until Wednesday evening.
The pope's body was placed in a plain wood coffin. After the funeral ceremony, the coffin was taken back inside the basilica and encased in zinc before being sealed in a second wooden casket.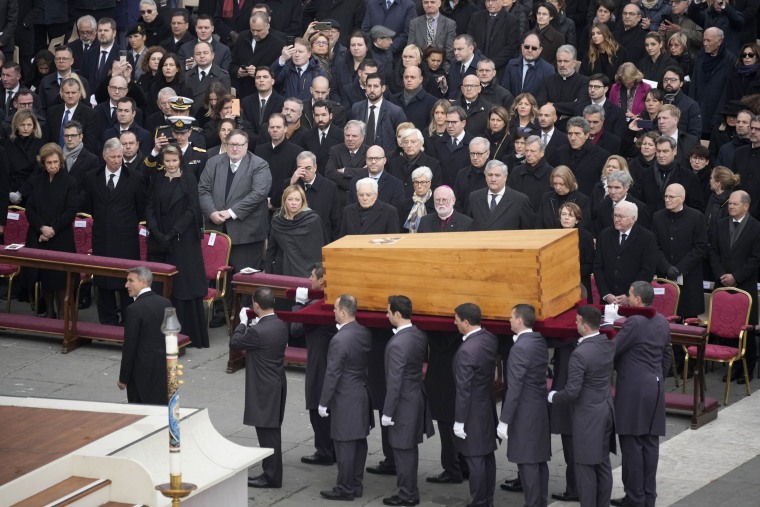 At his request, Benedict will be buried in the underground Vatican grottoes in the niche where the first pope, John XXIII, and then John Paul II were interred before their remains were transferred to more prominent places in the basilica above.
A written account of the pope's life will be buried with him in his coffin, the Vatican announced. The document cited his theological and papal legacy, including his outreach to Anglicans and Jews and his efforts to combat clergy sexual abuse "continually calling the church to conversion, prayer, penance and purification."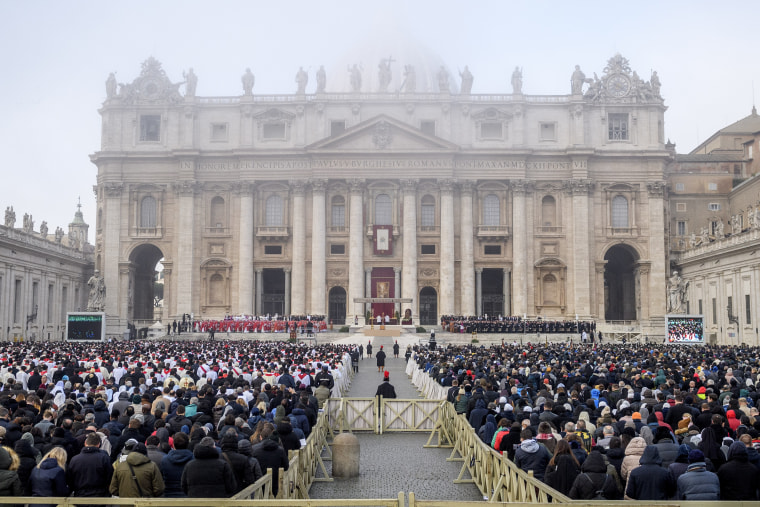 Francis hailed him as a "great master of catechesis" at a general audience in the Vatican on Wednesday, paying special tribute to his "acute and gentle thought."
Born in a small Bavarian village, the former Joseph Ratzinger joined the priesthood in 1951 and rose to lead the Catholic Church in 2005.
He was widely considered a champion of the church's conservatives, but the end of his time as pontiff was marred by the church sex abuse scandal.
He continued to advise his far more liberal-minded successor in private after resigning the papacy and was the longest-living pope, having surpassed Pope Leo XIII in September 2020.
His death led to tributes from across the world.
President Joe Biden, America's second Roman Catholic president, said in a statement that Benedict "will be remembered as a renowned theologian, with a lifetime of devotion to the Church, guided by his principles and faith."
The soft-spoken pope is remembered by those who knew him as a shy man with a great sense of humor.
Michael Hessemann, a German historian and Vatican journalist, who met Benedict several times in person, called him "a humble man" with "a beautiful sense of humor" who would "look deep into your eyes" when talking to someone. 
"The life of Joseph Ratzinger, Pope Benedict and post Pope Emeritus Benedict, are all linked by one virtue, and that is humility," said church historian Christopher Bellitto at Kean University, New Jersey.
Benedict's decision to resign citing his ailing health may have changed the office of the pope forever, experts said.
The decision was "part and parcel" of his belief that "the office" is bigger than any one human being, Bellitto said. 
"In this world in which we live, who walks away from power? The answer is nobody. And yet he did," he said.