VATICAN CITY — Pope Francis once again used a Christmas greeting to dress down Vatican officials, denouncing the "cancer" of cliques and how bureaucrats can become "corrupted" by ambition and vanity.
"Reforming Rome is like cleaning the Egyptian sphinxes with a toothbrush," Francis told the cardinals, bishops and priests who work for him on Thursday. "You need patience, dedication and delicacy."
In a somber speech in the Apostolic Palace, Francis acknowledged that there were plenty of competent, loyal and even saintly people who work in the Holy See. But he also said there were others who were chosen to help him reform the Vatican's inefficient and outdated bureaucracy that were clearly not up to the task.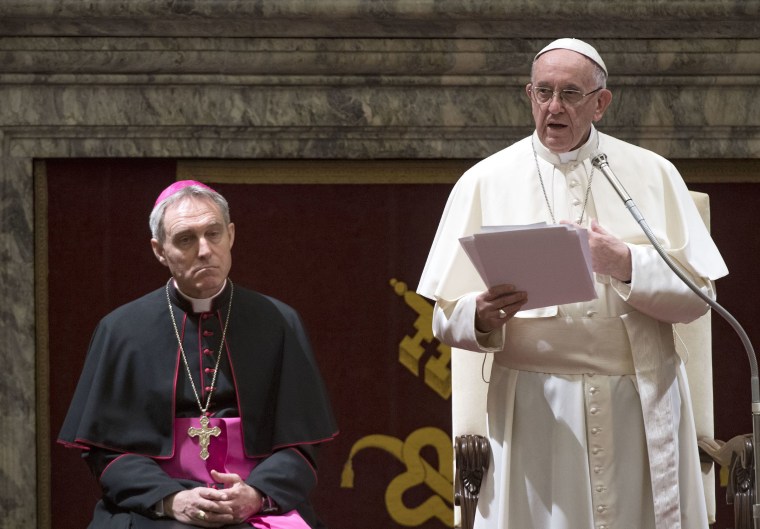 When these people are then "delicately" removed, Francis said "they falsely declare themselves martyrs of the system, of an 'uninformed pope' or the 'old guard,' when in fact they should have done a mea culpa."
Francis has a tradition of giving the Curia a tough-love Christmas greeting, inviting the Vatican bureaucrats who help govern the 1.2-billion Catholic Church to a Jesuit-style examination of conscience before the new year.
His most blistering critique came in 2014, when he listed the "15 ailments of the Curia" that some suffered, including the "terrorism of gossip," ''spiritual Alzheimer's" and of living "hypocritical" double lives.
The following year he offered an antidote to the sins by listing the "catalog of virtues" he hoped they would instead follow, including honesty, humility and sobriety. Last year, he denounced the resistance he was encountering to his reform efforts, saying some was inspired by the devil himself.
Related: Cardinal Law's fall from grace caused a ripple effect still felt today
Thursday's speech was tamer, and promised at its outset to focus mostly on the Vatican's relations with other countries and faiths.
But Francis spent a good chunk of his remarks on in-house business, urging Vatican officials to overcome the plots and cliques that "represent a cancer of self-referential attitudes" in the church. And he warned against "traitors of trust," or those who seek to take advantage of the church for personal gain.
Such people "were chosen to help the reform effort, but not comprehending the importance of their responsibilities, allowed themselves to be corrupted by ambition or vanity."
Francis didn't name names, and it wasn't immediately clear if he was referring some of the mysterious exits of top Vatican officials in 2017.
Libero Milone, the first-ever auditor general, left in June in what the Vatican said was a mutually agreed-upon departure two years into a five-year term. Only after Milone claimed the Vatican made trumped-up charges against him did the Vatican accuse him of having hired an outside firm to spy on Vatican officials.
Then last month, the Vatican fired the respected No. 2 at the Vatican bank, Giulio Mattietti. No reason was given and details of his exit have been shrouded in secrecy.
And in July, Francis sacked Cardinal Gerhard Mueller as head of the Vatican's doctrine office following growing criticism of, among other issues, how the office was handling sex abuse cases.
Days before that, Francis allowed his top financial reformer, Cardinal George Pell, to go home to his native Australia to stand trial for alleged sexual assault. Pell has denied the charges.
With his brusque nature, outsider sensibility and occasional tactical blunders, Pell had frequent clashes with the Italian-heavy Vatican bureaucracy that his supporters blamed on resistance to reform from the Vatican "old guard."