/ Source: Associated Press
VATICAN CITY — Pope Francis is in good condition, alert and breathing on his own in a Rome hospital after undergoing intestinal surgery, the Vatican said in a statement on Monday.
He is scheduled to remain in the hospital for seven days after the scheduled procedure for diverticular stenosis of the sigma, or a narrowing of the colon. The surgery on Sunday lasted for three hours, the Vatican said.
Holy See spokesman Matteo Bruni said in a statement late Sunday that the pontiff "reacted well" to the surgery, which was performed by a team of 10.
Earlier on Sunday, the Vatican put out a surprise announcement that the pope was hospitalized for surgery at the Gemelli Polyclinic, a Catholic hospital in the Italian capital.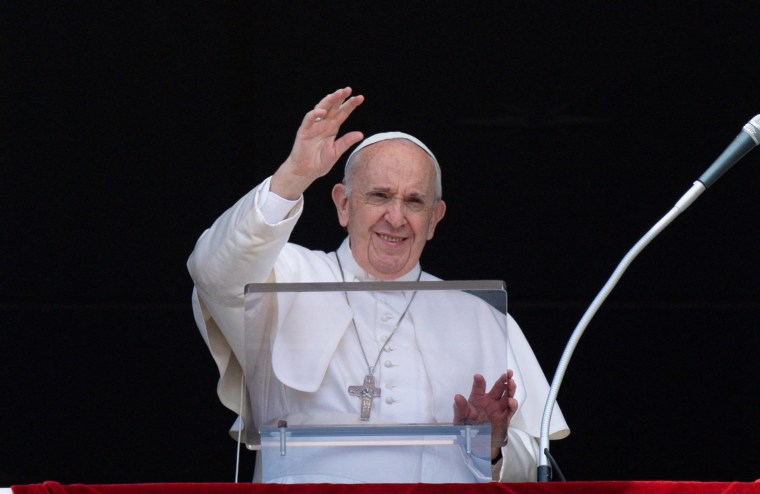 The 84-year-old pope appeared at the window of his study in the Vatican to address people gathered in Saint Peter's Square for the traditional Sunday prayers. He spoke about an upcoming trip to Slovakia in September and urged "dialogue" in Eswatini, an African nation where there have been clashes between government forces and protesters.
However, he made no mention of the upcoming surgery, that was performed under general anesthesia.
The Vatican gave few other details on the surgery and did not say how long the pope would be hospitalized. Francis is staying in special 10th floor suite that the hospital keeps available for use by a pontiff, according to Reuters. Pope John Paul II stayed there several times for various medical problems.
Download the NBC News app for breaking news and politics
The pope traditionally takes time off in July and holds no general audiences. The only appearance he makes during that time is usually for Sunday prayers, known as Angelus.
The pope has suffered for many years from sciatica, pain that radiates along the sciatic nerve that runs from the lower back down the leg. That appears to have worsened recently, with him limping visibly at times. In the past he had to cancel some scheduled events due to his sciatica pain.
As a young man he had part of a lung removed after an infection.
Claudio Lavanga reported from Rome, and Rachel Elbaum reported from London.